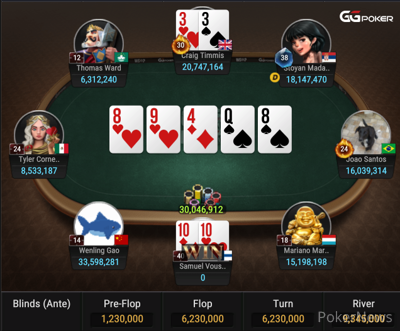 First to act, Samuel Vousden raise to 1 million and Craig Timmis opted for a three-bet to 2.5 million in the cutoff, which Vousden called.
Both players checked the
flop and Vousden activated his time bank before leading the
turn for 1,557,500, as Timmis came along.
Onto the
river, Vousden made it 1.5 million to go and Timmis then moved all in with the superior stack. Vousden was sent deep into the think tank and he called for the 8,850,956 on top that he had behind.
Timmis flipped over
and Vousden earned the double with
.
| | | | | | |
| --- | --- | --- | --- | --- | --- |
| Wenling Gao | | | | 33,598,281 | 2,540,000 |
| Samuel Vousden | | | | 30,046,912 | 13,718,456 |
| Craig Timmis | | | | 20,747,164 | -14,098,456 |
| Stoyan Madanzhiev | | | | 18,147,470 | 2,060,000 |
| Joao Santos | | | | 16,039,314 | -1,940,000 |
| Mariano Martiradonna | | | | 15,198,198 | -920,000 |
| Tyler Cornell | | | | 8,533,187 | 60,000 |
| Thomas Ward (NZ) | | | | 6,312,240 | -1,420,000 |