Event #77: $5,000 No Limit Hold'em Main Event, $25M GTD
Dia 1v Terminado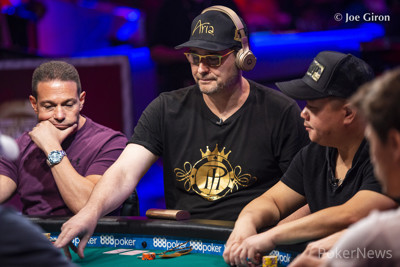 On Saturday night, a massive field of 760 players gathered on Day 1V of the Event #77: $5,000 No Limit Hold'em Main Event with a guarantee of $25,000,000. That number brought the field close to meeting the lofty $25,000,000 guarantee and in fact, after adding the players for Sunday afternoon's final flight, the guarantee was surpassed.
A total of 155 players advanced to Day 2 to bring the total number of players on Day 2 up to 930. Leading the way into Day 2 during this flight was Brazil's Bruno "Depaulainspt" Souza, who amassed a sizable 871,335 in chips to nestle himself among the top counts overall.
Souza was followed by Renmei "Adamwia" Liu (668,354) and Raigo "SickPapa" Vakra (653,316). Jans Arends, Scott Margereson, Sergio Aido, Koray "KakiTee" Turker, Jack Salter, Hakim Zoufri, and Phil Hellmuth also made it through to Day 2.
For the likes of Ami Barer, Wiktor Malinowski, Philipp Gruissem, Andy Black, and Shawn Buchanan, Day 1V ended without chips. If they have one of their three bullets left, they can jump back on Sunday at noon UTC for the final starting flight, while those that made it to Day 2 will return on Sunday at 6:30 p.m. UTC for Day 2. Play will continue until there are forty left, so expect a massive day at the tables!
| | | | | | |
| --- | --- | --- | --- | --- | --- |
| Bruno "Depaulainspt" Souza | | | | 871,335 | |
| Renmei "Adamwia" Liu | | | | 668,354 | |
| Raigo "SickPapa" Vakra | | | | 653,316 | |
| Shershnyaga | | | | 643,282 | |
| Guidoo | | | | 636,759 | |
| Paul "Wizardofodds" Hockin | | | | 612,730 | |
| ProteinBaby | | | | 585,548 | |
| Mohit "deadman1100" Kumar | | | | 581,248 | |
| Freddyf86 | | | | 546,995 | |
| Yesha "Iconic" Punjabi | | | | 540,688 | |
| Jans Arends | | | | 362,062 | |
| Scott Margereson | | | | 338,241 | |
| Sergio Aido | | | | 273,039 | |
| Koray "KakiTee" Turker | | | | 164,429 | |
| Jack Salter | | | | 154,735 | |
| Hakim Zoufri | | | | 133,690 | |
| Phil Hellmuth | | | | 108,644 | |
Event #77: $5,000 No Limit Hold'em Main Event, $25M GTD
Dia 1v Começado