Event #77: $5,000 No Limit Hold'em Main Event, $25M GTD
Dia 1p Terminado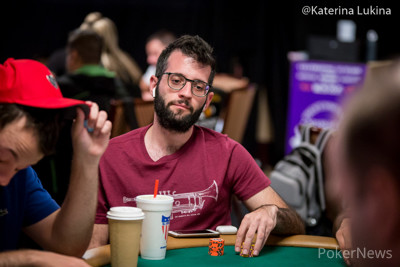 Day 1P of Event #77: $5,000 No Limit Hold'em Main Event with a guarantee of $25,000,000 brought the third-biggest flight of the series with 239 players. After 15 levels of 30 minutes each, 44 of them advanced to Day 2 with "stamina22" bagging the lead with 994,190 in chips. With the 239 players, the total field is now up over 2,500 and halfway towards meeting the 5,000 players needed to hit the $25M guarantee.
Tons of notables advanced on the 16th flight (nine flights are remaining), with Krzysztof "ZryjGruz" Dulowski bagging a sizable 592,607 to finish the day second in counts. Jeremy "TheKid101" Pekarek (532,977), Ioannis "BluffMeNot" Angelou-Konstas (432,907), Ravid "jerbi9999" Garbi (390,180) and Matas "KING0FCARDS" Cimbolas (378,355) also finished with top ten stacks.
Timur "Avocado Love" Margolin, Dustin "JohnSmiley1" Dirksen, Christoph Vogelsang, and Ole Schemion were among the 44 that advanced as well. For Stefan Huber, Hakim Zoufri, Mustapha Kanit, Martin Jacobson, Shannon "Any2Cantu" Shorr, Dan "oiltrader" Shak, there was no bag at the end of the night and, if they have one of their three bullets left, they'll have to try in a subsequent flight.
Two more flights will be held on Thursday, August 27 at 1 p.m. and 7 p.m. UTC.
| | | | | | |
| --- | --- | --- | --- | --- | --- |
| stamina22 | | | | 994,190 | |
| Krzysztof "ZryjGruz" Dulowski | | | | 592,607 | |
| Nator | | | | 570,606 | |
| Ran "Pearblossom" Koller | | | | 566,302 | 428,557 |
| Jeremy "TheKid101" Pekarek | | | | 532,977 | |
| Ioannis "BluffMeNot" Angelou-Konstas | | | | 432,907 | |
| You Kaisheng | | | | 413,289 | |
| Ravid "jerbi9999" Garbi | | | | 390,180 | 215,674 |
| Matas "KING0FCARDS" Cimbolas | | | | 378,355 | |
| Rainer Kempe | | | | 371,292 | |
| Timur "Avocado Love" Margolin | | | | 369,992 | 205,858 |
| Nikita "FatGarry" Kupchin | | | | 368,738 | |
| Anshuman "AnshuD" Dash | | | | 358,274 | |
| Stewart "Stew_233" Kilpatrick | | | | 338,994 | |
| Pedro "mrsweets29" Madeira | | | | 335,643 | |
| Dustin "JohnSmiley1" Dirksen | | | | 328,514 | |
| Christoph Vogelsang | | | | 322,934 | |
| Ole Schemion | | | | 318,519 | |
| Marcio "Nodenuevo" Zacconi | | | | 285,683 | |
| Tomas "BohaJeho" Kubaliak | | | | 278,569 | |
| Shuoqian "raisetwice88" Wang | | | | 271,806 | |
| pisgapoker_1 | | | | 259,603 | |
| Michael "Blank0DMT" Schwartz | | | | 244,443 | |
| Kris "i5betbluff" Safawil | | | | 235,494 | |
| Aleksei "HolaComEXtaZ" Istomin | | | | 204,217 | |
Event #77: $5,000 No Limit Hold'em Main Event, $25M GTD
Dia 1p Começado