Event #77: $5,000 No Limit Hold'em Main Event, $25M GTD
Dias: 3
Event #77: $5,000 No Limit Hold'em Main Event, $25M GTD
Dia 3 Terminado
Nível 25 : 400,000/800,000, 100,000 ante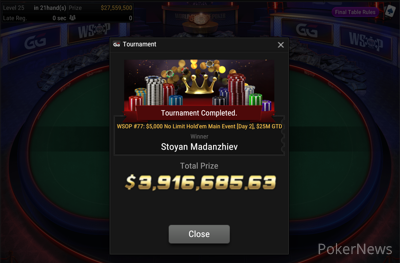 With 12 players left in the World Series of Poker $5,000 No-Limit Hold'em Main Event on GGPoker, Stoyan Madanzhiev got involved in what seemed to be a relatively standard lucky all-in hand, hitting a three on the turn with ace-three against the ace-nine of a short-stacked Samuel Vousden. Then, two players showed they'd folded a three, meaning Madanzhiev had hit a one-outer.
While it helped him eliminate a major threat in one of the most accomplished and skilled players in the final day, it wasn't really among the most impactful hands Madanzhiev played.
It just summed up how his day went as he cruised to a fairly mundane victory, the last player standing in a field of 5,802, of which 38 made the final day. The Bulgarian, whose WSOP earnings amounted to about $5,500 coming in, all from GGPoker, won a staggering $3,904,686, the largest prize ever awarded in online poker.
Final Result 2020 GGPoker WSOP Online $5,000 Main Event
| Position | Winner | Country | Prize (in USD) |
| --- | --- | --- | --- |
| 1 | Stoyan Madanzhiev | Bulgaria | $3,904,686 |
| 2 | Wenling Gao | China | $2,748,605 |
| 3 | Tyler Rueger | United States | $1,928,887 |
| 4 | Thomas Ward | New Zealand | $1,353,634 |
| 5 | Satoshi Isomae | Japan | $949,937 |
| 6 | Joao Santos | Brazil | $666,637 |
| 7 | Stefan Schillhabel | Germany | $467,825 |
| 8 | Tyler Cornell | United States | $328,305 |
| 9 | Samuel Taylor | United States | $230,395 |
The most crucial pot Madanzhiev played came with 25 players left, when he faced off with Martin Arce holding kings against ace-king. The preflop all-in spot went Madanzhiev's way to give him a pot of 22 million and a stack of 40 million at 300,000 big blind.
Then, against Julian Stuer, Madanzhiev opened under the gun and barreled off on a paired board when he made kings full of eights on the river after flopping two pair. Stuer, unfortunately for him, held the last king and called off with trips.
The heater saw Madanzhiev race ahead of the field with about double the next stacks. From there, he kept the pressure on as highly credentialed players like start-of-day leader Bryan Piccioli, Vousden and online tourney legend Benjamin "bencb789" Rolle ran out of chips en route to the final table.
Big Names Down Early
Several notable names still remained at the final table as poker millionaires Stefan Schillhabel, Tyler Cornell, Thomas Ward of New Zealand and Samuel Taylor all made it.
However, none was above 20 blinds other than Taylor, and he proceeded to run into a nasty set-under-set cooler right away to bust ninth. The others didn't fare much better other than Ward, who managed to ladder all the way to fourth thanks to a lightning-quick final table that lasted about two hours as all of the chips got concentrated into two seats: those of Madanzhiev and WSOP neophyte Wenling Gao.
The only player to build a stack that challenged their was Tyler Rueger, who started the final table about even with Madanzhiev. But, when Gao relegated him to third place with kings over ace-queen, Gao and Madanzhiev went heads up with both players a staggering 200 blinds deep.
Deep-Stacked Heads-Up Match Ends in a Hurry
The final table theme of speed continued heads up despite how deep the two players were, though.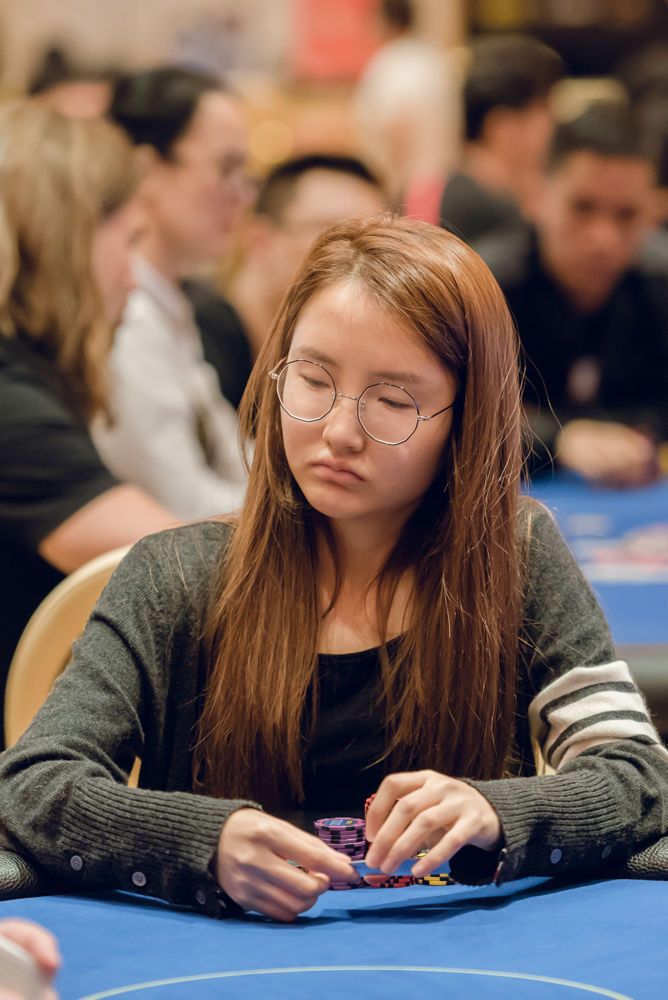 Madanzhiev was a step ahead of his foe at every turn as he got thin value with an overbet on the river then turned around and picked off her multi-barrel bluff moments later. Suddenly, he had a decent lead, but Gao still had plenty of chips with more than 100 big blinds.
Unfortunately for her, the end came moments later when she couldn't find the fold button with aces after Madanzhiev defended his big blind with seven-six and flopped a nut straight. Nonetheless, Gao, an active participant in the Asian tournament scene with almost $700K in cashes, earned more than $2.7 million for her efforts.
As for Madanzhiev, who identifies himself as a pro player on his Instagram, live events don't appear to be a major part of his portfolio as he has just about $30K in cashes. Perhaps that will change now that he's almost $4 million richer and in the record books until some brave operator decides to top this historic event.
Congrats to Stoyan Madanzhiev for winning the WSOP Online Main Event and $3,904,685, the largest 1st place prize in… https://t.co/aP1b2Pi8EM

— WSOP (@WSOP)
Nível 25 : 400,000/800,000, 100,000 ante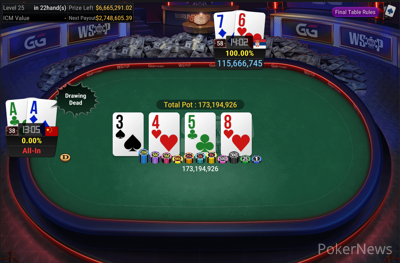 Wenling Gao raised to 1.6 million and Stoyan Madanzhiev called. Madanzhiev led out 1.7 million on the
flop and Gao put in a small raise to 3,944,000. Madanzhiev peeled, bringing an
. Madanzhiev checked, Gao bet 5,644,000 and Madanzhiev raised to 15,040,000. Gao responded by shoving all in for about 81 million after a brief tank and Madanzhiev snapped it off.
Wenling Gao:

Stoyan Madanzhiev:
Madanzhiev didn't even need to sweat the river, holding an unbeatable nut straight against one pair, so he locked up the bracelet and $3.9M on the turn. Gao missed out on victory and will receive a consolation prize of $2,748,605 for her efforts.
A full recap of today's action is to follow.
Nível 25 : 400,000/800,000, 100,000 ante
Stoyan Madanzhiev raised to 1.6 million and Wenling Gao called. Both checked the flop but a war erupted on the turn with the board reading
. Gao bet 1,122,000, Madanzhiev made it 5,355,000 and Gao came back with 15,937,500.
That was the price to see the
, and Gao blasted in a final bet of 20 million. Madanzhiev called with
and the pair was good as Gao held
.
Nível 25 : 400,000/800,000, 100,000 ante
Stoyan Madanzhiev raised to 1.76 million and called a three-bet to 3.62 million by Wenling Gao.
Gao continued for 2,455,200 and was called when the flop fell
. A second barrel for 6,175,200 by Gao on the
followed and Madanzhiev came along to then check behind the
river.
Gao tabled
once more but Madanzhiev had the best hand in
for top pair.
In the next hand, Gao raised to 2 million and Madanzhiev made it 7.2 million, Gao clicked it back to 18.15 million and Madanzhiev called.
The
flop was checked by Madanzhiev and Gao earned the pot with a bet of 18.25 million.
Upon completion of the hand, the players went on a scheduled six-minute break.
Nível 25 : 400,000/800,000, 100,000 ante
Stoyan Madanzhiev opened for a min-raise on the button and Wenling Gao called. Gao check-called a small bet of 960,000 on the
flop. Both players checked the
, bringing a
. Gao checked and Madanzhiev overbet with 7.2 million into about 5.3 million.
Gao looked him up with
but it was no good as Madanzhiev paired up on the turn with
.
Nível: 25
Blinds: 400,000/800,000
Ante: 100,000
Nível 24 : 350,000/700,000, 85,000 ante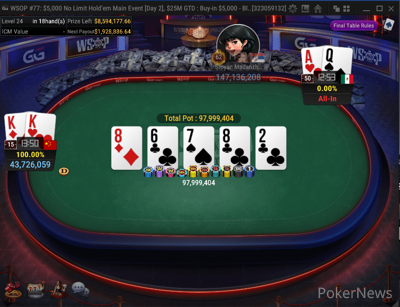 Down to the final three players, Wenling Gao opened the button to 1.4 million and Tyler Rueger then three-bet to 4.395 million in the big blind. Gao opted for a four-bet to 9.8 million and without using his time bank, Rueger pushed all in for the 48,697,202 he had behind.
Gao called within one second to create a pot of almost 98 million.
Tyler Rueger:

Wenling Gao:
On a board of
, Rueger found no help and became the third-place finisher. That comes with a handsome payout of $1,928,887 and Gao will now enter heads-up against Stoyan Madanzhiev in which both players have more than 200 big blinds at their disposal.
Nível 24 : 350,000/700,000, 85,000 ante
Stoyan Madanzhiev opened the action with a button raise to 1.75 million and Tyler Rueger three-bet to 5,004,500 in the small blind, which earned a call from Madanzhiev
The flop brought
and Rueger's continuation bet for 3,845,500 was called.
After the
turn, Rueger slowed down and checked. Madanzhiev used that opportunity to bet 9.8million and won the pot without resistance.
Jogador
Fichas
Progresso

Stoyan Madanzhiev

141,913,708

10,155,000

Wenling Gao

91,575,761

575,761

Tyler Rueger

55,372,202

-10,600,000
Nível 24 : 350,000/700,000, 85,000 ante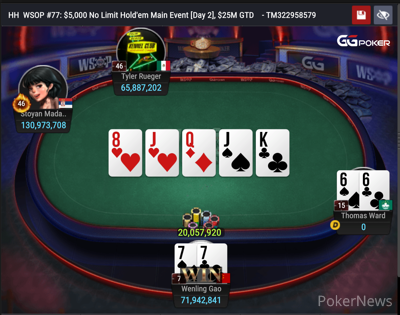 Thomas Ward shoved on the button for 9.5 million and Wenling Gao called in the small blind.
Thomas Ward:

Wenling Gao:
The short-stacked Ward was pipped, and the
board brought nothing for him.