Event #77: $5,000 No Limit Hold'em Main Event, $25M GTD
Dia 1f Terminado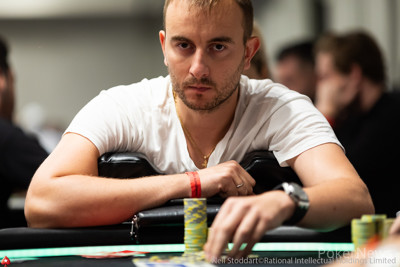 The $25,000,000 guaranteed Event #77: $5,000 No Limit Hold'em Main Event has now finished six of it's 23 starting flights — up from 22 as another turbo flight has been recently added — and 19 out of 129 players made their way through to Day 2 on Sunday, August 30.
Topping the list of survivors was Milakai Vaskaboinikau who finished the day with 796,176 in chips. Adam "MikePrice82" Hendrix was second with 621,949, while Adrian Delmas completed the podium with 605,052.
Among those that missed out were Brock Wilson and Benny Glaser, who both busted late in the night. Shawn Buchanan, Tsugunari Toma, Pascal Hartmann, Galen Hall, Dominik Nitsche, and Chris Hunichen, a subsequent flight is needed.
Christopher Kruk busted flight F after busting flights B and C earlier and, with three bullets max, will be among the first players who's Main Event dreams are over.
The next flight is Flight G on Saturday, August 22 at 7 p.m.
| | | | | | |
| --- | --- | --- | --- | --- | --- |
| Mikalai Vaskaboinikau | | | | 796,176 | 796,176 |
| Adam "MikePrice82" Hendrix | | | | 621,949 | 621,949 |
| Adrien Delmas | | | | 605,052 | 605,052 |
| Pavlis "govegan" Pantelis | | | | 463,605 | 463,605 |
| Rodrigo "PAPAI_PIG" Caprioli | | | | 459,958 | 459,958 |
| Josh "DerekJanick" Zucchet | | | | 413,156 | 413,156 |
| Matt "DNSFD" Vengrin | | | | 410,525 | 410,525 |
| Douglas "BLUPHD-U" Barclay | | | | 400,354 | 400,354 |
| An0n1m112 | | | | 296,446 | 296,446 |
| Andreas "Much0Gust0" Klatt | | | | 280,846 | 280,846 |
| Mateusz "GobsBobs" Rypulak | | | | 267,371 | 267,371 |
| Srihari "bangbang1999" B | | | | 261,926 | 261,926 |
| Adrian "Kryptonite28" Yang | | | | 220,899 | 220,899 |
| BrokenGame | | | | 203,651 | 203,651 |
| Carlos "crumbs" Serrano | | | | 181,751 | 181,751 |
| KathyLeibert | | | | 181,260 | 181,260 |
| IKAIKA | | | | 179,837 | 179,837 |
| GreenEgg123 | | | | 110,141 | 110,141 |
| Superknut | | | | 95,097 | 95,097 |
Event #77: $5,000 No Limit Hold'em Main Event, $25M GTD
Dia 1f Começado