Main Event
Dia 1a Terminado
Nível 12 : 1,000-2,000, 300 ante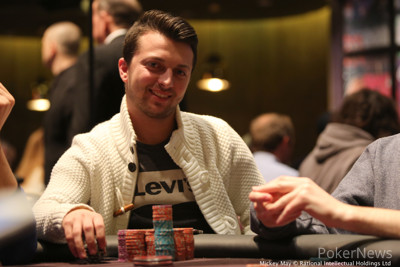 The first of four starting days for the PokerStars Festival London Main Event got underway at 2 p.m. at the Hippodrome Casino in the West End of London. A new chapter started for PokerStars as the era of the 'UK and Ireland Poker Tour' was ushered out and a new series of events rostered in.
Online qualifier Mihaita Croitoru (photo) leads after 12 levels of play in the inaugural London edition of PokerStars Festivals. The Romanian bagged up 340,000 while Lam Van Trinh sits second with 291,300. Third is Lucian Tartan on 216,500.
| Position | Player | Country | Chip Count |
| --- | --- | --- | --- |
| 1 | Mihaita Croitoru | Romania | 340,000 |
| 2 | Lam Van Trinh | United Kingdom | 291,300 |
| 3 | Lucian Tartan | United Kingdom | 216,500 |
| 4 | David Johnson | United Kingdom | 201,300 |
| 5 | Bappie De Haas | Netherlands | 184,600 |
The event attracted plenty of big names, some of whom played the record-breaking High Roller yesterday. They included PokerStars Team Pro Felipe Ramos, Niall Farrell, Adrian Mateos, Chris Moorman and Philipp Gruissem.
Other familiar faces included the ever popular Barny Boatman and Chaz Chattha and a few of the younger faces on the scene in Ben Winsor, William Davies and Steven Game.
There were a total of 26 online qualifiers in the field with; all got in cheaply and had the plan to make away with a bumper payday. One of them, Mihaita Croitoru from Romania, qualified for just $66 at PokerStars and ended up as the Day 1a chip leader.
The £990 freezeout attracted 169 players in total, all of whom set out with high hopes and 30,000 chips continuing the successful start of the eight-day series.
It was a fiercely fought poker game all day with very few easy tables. Gruissem was one of the chip leaders towards the end of the day and at various stages in the last two levels, it looked as if Lucian Tartan, Brett Kennedy or Sander Sol could grab the lead. In one of the last five hands, though, Lam Van Trinh flopped a full house against his opponent's set and won a huge pot to propel him to the top. Another late twist saw him lose a pot to end up in second place and it was Croitoru who was end-of-day leader.
At the close of play, 45 players had made it through to Day 2 from the 169 entrants. Some of the notables to bag include William Davies (175,0000), David Docherty (127,000), Slaven Popov (95,700), Philipp Gruissem (70,800) and James Dempsey (40,500)
Day 1b is set to take place at the earlier start time of 11 a.m. tomorrow and will follow the same format as today; 12 levels of 45 minutes each with a 75-minute dinner break after level 6. Anyone who played and busted today will not be eligible to enter as the turbo on Friday is the only chance of re-entry.
Check in with the PokerNews Live Reporting team throughout the day for more action from the inaugural PokerStars Festival at the Hippodrome Casino.
Nível 12 : 1,000-2,000, 300 ante
Jogador
Fichas
Progresso

Mihaita Croitoru

340,000

340,000

Lam Van Trinh

291,300

291,300

Lucian Tartan

216,500

-103,500

David Johnson

201,300

201,300

Bappie De Haas

184,600

184,600

Brett Kennedy

176,700

6,700

William Davies

175,000

87,000

Sander Sol

161,400

-3,600

Sadman Shefan

161,000

161,000

Peter Smyth

155,700

155,700

Dost Ghrabie

153,000

153,000

Terence Etim

138,600

138,600

Aamir Khan

136,400

136,400

Mohammed Zahour

134,000

66,000

Anthony McShane

131,600

131,600

David Docherty

127,000

-33,000

Christopher Cancelliere

121,200

121,200

Braz Borges Junior

117,000

117,000

Chris Da-Silva

96,000

96,000

Slaven Popov

95,700

-46,300

Lander Bereciartua Ujo

93,400

93,400

Clement Tripodi

92,200

92,200

Hubert Attali

91,600

91,600

Felipe Ramos

85,800

47,800

Nicos Nicolaou

82,900

52,900
Nível 12 : 1,000-2,000, 300 ante
There will be five more hands played tonight before it is time to bag and tag for those lucky enough to survive the 12 levels of poker.
Nível 12 : 1,000-2,000, 300 ante
There are a few players hovering around the 120,000 mark but a couple have stretched ahead and one has a clear lead. Lucian Tartan has a whopping 320,000 and barring a series of unfortunate events looks set to be the chip leader at the end of Day 1a.
Nível: 12
Blinds: 1,000/2,000
Ante: 300
Nível 11 : 800-1,600, 200 ante
The flop was
and James Dempsey led out from the big blind for 5,400. Constantin Erhan on the button raised to 11,000 and Dempsey had a decision to make. Neither player had a huge pile of chips behind them so there was little to no wriggle room.
Dempsey opted to call and saw the turn come the
. Dempsey checked and a bet of 7,500 from Erhan saw a shove from Dempsey and a quick call.
Dempsey tabled
for top pair but Erhan had a set with his
.
The river was the
and a double up for Erhan saw Dempsey down to fumes.
Nível 11 : 800-1,600, 200 ante
Paulo Alexandre Lopes, Chris Da Silva and William Davies were involved in some preflop action when Davies moved all in for 43,500 and Lopes shoved behind for 89,700.
Da Silva said he had flatted preflop to call a shove but hadn't reckoned on Lopes getting so heavily involved. He agonised about it for a while but let his hand go.
Davies had
and Lopes
. Da Silva said he folded Jacks.
The board ran out
.
"Will Davies ladies and gentleman." Da Silva said of the ace on the flop for his friend.
Jogador
Fichas
Progresso

William Davies

88,000

8,000

Paulo Alexandre Lopes

45,000
Nível: 11
Blinds: 800/1,600
Ante: 200
Nível 10 : 600-1,200, 200 ante
Jogador
Fichas
Progresso

Istvan Kinal

120,000

-30,000

Philipp Gruissem

120,000

-24,000

Andrew Christoforou

110,000

-10,000

William Davies

80,000

36,000

Felipe Ramos

38,000

-9,000

Chris Moorman

32,000

-15,000

Kathryn Lindsay

27,000

-3,000

Thomas Ward

16,000

-20,000

Adrian Mateos

10,000

-25,000