Main Event
Dia 3 Terminado
Nível 32 : 100,000/200,000, 25,000 ante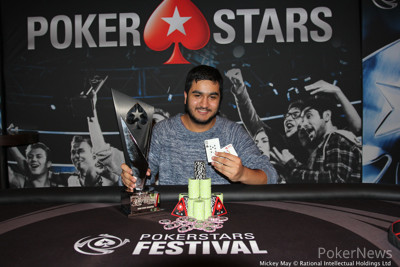 The third and final day of the record-breaking PokerStars Festival London £990 Main Event saw 24 survivors out of a 944-entry strong field return to the tables of the Hippodrome Casino. It took exactly until midnight to determine the winner and it was Rehman Kassam who emerged victorious after defeating Daniel Harwood in heads up. The first series on European soil more than doubled the initial guarantee and created a massive prize pool of £824,112 to create a new attendance record for the former United Kingdom & Ireland Poker Tour and the venue in the center of London.
Kassam, Harwood and Eric Cech struck a deal with three players remaining and Harwood received the biggest portion of the prize pool with £95,000 while Kassam got £89,320 and the coveted golden trophy. Cech received £70,000 while Yuriy Boyko had to settle for 4th place, the exact same position he finished at in the £2,200 High Roller a few days ago.
Final Result of the Final Table
| Place | Winner | Country | Prize (GBP) | Prize (USD) |
| --- | --- | --- | --- | --- |
| 1 | Rehman Kassam | United Kingdom | 89,320* | 112,543* |
| 2 | Daniel Harwood | United Kingdom | 95,000* | 119,700* |
| 3 | Eric Cech | Australia | 70,000* | 88,200* |
| 4 | Yuriy Boyko | Ireland | 43,370 | 54,646 |
| 5 | Clement Tripodi | France | 31,510 | 39,702 |
| 6 | Ludovic Geilich | United Kingdom | 22,950 | 28,917 |
| 7 | Alexis Fleur | France | 16,702 | 21,044 |
| 8 | Lam Van Trinh | United Kingdom | 12,150 | 15,309 |
*denotes deal of the last three players
It wouldn't take long for the first player to bust after the restart and it was Edgar Drozdov, who missed the first few hands and eventually had to settle for £4,250. The last PokerStars qualifier, Kevin Steward, lost a massive pot against the full house of Ludovic Geilich and busted soon after with pocket deuces against the pocket eights of Smit Trivedi.
Within quick succession, four players were sent to the rail and the last two tables were set. Paul Skipper was all in and at risk with pocket queens and James Mitchell also showed pocket queens, but four clubs on the board saw Mitchell complete a flush and Skipper was gone in 15th place. David Kahan and Peter Bergman followed before three big clashes reduced the field to the last nine.
Francesco Cortese had slowly but surely made his way to the top of the leader board before losing some chips and defended the big blind with pocket fours. The Italian turned bottom set and check-raised before calling the shove of Daniel Harwood. His opponent had pushed with eight-five suited for the gutshot and flush draw, which got there on the river.
Trivedi, a friend of High Roller champion Joe Johnson, was unfortunate enough to run with pocket queens into the pocket aces of Yuriy Boyko and the same table provided more fireworks soon after. Day 2 chip leader James Mitchell four-bet shoved with pocket kings in the last hand of level 27, three-bettor Geilich called with ace-king and flopped an ace.
Guillem Cusco Bach was among the short stacks when the hopefuls had combined to one table and got through with three all ins without being called. The fourth one was a four-bet shove with pocket jacks and Rehman Kassam snap-called with pocket aces. A roller coaster run out saw a jack appear on the flop, only for an ace to follow right away on the turn.
Here is how the final eight lined up:
| Seat | Player | Country | Chip Count | Big Blinds |
| --- | --- | --- | --- | --- |
| 1 | Alexis Fleur | France | 1,750,000 | 21 |
| 2 | Clement Tripodi | France | 2,965,000 | 37 |
| 3 | Yuriy Boyko | Ireland | 4,850,000 | 60 |
| 4 | Lam Van Trinh | United Kingdom | 1,195,000 | 15 |
| 5 | Daniel Harwood | United Kingdom | 6,875,000 | 86 |
| 6 | Rehman Kassam | United Kingdom | 5,400,000 | 67 |
| 7 | Eric Cech | Australia | 1,080,000 | 13 |
| 8 | Ludovic Geilich | United Kingdom | 4,140,000 | 51 |
Harwood was still in the lead, but Kassam suddenly jumped into second place with Boyko and Geilich not too far behind. Everyone had £12,150 locked up for the effort and it was short stack Lam Van Trinh who would be the first to fall. He three-bet shoved with pocket eights and Boyko called with ace-queen to spike a queen on the flop.
Start-of-the-day chip leader Alexis Fleur never got anything running throughout the day and had to settle for 7th place. Fleur called the shove of Cech with king-jack only to find himself up against pocket aces and the Frenchman was drawing dead on the turn of an eight-high board.
Geilich was very active for most of the final day and finished in 6th place. The Scotsman defended his big blind with king-nine and flopped top pair against Harwood. Geilich check-called a continuation bet and reluctantly check-called all in after a blank turn to see Harwood turn over ace-king for the dominating kicker.
Down to six tables on Day 2, Cech was down to a mere five big blinds and doubled through Clement Tripodi twice. Both would meet again on the final table and it was Tripodi who three-bet shoved with eight-seven suited. Cech called with ace-four off suit and faded both live cards and a flush draw to eliminate Tripodi in 5th place.
With four players remaining, deal discussions emerged and came to no avail before Boyko was sent to the rail in 4th place. The Irishman check-raised a ten-high flop with the nut flush draw and Harwood instantly moved all in. Boyko eventually called and was shown pocket kings, both the turn and river were blanks.
Harwood had a dominating lead over Kassam and Cech three-handed, but they still agreed to a deal and left £8,000 as well as the trophy aside. Cech got it in good for his last eight big blinds after calling a shove by Kassam with ace-eight, as his opponent only had jack-six. A six on the flop and four clubs by the river gave Kassam the better hand with a flush and the heads up duel saw Harwood with a 2-1 chip advantage.
Kassam soon found a double and both then got their stacks in again on a ten-high flop. Harwood had ten-seven and Kassam king-ten, the turn and river failed to improve Harwood and the most entertaining and active player had to settle for second place eventually.
This marks the end of the PokerNews live reporting here from the Hippodrome Casino, but make sure to check back in regularly for updates from tournaments all over the world.
Nível 32 : 100,000/200,000, 25,000 ante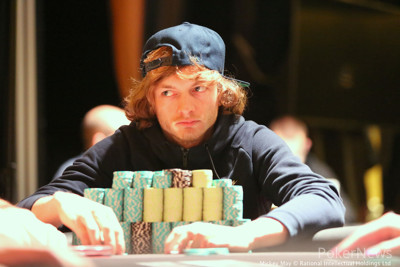 And just like that it's over, exactly at midnight. Rehman Kassam raised to 400,000 and Daniel Harwood called to see a flop of
. Harwood checked, Kassam bet 500,000 and Harwood moved all in. The call of Kassam followed within one second and both players turned over top pair.
Daniel Harwood:

Rehman Kassam:
The
on the turn was a big sweat, but ultimately the
river blanked to eliminate Harwood in 2nd place. As part of the deal, he receives the biggest portion of the prize pool with £95,000 while Kassam will now take the winner pictures.
Nível 32 : 100,000/200,000, 25,000 ante
It's mostly been Daniel Harwood pushing the action but he just came unstuck and doubled Rehman Kassam up.
Harwood shoved with
and Kassam called with
.
The board ran out
Full house for Kassam to take the lead
Nível: 32
Blinds: 100,000/200,000
Ante: 25,000
Nível 31 : 80,000/160,000, 20,000 ante
On a flop of
, Daniel Harwood and Rehman Kassam checked and Harwood then bet the
turn for 200,000. Kassam called and the
river went check, check. Kassam announced an ace and Harwood mucked when he was shown
.
Harwood also lost the next hand after check-calling a bet on the
flop and then check-folded the
turn when Kassam made it 375,000 to go.
However, Harwood kept a 2-1 lead with plenty of other small pots and even the occasional three-bet shove.
Since it is down to heads up, the levels have been shortened to 30 minutes each and that should spice up the action soon.
Nível 31 : 80,000/160,000, 20,000 ante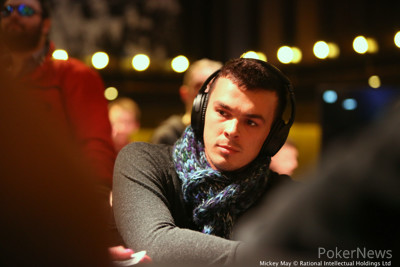 Rehman Kassam shoved from the small blind and Eric Cech called off his eight big blinds.
Kassam:

Cech:
The board ran out
.
Kassam made a pair to felt Cech and he wished then the best in their heads up match.
Nível 31 : 80,000/160,000, 20,000 ante
Eric Cech has been forced to fold a lot and that took a toll on his stack, which dwindled down to just 10 big blinds.
Rehman Kassam won a smaller pot against Daniel Harwood when a limped pot was checked through on the
flop and
turn. On the
river, Harwood bet 200,000 in the small blind and Khassam raised to 700,000 in the big blind. Harwood called with
only to see Kassam turn over
for the second nut flush,
Harwood open-shoved the next hand from the button and both opponents folded to see Harwood turn over the
.
Jogador
Fichas
Progresso

Daniel Harwood

17,600,000

-600,000

Rehman Kassam

9,000,000

1,845,000

Eric Cech

1,650,000

-1,250,000
Nível 31 : 80,000/160,000, 20,000 ante
In a limped pot in the battle of the blinds, the flop showed
and Rehman Kassam checked in the small blind as did Eric Cech in the big blind. The
fell on the turn and Kassam bet 160,000, Cech called. The
river saw Kassam check and fold to a bet worth 525,000 by Cech. The Australian raked in the pot after having to fold twice before to the aggression of Kassam and Daniel Harwood.
In the very next hand, Kassam opened to 325,000 from the button and both Cech and Harwood called. The latter did so with the words "clubs always hit, I got shit but I gotta call." The flop came
and the action checked to initial raiser Kassam. He bet 425,000 and that was enough to win the pot.
Harwood remains with a big lead while Cech lost a few chips.