€10,300 High Roller
Dias: 3
Nível: 30
Blinds: 80,000/160,000
Ante: 20,000

Nível 29 : 60,000/120,000, 20,000 ante
There was one last contest to come in the Estrellas season, not an event as such, but the Tournament Leader Board, which would be decided today. And like everything "Estrellas" during this festival, it was a thriller, as the PokerStars Blog reports: http://psta.rs/1q5wHKk.

Nível 29 : 60,000/120,000, 20,000 ante
The floor asked if they might wanten to shorten the break, but Ismail Erkenov preferred the 20- instead of 15-minute break, and so we're back in twenty minutes.
Jogador
Fichas
Progresso

Ismail Erkenov

6,740,000

925,000

Ami Barer

5,415,000

890,000

Ihar Soika

4,670,000

-1,230,000

Jason Mercier

2,825,000

60,000

Nível 29 : 60,000/120,000, 20,000 ante
A lot of raise and take its, and a lot of checking post flop. There will be a twenty minute break in five minutes, where we'll count all the stacks.
Nível 29 : 60,000/120,000, 20,000 ante
Remko Rinkema and Donnie Peters discuss the final day of the EPT 11 Barcelona festival, including the Main Event and High Roller final table.

Nível 29 : 60,000/120,000, 20,000 ante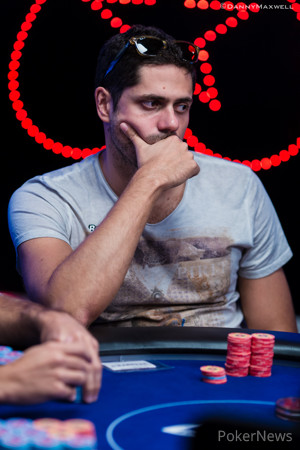 Ihar Soika opened to 240,000 from the under the gun position, the minimum raise. Action folded to Benjamin Pollak in the big blind. He announced all in, and before we could count, Soika had made the call.
It looked like about 1.8 million, but even it were ten times that, Soika would have called as he had
. Pollak turned over
.
The
-flop gave Pollak some hope, but all that vanished with the
on the turn. The
on the river was there just to put some salt in the Frenchman's wound.
Benjamin Pollak leaves in fifth place, taking home €219,000. The remaining four players are guaranteed €276,900.

Nível 29 : 60,000/120,000, 20,000 ante
Ismail Erkenov opened under the gun to 240,000, and right next to him Jason Mercier three bet to 615,000. The other players folded, Erkenov made the call.
Erkenov check called another 485,000 on
, and both players checked the
on the turn. Erkenov then lead out for 1 million on the
-river. Mercier thought about it for a bit, and paid his opponent of.
Erkenov showed
for the back door flush, and Mercier mucked.

Nível 29 : 60,000/120,000, 20,000 ante
Jason Mercier has won two small post flop pots. In one he made two pair, the other he bet on the river and Ami Barer folded. With a big blind of 120,000, every pot counts.

Nível 29 : 60,000/120,000, 20,000 ante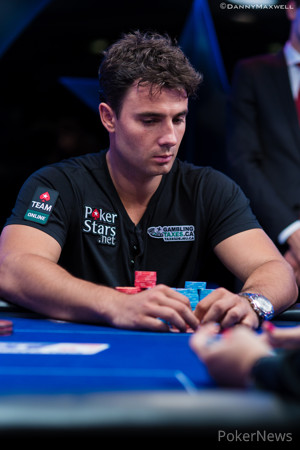 Benjamin Pollak opened the cutoff to 255,000, and Marc-Andre Ladouceur on the button shoved all in. Before a count was even made, big blind Ami Barer announced all in as well. Pollak folded, time for the next showdown.
It turned out to be a race, with Ladouceur holding
and Barer
.
This time around, the pair held up:
.
PokerStars Team Online player Marc-Andre Ladouceur has been eliminated, taking home €168,600. The next pay-out is €219,000.
Nível: 29
Blinds: 60,000/120,000
Ante: 20,000