€10,300 High Roller
Dias: 3
€10,300 High Roller
Dia 3 Começado

| Table | Seat | Name | Country | Chips |
| --- | --- | --- | --- | --- |
| 1 | 1 | Joao Vieira | Portugal | 736,000 |
| | 2 | Ihar Soika | Belarus | 1,650,000 |
| | 3 | Juha Helppi | Finland | 472,000 |
| | 4 | Nicolas Chouity | Lebanon | 545,000 |
| | 5 | Dylan Linde | United States | 400,000 |
| | 6 | Maxim Panyak | Russia | 377,000 |
| | 7 | Carlos Chadha | Canada | 788,000 |
| | 8 | Dario Sammartino | Italy | 1,031,000 |
| | | | | |
| 2 | 1 | Dmitry Yurasov | Russia | 1,900,000 |
| | 2 | Yves Boschetti | Switzerland | 752,000 |
| | 3 | Alexander Roumeliotis | Sweden | 790,000 |
| | 4 | Ismail Erkenov | Russia | 1,920,000 |
| | 5 | Ami Barer | Canada | 1,953,000 |
| | 6 | Angel Guillen | Mexico | 269,000 |
| | | | | |
| 3 | 1 | Sergi Reixach Lloveras | United Kingdom | 175,000 |
| | 2 | Agshin Rasulov | Azerbaijan | 778,000 |
| | 3 | Jason Mercier | United States | 888,000 |
| | 4 | Stephen Chidwick | United Kingdom | 1,491,000 |
| | 5 | Marc-Andre Ladouceur | Canada | 909,000 |
| | 6 | Vladimir Troyanovskiy | Russia | 554,000 |
| | 7 | Benjamin Pollak | France | 1,260,000 |
Jogador
Fichas
Progresso

Ami Barer

1,953,000

Ismail Erkenov

1,920,000

Dmitry Yurasov

1,900,000

Ihar Soika

1,650,000

Stephen Chidwick

1,491,000

Benjamin Pollak

1,260,000

Dario Sammartino

1,031,000

Marc-Andre Ladouceur

909,000

Team Online

Jason Mercier

888,000

Alexander Roumeliotis

790,000

Carlos Chadha

788,000

Agshin Rasulov

778,000

Yves Boschetti

752,000

Joao Vieira

736,000

Team Pro

Vladimir Troyanovskiy

554,000

Nicolas Chouity

545,000

Juha Helppi

472,000

Dylan Linde

400,000

Maxim Panyak

377,000

Angel Guillen

269,000

Sergi Reixach Lloveras

175,000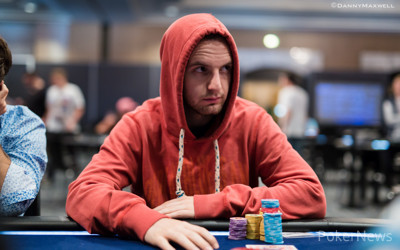 Four Russians, three Canadians, two Brits, two Americans, a player from Sweden
Switzerland, Italy, Lebanon, Mexico, France, Finland, Portugal, Belarus and one from Azerbaijan walk into a poker room. Well, that's whats about to happen at noon at least, as the final day of the record breaking PokerStars EPT Barcelona $10,300 High Roller will start its final day with 21 players still in contention for that €747,200 first prize.
No one really saw this coming, but a whopping 393 entries were made into the event, making for a €3,851,400 prize pool, bigger than many of the EPT Main Events.
The remaining 21 players are all guaranteed €34,300 at this stage, and if one more player busts there's a money jump to €38,100. But that's most likely not what the players are worrying about right now, it's that illuster final table and title!
PokerNews will again bring you live coverage of all the important hands, photos from all the players, and of course an interview with the winner. It's most likely going to be a very long day; with a superb structure, seasoned pro's in the field, and that big prize up top, this is not a tournament to be bungled. So get comfortable in your chair, sit back, and enjoy the ride with us, as we'll crown a champion in this biggest ever High Roller event today!
Nível: 22
Blinds: 12,000/24,000
Ante: 4,000

Nível 22 : 12,000/24,000, 4,000 ante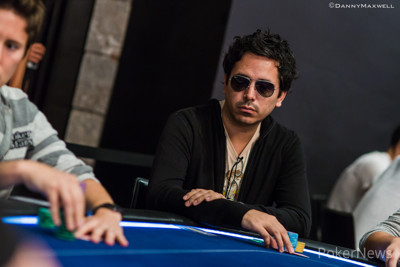 Angel Guillen was eliminated in the first hand of the day.
Right after the first shuffle and deal, Guillen shoved his 266,000 to the middle from under the gun plus one. Right next to him Dmitry Yurasov asked for a count, and made the call from the hijack.
All other players folded, and it was time for cards on their back for the first time today.
Guillen:

Yurasov:
The
on the flop gave Guillen a pair, but Yurasov picked up a flush draw on top of his leading over pair. The
on the turn made a chop pot possible, but the
on the river didn't deliver. Guillen made two pair, but it was no good as Yurasov conquered with his rivered flush.

Nível 22 : 12,000/24,000, 4,000 ante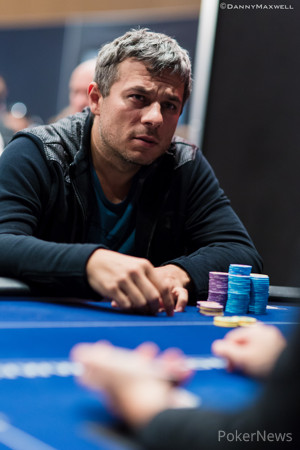 Agshin Rasulov opened and Vladimir Troyanovskiy made the call from the big blind. Troyanovskiy checked to the player from Azerbaijan on
, and he answered with a 57,000 continuation bet.
Troyanovskiy took a second, and announced all in. After a count, it turned out to be 277,000 more to Rasulov. He thought about it for quite some time, and Sergi Reixach Lloveras thought he had already called and made this known to the dealer. Lloveras spoke to soon though, as Rsulov hadn't made up his mind just yet, but eventually would call.
Troyanovskiy:

Rasulov:
Troyanovskiy needed some improvement, but didn't get the one he was looking for:
ont he turn. Troyanovskiy had two pair, but was behind against Rasulov's straight. Just a queen or jack could save him, but instead the wrong card paired the board on the river:
.
Troyanovskiy headed to the pay-out desk to collect €38,100 for his 20th place finish.
Nível 22 : 12,000/24,000, 4,000 ante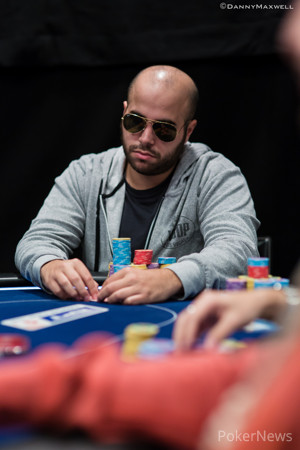 Nicolas Chouity, winner of the European Poker Tour Grand Final in Season 6, has been eliminated in 19th place. After Ihar Soika raised from the cutoff seat to put the three players behind him to the test for all of their chips, Chouity went all in from the small blind with the
. Soika had the
.
Soika wouldn't hit an ace, he wouldn't hit an eight, and he didn't make a straight or a flush, but instead he counterfeited Chouity. The flop, turn, and river ran out
, and Chouity was gone.

Nível 22 : 12,000/24,000, 4,000 ante
Maxim Panyak open shoved for 368,000 under the gun plus one, and Juha Helppi re shoved from the small blind for about 70,000 more. Nicolas Chouity in the big blind moved out of the way, and Helppi soon saw he was well in front.
Juha Helppi:

Maxim Panyak:
The
was a disaster for Halpii though, and the
on the turn and
on the river didn't help him either.
The Fin was extremely short after this, but doubled through Nicolas Chouity two hands later.
Helppi shoved all in from the hijack for 62,000 with
, and his neighbor Chouity made the call with
. The
board favored Helppi, and he gained some breathing room again.
Nível 22 : 12,000/24,000, 4,000 ante
Just moments after losing a huge chunk of chips to Dmitry Yurasov, Ismail Erkenov was right back at it busting Yves Boschetti on the very next hand.
Boschetti raised to 50,000, and Erkenov called in position to see the flop come down
. Boschetti bet 55,000, and Erkenov called to see the
land on the turn. After Boschetti slowed down with a check, Erkenov bet 100,000. Boschetti called.
The river completed the board with the
, and Boschetti checked with a stack of 535,000 behind. Erkenov moved all in, and Boschetti tank-called with trips holding the
. Unfortunately for him, Erkenov had a full house with the
.
Boschetti was eliminated in 18th place and earned €38,100.
Nível 22 : 12,000/24,000, 4,000 ante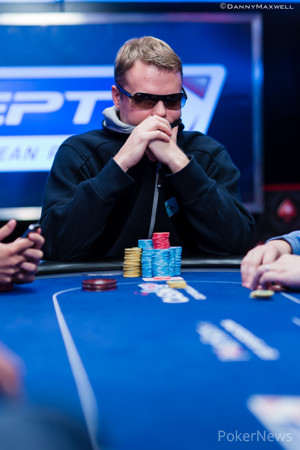 First, Maxim Panyak doubled through Juha Helppi, and now he just finished him off.
Helppi moved all in for around 100,000 from the button, and Panyak called from the big blind with the
. Helppi had the
.
The
board didn't do it for Helppi, and he was eliminated in 17th place for €42,000.