Event #52: $2,500 Mixed Triple Draw
Dias: 3
Event #52: $2,500 Mixed Triple Draw
Dia 3 Terminado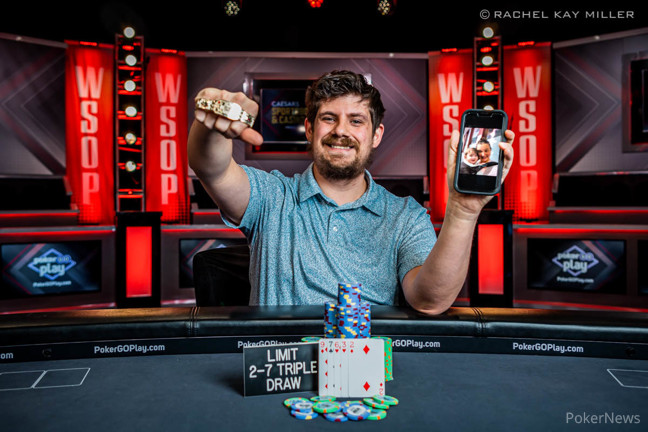 This year's iteration of Event #52: $2,500 Mixed Triple Draw at Horseshoe and Paris Las Vegas saw a total player tally of 353 create a prize pool of $785,425. That money was divided up between the final 53 players, of which 19 returned to the Horseshoe for Day 3.
At the end of it all, it was three-time WSOPC ring winner Nick Pupillo who took down his first WSOP bracelet for $181,978.
"It's pretty surreal; it feels good," the newly minted champion said with tears in his eyes. "I love the mixed games; it really felt like my tournament. I late regged and ran really well."
The Illinois-born poker professional has amassed over $4,675,902 in lifetime earnings, with WSOP cashes dating back to 2014. Often in the conversation of best player without a bracelet, Pupillo recently final-tabled the $10,000 Limit Hold'em and finished in sixth place for $62,255. "It's definitely a sense of relief, it feels good to win a bracelet, and I'll try to win more."
Pupillo was supported by rail of Midwestern friends that included the likes of Sarah Stefan, Josh Reichard and Michael Perrone. "I'm thankful for everyone that supports me and roots for me. I've had ups and downs, but I'm just grateful." While the photos were being taken, Pupillo pulled up a picture of his family, his biggest supporters.
Final Table Results
| Place | Player | Country | Prize |
| --- | --- | --- | --- |
| 1 | Nick Pupillo | United States | $181,978 |
| 2 | Ryan Moriarty | United States | $112,472 |
| 3 | Aaron Mermelstein | United States | $74,545 |
| 4 | Tomomitsu Ono | Japan | $50,608 |
| 5 | Hye Park | United States | $35,212 |
| 6 | Brant Hale | United States | $25,126 |
Day 3 Action
The day's early action saw the end of many a notable player's run. Matt Vengrin (19th - $6,948) became the first player to bust just before the final three-table redraw. Others who fell included Cary Katz(18th - $6,948), Robert Mizrachi (17th - $8,495), John Monnette (16th - $8,495), Joao Vieira (10th - $10,690), and Ray Henson (9th - $13,834).
The last player to fall before the final table was WSOP bracelet winner Andrew Brown who got in his final few chips in at 2-7. He held an eight-seven against Aaron Mermelstein's eight-five. Brown collected $13,834 for his eighth-place finish.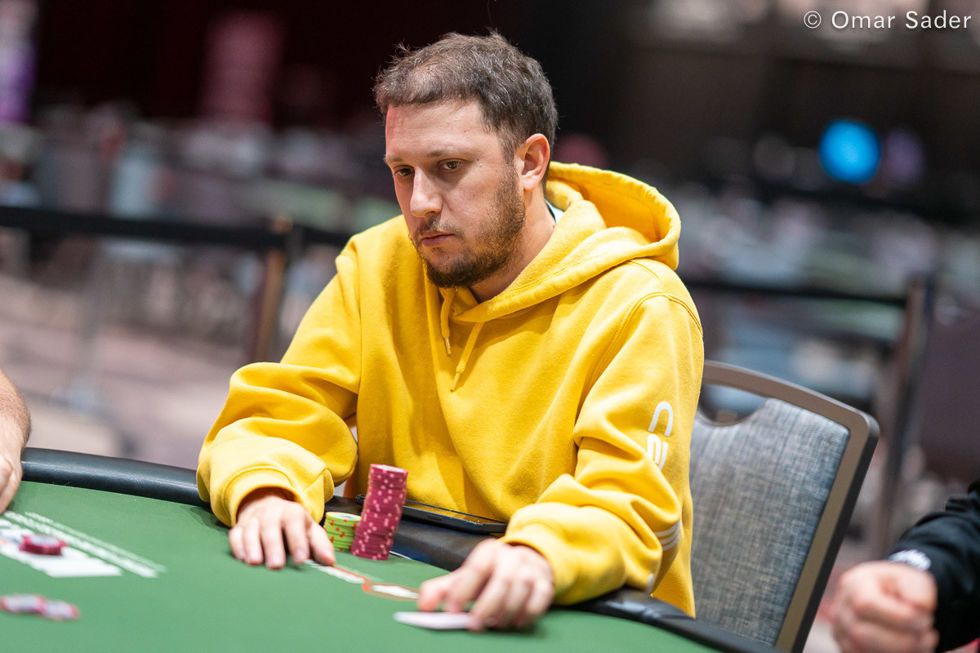 Final Table Action
It did not take long for the final table to lose its first player. The only prior bracelet winner at the table was Anatolii Zyrin who came in as the shortest stack. He ended up staying pat during a 2-7 hand with a nine-six against Brant Hale, who drew an eight-seven on the end. The two-time bracelet winner collected $18,398 for his seventh-place finish, and the official final table was set.
Hale would be the next one out the door after a massive pot with Nick Pupillo would leave him with just a quarter of a small blind. He ended up being forced all in from the big blind in A-5 and made a nine-eight against Aaron Mermelstein six-five, and he exited the tournament in sixth place for $25,126.
Hye Park came into the final table as one of the shorter stacks, but his undoing came in multiple hands. The first saw a Badugi hand where he accidentally mucked the winner against Pupillo, the next was when Mermelstein caught a seven-six in 2-7, and the final hand saw him run into the wheel in 2-7 against Ryan Moriarty. The 2021 WSOP Main Event 6th place finisher wished his table well and collected $35,212 for his fifth-place finish.
Tomomitsu Ono saw a few coolers in Badugi end his chances of the bracelet. The final cooler saw him get in a blind versus blind confrontation with Pupillo when Ono was dealt a pat ten, and Pupillo was dealt a pat seven. All the chips went in on the second round of betting and Ono took home $50,608 for his fourth-place finish.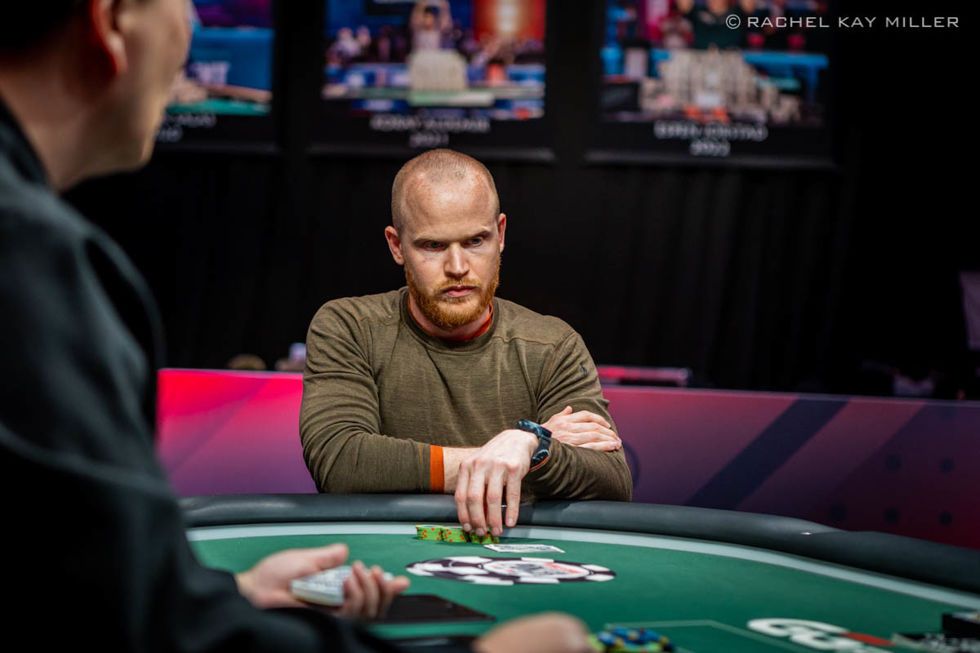 Mermelstein was the next to depart the field in third place. As the blinds progressed, many hands did not go his way, and as his chip stack got shorter, he found himself in a multiway pot in Badugi while Pupillo and Moriarty would play for a side. Pupillo made a perfect jack which bested Mermelstein's three-card ten, and Mermelstein collected $75,545 for his efforts, while Pupillo went into heads up with a massive lead.
Heads up did not last long as the players never left the round of 2-7 Triple Draw. The final hand saw Moriarty make a king-nine on the final draw, while Pupillo made a nine-seven which secured Pupillo his first bracelet and saw Moriarty take home a career-best score of $112,472 for his second-place finish.
Thank you for reading along here on PokerNews. Stay tuned for all updates regarding the 2023 WSOP.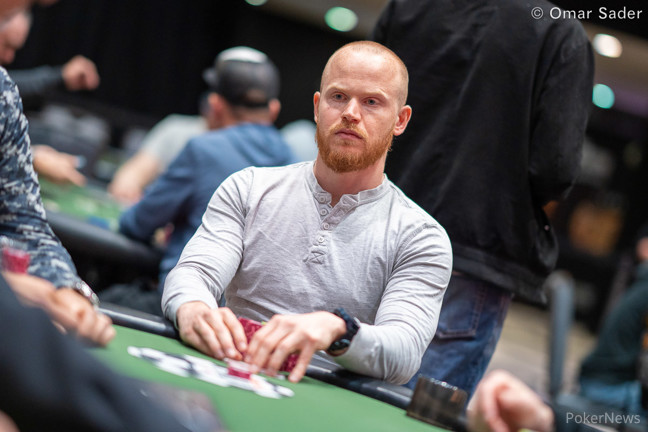 2-7 Triple Draw
Nick Pupillo opened on the button and Ryan Moriarty made the call in the big blind.
Both players took three cards on the initial draw with action then checked through to the second draw.
On the second draw Moriarty took two with Pupillo following suit. Moriarty then check-called a bet from Pupillo.
The final draw saw Moriarty take the last two cards of the tournament while Pupillo stood pat. Moriarty checked, Pupillo bet and his opponent called off for his last few chips. Moriarty showed down Kx9x7x4x3x but came up short against the 9♦7♣6♥3♥2♦ of Pupillo, ending his impressive run in 2nd while crowning Pupillo the champion.
Stay tuned for a full tournament recap to follow shortly.
2-7 Triple Draw
Ryan Moriarty opened on the button and was called by Nick Pupillo in the big blind.
Pupillo took one to Moriarty's three on the first draw after which Pupillo bet. Moriarty responded with a raise only to see Pupillo come back over the top. He made the call to send action to the second draw.
On the second draw Pupillo stood pat while Moriarty took one. Pupillo followed that up with a bet which Moriarty called.
The same drawing pattern was repeated on the final draw. Both players then checked with Pupillo coming out on top with his 9x7x5x4x3x to leave Moriarty short.
Badugi
Ryan Moriarty raised from the button and in the big blind, Nick Pupillo reraised which Moriarty called.
Moriarty drew one on every street while Pupillo remained pat on every street. Pupillo bet every street except for the final one and both players checked with Pupillo showing down a J♣8♥3♦A♠ for a jack Badugi which was good.
A few hands later, Moriarty raised on the button and Pupillo defended the big blind.
Both players drew one and checked on the first and second rounds of betting.
On the third draw Moriarty drew one and Pupillo stood pat and bet when the action got to him and Moriarty called. Pupillo showed 9♥7♣4♠3♦ for a nine Badugi which was good for the pot as Pupillo's lead grew even larger.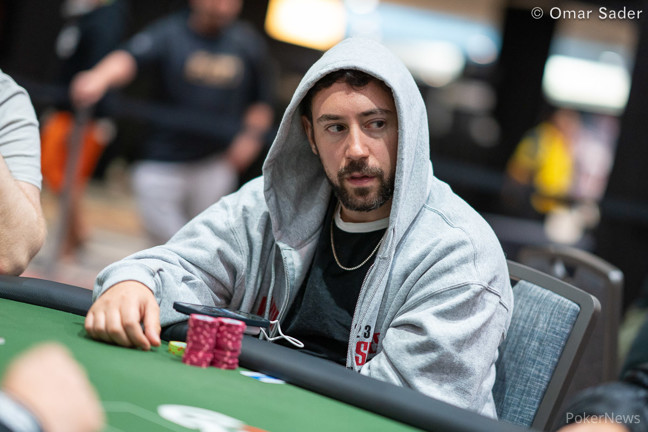 Badugi
Nick Pupillo opened on the button with Aaron Mermelstein calling off for less out of the small blind. Ryan Moriarty also called in the big blind to generate three-way action heading to the first draw.
All three players took one card on the first draw after which Moriarty check-called a bet from Pupillo.
The second draw saw Mermelstein and Moriarty each take one more while Pupillo opted to stand pat. Moriarty then checked for a second time before calling another bet from Pupillo.
The same drawing pattern was repeated on the final draw. Action then went check-check with Pupillo tabling J♦3♥2♣A♠, a hand that Moriarty could not beat. Mermelstein, meanwhile, held 10♠7♣3♦2♠, bringing his tournament to an end in 3rd place and setting the stage for a heads-up match between Moriarty and Pupillo.
2-7 Triple Draw
Aaron Mermelstein raised in the small blind and in the big blind Ryan Moriarty called.
Mermelstein drew two and Moriarty drew three which saw both players check on the betting round and the same drawing occurred on the next drawing round.
Mermelstein bet on the next betting round and Moriarty called which saw Mermelstein stand pat on the final draw and Moriarty drew one which saw both check and Mermelstein turned over 10♥8♣7♦4♥2♠ for a ten and it was good for the pot.
Nível: 29
Blinds: 75,000-150,000
Limits: 150,000-300,000
Jogador
Fichas
Progresso

Nick Pupillo

7,275,000

-1,625,000

Ryan Moriarty

3,575,000

2,375,000

Aaron Mermelstein

1,450,000

-1,350,000
The remaining three players have been sent on a 15-minute break. They will return to blinds of 75,000/150,000 with limits of 150,000/300,000.