Nível 17 : 2,500-5,000, 500 ante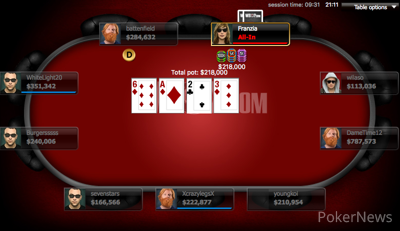 Brian "XcrazylegsX" Frasca raised to 10,000 preflop from early position. "WhiteLight20" called from the cutoff. Mitch "Franzia" Halverson also called out of the small blind and the three players would go to the flop which came
.
Frasca bet 13,850. "WhiteLight20" called as did Halverson.
The turn was the
to put a third diamond on board. WhiteLight20 bet 30,525. Halverson then shoved all in for his remaining 106,425.
Frasca quickly folded and "WhiteLight20" also folded after a few moments of thought to give the pot to Halverson.
Jogador
Fichas
Progresso

WhiteLight20

351,342

188,031

Brian "xcrazylegs" Frasca

222,877

222,877

Mitch "Franzia" Halverson

218,000

218,000