2020 WSOP Main Event - WSOP.com
Dias: 1
Nível: 15
Blinds: 1,700/3,400
Ante: 340
Nível 14 : 1,400/2,800, 280 ante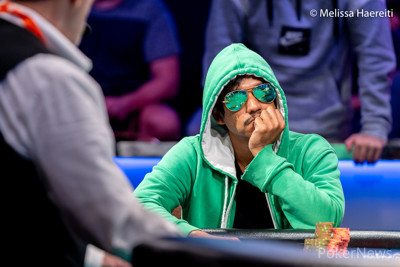 James "robin_hood" Dambrosio raised to 5,600 under the gun. Upeshka "gomezhamburg" De Silva three-bet from the next position to 14,400. It folded back to Dambrosio who called.
The flop came
. Action went check-check.
The turn was the
. Dambrosio bet 9,999 which De Silva called.
The river came the
to pair the board. Dambrosio thought for about a full minute before deciding to make a bet of 22,400 into a pot of 55,518. De Silva called pretty quickly and turned over the winning hand with the
which bested the
of Dambrosio.
Jogador
Fichas
Progresso

Upeshka De Silva

187,745

121,076

James "robin_hood" Dambrosio

105,438

105,438
Nível 14 : 1,400/2,800, 280 ante
Jogador
Fichas
Progresso

Ralph "sosana" Perry

426,000

293,523

Dan "pepperprince" Zack

405,000

218,000

Derek "rickyguan" Sudell

364,000

Sean "seanswing" Swingruber

356,000

Mohsin "bubbletea3" Charania

334,000

Joseph "biueberry" Cheong

299,000

16,000

Nick "DuckFlush" Pupillo

299,000

225,000

Jesse "patient0" Yaginuma

288,000

192,000

Michael "miguelfiesta" Lech

265,000

226,148

Michael "THEGRINDER44" Mizrachi

254,000

170,000

Joe "fanofdapoker" McKeehen

248,000

80,000

Adrian "ParTee" Buckley

237,000

161,820

Mike "miw210x" Wang

210,000

12,000
Nível 14 : 1,400/2,800, 280 ante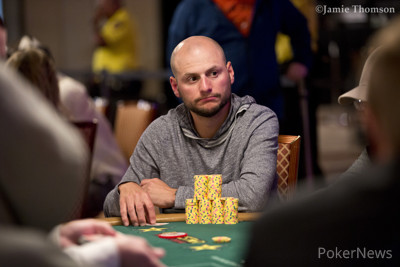 The short-stacked Daniel "juice" Buzgon moved all in for 4,892 from early position and learned the field all the way around to Jason "haderade" Somerville, who called from the big blind.
Jason "haderade" Somerville:

Daniel "juice" Buzgon:
Somerville had the superior ace and remained in the lead throughout the
run out.
Nível 14 : 1,400/2,800, 280 ante
With registration closed at 705 entries, the prize pool has been finalized and the payout distribution released by the WSOP.
Those entries produced a prize pool of $6,768,000. That amount will be paid out to the top 107 finishers, with a min-cash worth $14,890.
As for the top payouts, the winner will bank $1,553,256, though that player won't be determined until the live final table plays out in a few weeks. Here's how the top nine shakes out:
| Place | Payout |
| --- | --- |
| 1 | $1,553,256 |
| 2 | $1,002,340 |
| 3 | $529,258 |
| 4 | $387,130 |
| 5 | $286,963 |
| 6 | $215,222 |
| 7 | $163,786 |
| 8 | $125,885 |
| 9 | $98,813 |
Nível 14 : 1,400/2,800, 280 ante
Nível 14 : 1,400/2,800, 280 ante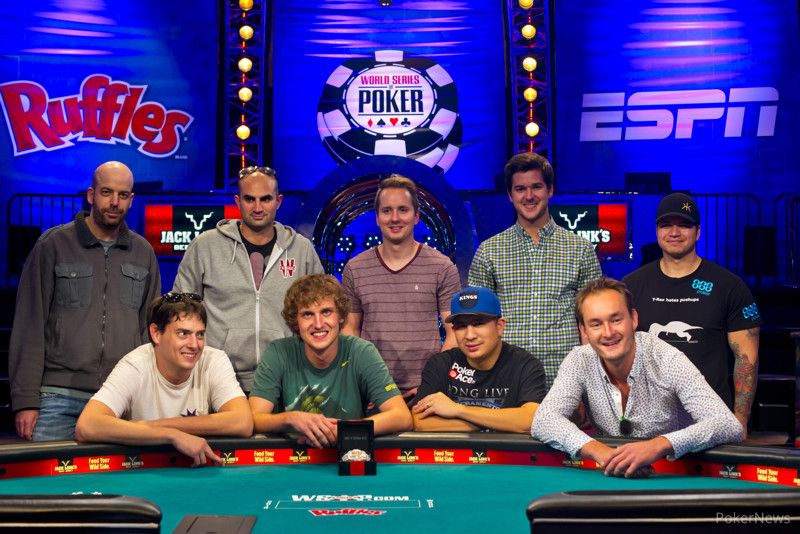 No stage in poker stood as a bigger goal for a tournament player than the final table of the WSOP Main Event. For years, that meant going to sleep knowing you had the chance of a lifetime, to go down in poker history in the next few days as the cameras captured your every bet, raise and fold.
All of that changed in 2008.
The year after Jerry Yang's Main Event victory was broadcast to all on ESPN's standard tape delay, organizers made a decision to try to increase the excitement and anticipation around the final table: after the final nine was reached, play would be paused. At that point, everyone left would go home with 9th-place money and the players would reconvene a few months later to play out the final table on a short tape delay.
That lasted until 2016, and this is the history of the November (and October) Nines.
Click here to read the article about the history of the WSOP November Nine
Nível: 14
Blinds: 1,400/2,800
Ante: 280
Nível 13 : 1,200/2,400, 240 ante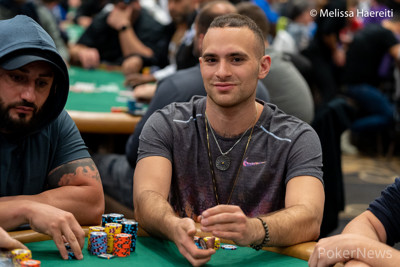 Aram "X69Podheiser" Zobian raised to 5,575 preflop from middle position. It folded to Joseph "MelonHead" Bartholdi in the small blind who made a beefy three-bet to 19,000 and Zobian called.
The flop came
, Zobian bet 1/10th of the pot with a small 4,250 bet. Bartholdi raised to 13,300 and Zobian called methodically.
The turn was the
and both players slowed down by checking.
The river came the
. Bartholdi checked and Zobian made a quick pot sized bet of 69,160, which was plenty enough to put the remaining 48,168 of Bartholdi at risk who went into a deep tank before eventually folding and ceding the karge pot to Zobian.
Nível 13 : 1,200/2,400, 240 ante