Event #8: $1,500 Millionaire Maker No-Limit Hold'em
Dias: 4
Event #8: $1,500 Millionaire Maker No-Limit Hold'em
Dia 4 Começado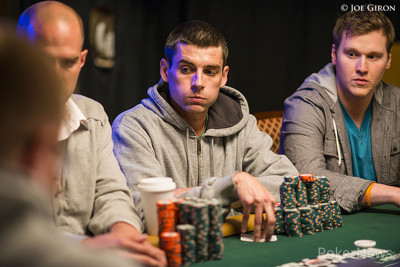 The first seven-figure payday of the 2014 World Series of Poker will be awarded today as Event #8: $1,500 Millionaire Maker No-Limit Hold'em comes to a conclusion. We're down to the final nine and, while there might not be any huge names taking part in the festivities today, each of them is looking to make his mark on the poker world. With first place being worth a staggering $1,319,587 and all nine spots guaranteed at least a six-figure payday, the poker action will be dramatic and compelling. Stephen Graner comes in with a commanding chip lead, holding over one-third of the chips in play with 12,005,000.
Graner has eight other players, though, who aren't just going to hand him that million dollars. James Duke sits second in chips with 4,645,000 and is followed closely by Andrew Teng who has 4.375,000. The chip leader for most of Day 3, Andrew Dick, is fourth with 4,185,000 and is joined at the final table by Maurice Hawkins who is looking to add to his poker resume with a big cash here.
Here is how the final table looks as we enter play today:
| Seat | Player | Stack |
| --- | --- | --- |
| 1 | Jonathan Dimmig | 2,870,000 |
| 2 | Jason Johnson | 1,245,000 |
| 3 | Jeffrey Coburn | 1,660,000 |
| 4 | Maurice Hawkins | 1,960,000 |
| 5 | Andrew Dick | 4,185,000 |
| 6 | Stephen Graner | 12,005,000 |
| 7 | Bradley Anderson | 3,850,000 |
| 8 | James Duke | 4,645,000 |
| 9 | Andrew Teng | 4,375,000 |
PokerNews will be here to bring you all the exciting action. Cards will be in the air soon.
Nível: 29
Blinds: 40,000/80,000
Ante: 10,000
Nível 29 : 40,000/80,000, 10,000 ante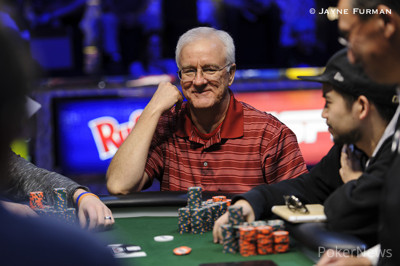 Hand #1: James Duke had the button. Andrew Teng completed from the small blind. Jonathan Dimmig made it 200,000 from the big blind. Andrew Teng made the call.
The flop came
. Teng checked and Dimmig bet 210,000. Teng folded.
Hand #2: Bradley Anderson opened for 170,000 from middle position. Everyone folded and Anderson picked up the blinds and antes.
Hand #3: Stephen Graner opened for 160,000 from middle position. James Duke reraised to 425,000. It was folded back to Graner who tanked for approximately 30 seconds before making the call. The flop came
. Graner led out for a bet of 375,000. Duke pursed his lips while rocking slightly in his chair. He then made a huge raise to 2 million total. Graner wasted little time and moved all in. Duke took only a few seconds before calling.
Graner turned over
and Duke was ahead with
. Graner needed a four or ace to take the lead. The turn was the
keeping Duke in the lead. The river was the
and Duke has doubled up to move into the chip lead over Graner.
Nível 29 : 40,000/80,000, 10,000 ante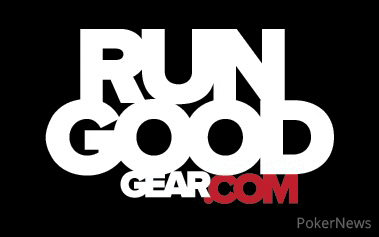 Need some poker swag?
There's a brand new batch of RunGoodGear products available, including the new RunGood Cardbox T-shirts, spaded hoodies and a newly added section just for women, like RunGood Pros Lauren Kling, Katie Dozier and Amanda Baker.
PokerNews fans can grab some RunGoodGear on a discount during the World Series of Poker. Simply use the promo code "pokernews" for your next order and receive 10% off. That's right! Type "pokernews" into the promo code box and 10% of your order goes right back into your bankroll.
For more information — or if you want to check out some of the new swag available — check out RunGoodGear.com.
Nível 29 : 40,000/80,000, 10,000 ante
Hand #4: The action folded to Jonathan Dimmig in the cutoff and he min-raised to 160,000. Everyone else behind him mucked their cards and Dimmig scooped the blinds and antes.
Hand #5: Stephen Graner raised to 160,000 from under the gun and Andrew Dick called in the big blind. The dealer fanned the
flop. Dick checked and then folded when Graner bet 100,000.
Hand #6: White chips have been introduced, worth 100,000 each. Andrew Dick limped from the small blind and Stephen Graner checked his option one seat over. On the
flop, Dick bet 160,000 and was called. Both then checked down the
turn and the
river. Dick showed
but it was no good against the
of Graner.
Hand #7: Jason Johnson moved all in for 1,055,000 from middle position and picked up the blinds and antes.
Hand #8: Andrew Teng raised to 175,000 from under the gun; Maurice Hawkins called as did James Duke in the big blind. Duke and Teng checked the
flop, Hawkins bet 200,000 and only Teng called. The
showed up on the turn and both players checked. The
then completed the board, Teng checked and Hawkins bet 440,000. After Teng folded, Hawkins showed
.
Nível 29 : 40,000/80,000, 10,000 ante
Hand #9: Jeff Coburn opened the action for 175,000 from middle position and was called by Maurice Hawkins one seat to his left. It was folded to Andrew Teng in the big blind who also called.
The flop came
. All three players checked. The turn was the
and Teng checked. Coburn bet 240,000, then Hawkins and Teng both folded. Coburn showed
. "Ooooooh," said Maurice Hawkins. "That's pretty good. That's pretty good."
Hand #10: Andrew Dick opened for 175,000. Stephen Graner reraised to 430,000. It was folded back to Dick who folded as well, and Graner picked up the pot.
Hand #11: James Duke raised to 200,000. Everyone folded and Duke picked up the blinds and antes.
Hand #12: Maurice Hawkins opened under the gun for 180,000. Stephen Graner called from middle position after thinking for a bit. "You took all that time just to make a call," said Hawkins. One seat to Graner's left, Bradley Anderson squeezed to 455,000. It was folded back to Hawkins who quickly let his hand go.
Graner took a bit longer to make his decision and ultimately decided to reraise to 960,000. Anderson then put in another raise, this time to 2.2 million. Graner folded and Anderson added over a million in chips to his stack.
Hand #13: Maurice Hawkins received a walk in the big blind.
Nível 29 : 40,000/80,000, 10,000 ante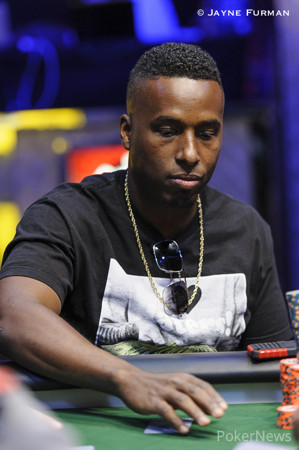 Any table featuring the brash and boisterous Maurice "Mo" Hawkins is sure to be a fun-filled affair. One of the most affable and genuine players in poker away from the table, Hawkins is known for getting under his opponents' skin when the cards are in the air, and he has become a polarizing figure capable of earning enmity or affection every time he opens his mouth.
PokerNews' Jon Zaun caught up with Hawkins before the start of play today to discuss his appearance at one of the most coveted final tables at the 2014 World Series of Poker.
PokerNews: Mo, you're finally here on the WSOP final table stage for the Millionaire Maker, so how do you feel?
Maurice Hawkins: I feel wonderful. Like a winner... I feel good. I couldn't sleep last night. For the first time I actually had jitters, which is strange, but I think it's because I really wanted to get to a WSOP final table. It's more like a résumé builder, and I just feel really good about finally accomplishing that. This is my first time here, so basically, now I just have to win. Because when I get to final tables I win, therefore I just got to keep doing what I do.
You're entering the final seventh out of nine in terms of chips, but you've found yourself in this spot before, coming in sixth out of nine at the Palm Beach Kennel Club Circuit Main Event you recently won. How does the chip disadvantage affect you're play?
It doesn't mean much to me — chips don't mean anything. I just let them make mistakes and try to capitalize, and hopefully at the end of it I get heads up and then I crush. Because once I'm heads up, it's mine.
PokerNews: That's the kind of comment that seems to generate the hate from people who don't know if you're joking or jabbing, so back to those doubters we talked about earlier. Why do you think fellow pros seem to have such a diverse range of opinions on you as a player and as a person?
I'm not sure, but I think back to an exchange with a player I had in New Orleans, I asked, "Why does he hate so much, what is it with his animosity?" And he looked at me and said, "Oh it's because you're a goon." See that's his problem though — he was pontificating like he was coming from a different level instead of just admiring and respecting everybody's game. I was one of his biggest fans, and instead he chose to go the opposite route and dislike me because he doesn't understand me. So that's what I say to them, just don't hate what you don't understand.
To read the full interview, check out the article at PokerNews.com.
Nível: 30
Blinds: 50,000/100,000
Ante: 10,000
Nível 30 : 50,000/100,000, 10,000 ante
Hand #14: Jason Johnson moved all in for the second time on the final table, this time for 2,075,000. Maurice Hawkins peeked at his cards and almost got excited, but ended up folding and walking around on the feature stage. Andrew Dick folded his big blind and Johnson got the blinds and antes.
Hand #15: Bradley Anderson raised to 180,000 from under the gun, Jeffrey Coburn called in the cutoff and Stephen Graner defended his big blind. On the
flop, Graner checked, Anderson bet 255,000 and only Coburn called. Both then checked the
turn and Anderson checked the
river. Coburn led for 350,000 and that won the pot without showdown.
Hand #16: Maurice Hawkins raised to 190,000 and won the blinds and antes.
Hand #17: Stephen Graner raised from the button and both blinds surrendered.
Hand #18: The action folded to Bradley Anderson on the button and he raised to 165,000. Andrew Teng defended his big blind and made the call. Teng check-called 165,000 on the
flop and the
appeared on the turn. Teng checked for a second time, Anderson bet 365,000 and this time, the Brit tank-folded.