Event #8: $1,500 Millionaire Maker No-Limit Hold'em
Dias: 3
Event #8: $1,500 Millionaire Maker No-Limit Hold'em
Dia 3 Começado
| Table | Seat | Player | Chips |
| --- | --- | --- | --- |
| 426 | 1 | Orez Mokedi | 92,000 |
| 426 | 2 | Pfizer Jordan | 63,000 |
| 426 | 4 | Thomas Couture | 333,000 |
| 426 | 5 | Joseph Salvaggi | 314,000 |
| 426 | 6 | Kim Lam | 107,000 |
| 426 | 7 | Matthew Livingston | 194,000 |
| 426 | 8 | Carmen Evola | 425,000 |
| 426 | 9 | Jason Vanstrom | 200,000 |
| | | | |
| 427 | 1 | Jeremy Halaska | 175,000 |
| 427 | 2 | James Bucci | 93,000 |
| 427 | 3 | Christopher Keller | 191,000 |
| 427 | 4 | Sean Prendiville | 520,000 |
| 427 | 5 | Bret Weeks | 134,000 |
| 427 | 6 | Rhys Jones | 163,000 |
| 427 | 7 | Ashly Butler | 266,000 |
| 427 | 8 | Chris Savage | 273,500 |
| 427 | 9 | Darrell Ticehurst | 153,000 |
| | | | |
| 428 | 1 | Michael Nye | 126,000 |
| 428 | 2 | Nicholas Baker | 122,000 |
| 428 | 3 | Nathaniel Falber | 417,000 |
| 428 | 4 | Andrew Teng | 351,000 |
| 428 | 5 | Russell Spaid | 68,000 |
| 428 | 6 | Patrick Truong | 166,000 |
| 428 | 7 | Gabriel Paul | 98,000 |
| 428 | 8 | Andrew Oh | 593,000 |
| 428 | 9 | Christopher Gaddi | 380,000 |
| | | | |
| 429 | 1 | Christoph Csik | 402,000 |
| 429 | 2 | Paul Pirrone | 64,000 |
| 429 | 3 | Richard Furay | 178,000 |
| 429 | 4 | Nathan Tuthill | 92,000 |
| 429 | 5 | Chris Bolek | 233,000 |
| 429 | 6 | Bassel Assi | 342,000 |
| 429 | 7 | Scott Bosart | 123,000 |
| 429 | 8 | William Chao | 212,000 |
| 429 | 9 | Chris Klodnicki | 180,000 |
| | | | |
| 430 | 1 | Matt Salsberg | 163,000 |
| 430 | 2 | Timothy Link | 30,000 |
| 430 | 3 | Stewart Newman | 340,000 |
| 430 | 4 | Jonathan Gray | 91,000 |
| 430 | 5 | Mike Phu | 108,000 |
| 430 | 6 | James Duke | 240,000 |
| 430 | 7 | Jeffrey Dewitt | 123,000 |
| 430 | 8 | Robert Noel | 115,000 |
| 430 | 9 | Kyle Ho | 142,000 |
| | | | |
| 431 | 1 | Ronald Mcginnity | 378,000 |
| 431 | 2 | Robert Paddock | 131,000 |
| 431 | 3 | Christopher Thompson | 287,000 |
| 431 | 4 | Thomas Fuller | 216,000 |
| 431 | 5 | Ryan Reisner | 114,000 |
| 431 | 6 | Tony Baker | 160,000 |
| 431 | 7 | Jeffrey Coburn | 1 |
| 431 | 8 | Christopher Hyden | 44,000 |
| 431 | 9 | Amir Lehavot | 12,000 |
| | | | |
| 432 | 1 | Raymond Wright | 223,000 |
| 432 | 2 | Andre Busato | 150,000 |
| 432 | 3 | Christopher Neal | 324,000 |
| 432 | 4 | Omar Mehmood | 89,000 |
| 432 | 5 | Tleuzhan Jumakov | 367,000 |
| 432 | 6 | Cory Carlson | 321,000 |
| 432 | 7 | Kevin Gattes | 90,000 |
| 432 | 8 | Athanasios Polychronopoulos | 239,000 |
| 432 | 9 | David Randall | 217,000 |
| | | | |
| 433 | 1 | William Cogan | 144,000 |
| 433 | 2 | Darwin Giles | 150,000 |
| 433 | 3 | Rob Sciammarella | 129,000 |
| 433 | 4 | Christopher Mazzawi | 91,000 |
| 433 | 5 | Richard Ajemian | 245,000 |
| 433 | 6 | Jorden Fox | 202,000 |
| 433 | 7 | Jeffrey Schnettler | 117,000 |
| 433 | 8 | Jason Johnson | 317,000 |
| 433 | 9 | Robert Kessler | 141,000 |
| | | | |
| 434 | 1 | James Nguyen | 107,000 |
| 434 | 2 | Michael Minetti | 177,000 |
| 434 | 3 | Greg Hobson | 104,000 |
| 434 | 4 | James Kirk | 155,000 |
| 434 | 5 | Jason Leifer | 62,000 |
| 434 | 6 | Michael Terronez | 166,000 |
| 434 | 7 | Daniel Jones | 388,000 |
| 434 | 8 | Jeff Sluzinski | 299,000 |
| 434 | 9 | Ilkin Amirov | 302,000 |
| | | | |
| 435 | 1 | Jaime Kaplan | 100,000 |
| 435 | 2 | Guowei Zhang | 14,000 |
| 435 | 3 | Joe Berry | 188,000 |
| 435 | 4 | Garrett Beckman | 188,000 |
| 435 | 5 | Khoa Ha | 66,000 |
| 435 | 6 | Aditya Prasetyo | 185,000 |
| 435 | 7 | Jeffrey Yarchever | 70,000 |
| 435 | 8 | Buck Ramsay | 102,000 |
| 435 | 9 | Ted Lawson | 290,000 |
| | | | |
| 436 | 1 | Allan Cook | 252,000 |
| 436 | 2 | Aaron Kaiser | 220,000 |
| 436 | 3 | James Mackey | 387,000 |
| 436 | 4 | Wenlin Wang | 299,000 |
| 436 | 5 | Curt Kohlberg | 372,000 |
| 436 | 6 | Christopher Smith | 144,000 |
| 436 | 7 | Jonathan Dimmig | 632,000 |
| 436 | 8 | Chris Wa | 245,000 |
| 436 | 9 | Lauren Billings | 54,000 |
| | | | |
| 437 | 1 | William Davis | 150,000 |
| 437 | 2 | Andrew Seidman | 229,000 |
| 437 | 3 | Pejman Niyati | 325,000 |
| 437 | 4 | Matt Brady | 45,000 |
| 437 | 5 | James Giraldo | 223,000 |
| 437 | 6 | Brian Surber | 76,000 |
| 437 | 7 | Filip Vanherck | 127,000 |
| 437 | 8 | Geoffrey Campion | 103,000 |
| 437 | 9 | Ron Jenkins | 584,000 |
| | | | |
| 438 | 1 | Laurence Samet | 286,000 |
| 438 | 2 | Geoffrey Desobry | 100,000 |
| 438 | 3 | Roy Duleba | 141,000 |
| 438 | 4 | Bradley Anderson | 241,000 |
| 438 | 5 | John Marlowe | 117,000 |
| 438 | 6 | Matthew Newcombe | 188,000 |
| 438 | 7 | Colby Burleson | 77,000 |
| 438 | 8 | David Wilkinson | 237,000 |
| 438 | 9 | David Schnettler | 259,000 |
| | | | |
| 439 | 1 | Jordan Knackstedt | 141,000 |
| 439 | 2 | Adam Sadick | 82,000 |
| 439 | 3 | Ardie Ervin | 187,000 |
| 439 | 4 | Jose Galindo | 294,000 |
| 439 | 5 | Joel Tushnet | 80,000 |
| 439 | 6 | Idris Gencoglu | 354,000 |
| 439 | 7 | James Pritchard | 62,000 |
| 439 | 8 | Rafiq Mohammed | 177,000 |
| 439 | 9 | Stephen Graner | 149,000 |
| | | | |
| 440 | 1 | Maurice Hawkins | 254,000 |
| 440 | 2 | Dwyte Pilgrim | 274,000 |
| 440 | 3 | John Schmitz | 122,000 |
| 440 | 4 | John Racener | 218,000 |
| 440 | 5 | Jesse Martin | 190,000 |
| 440 | 6 | Diane Roznik | 329,000 |
| 440 | 7 | Gennady Shimelfarb | 292,000 |
| 440 | 8 | Michael Fitzgerald | 232,000 |
| 440 | 9 | Scott O'Reilly | 231,000 |
| | | | |
| 441 | 1 | Brian Pinkus | 121,000 |
| 441 | 2 | Andrew Dick | 322,000 |
| 441 | 3 | Cylus Watson | 50,000 |
| 441 | 4 | Tuyen Nguyen | 234,000 |
| 441 | 5 | Yuliyan Kolev | 632,000 |
| 441 | 6 | Michael Stembera | 158,000 |
| 441 | 7 | Chad Eveslage | 70,000 |
| 441 | 8 | Ryan Jones | 205,000 |
| 441 | 9 | Garrett Greer | 136,000 |
| | | | |
| 442 | 1 | Griffin Paul | 336,000 |
| 442 | 2 | Kenny Hsiung | 65,000 |
| 442 | 3 | Brian Yoon | 224,000 |
| 442 | 4 | David Petrus | 43,000 |
| 442 | 5 | Brady Bullard | 132,000 |
| 442 | 6 | Charles Randall | 211,000 |
| 442 | 7 | Brauer Yannick | 201,000 |
| 442 | 8 | Allen Kessler | 183,000 |
| 442 | 9 | Steven Moseley | 568,000 |
| | | | |
| 443 | 1 | Andrew Zuzolo | 148,000 |
| 443 | 2 | Thanh Tran | 145,000 |
| 443 | 3 | Ramin Piro | 104,000 |
| 443 | 4 | Larry Odegard | 213,000 |
| 443 | 5 | Albert Winchester | 129,000 |
| 443 | 6 | John Moore | 249,000 |
| 443 | 7 | Larry Quang | 95,000 |
| 443 | 8 | Richard Mirin | 107,000 |
| 443 | 9 | Timothy Tracy | 196,000 |
| | | | |
| 444 | 1 | Andre Dyonisio | 95,000 |
| 444 | 2 | Teresa Hemingway | 237,000 |
| 444 | 3 | Mark Hsu | 149,000 |
| 444 | 4 | Sean Berrios | 116,000 |
| 444 | 5 | Bart Lybaert | 615,000 |
| 444 | 6 | David Fong | 393,000 |
| 444 | 7 | Chris DeMaci | 396,000 |
| 444 | 8 | Jonathan D'Souza | 322,000 |
| 444 | 9 | Gregory Lasica | 210,000 |
| | | | |
| 445 | 1 | Greg Mueller | 107,000 |
| 445 | 2 | Hugo Perez | 116,000 |
| 445 | 4 | Patrick Chan | 304,000 |
| 445 | 5 | Joseph Pergola | 212,000 |
| 445 | 6 | Eric Dawson | 59,000 |
| 445 | 7 | Derek Geise | 73,000 |
| 445 | 8 | Derek Dempsey | 85,000 |
| 445 | 9 | Maxime Dubois | 150,000 |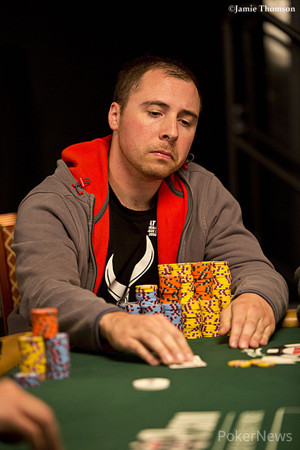 Today is supposed to be the last scheduled day for the record-breaking Event #8: $1,500 Millionaire Maker No-Limit Hold'em here at the 2014 WSOP, but due to the massive field size with an astonishing 7,977 entries in total, a fourth day to determine the winner seems likely. A total of 178 players are still in contention for the $1,319,587 first-place payout. The action resumes at 1 p.m. Vegas time with blinds at 4,000/8,000 and an ante of 1,000.
Yuliyan Kolev and Jonathan Dimmig are tied for the chip lead currently, having each accumulated 632,000 chips thus far with Bart Lybaert (615,000) hot on their heels. Other big names still left include Sean Prendiville (520,000), James Mackey (387,000), Andrew Teng (351,000), Dwyte Pilgrim (274,000), Athanasios Polychronopoulos (239,000), Andrew "BalugaWhale" Seidman (229,000), Allen Kessler (183,000), and Greg Mueller (107,000). All players have at least $7,430 guaranteed, but all are also eyeing that $1,319,587 first prize up top.
Follow live updates on the PokerNews live blog today at they try to whittle down the Event #8 field as much as possible.
The full Day 3 seat draw can be found here.
Nível: 19
Blinds: 4,000/8,000
Ante: 1,000
Nível 19 : 4,000/8,000, 1,000 ante
It didn't take long for the first short stack to move all in. After a raise from Carmen Evola, Pfizer Jordan three-bet shoved for 62,000 and Evola called. Jordan had
and Evola
, and the board ran out
to end Jordan's tournament.
Only moments later Kenny Hsiung, who only had a few thousand chips more, was also eliminated as well on Table 442.
Nível 19 : 4,000/8,000, 1,000 ante
We found Allen Kessler facing a river bet of 75,000 from a single opponent on a board of
. Kessler turned
face up, saying he was glad all of the money didn't go in on the flop. He mucked his hand.
Nível 19 : 4,000/8,000, 1,000 ante
It is not really unexpected that we are getting many eliminations early. Just now we caught the last moments Adam Sadick's bustout. He got it in with
versus
and the board ran out jack-high. Hugo Perez then followed Sadick to the rail shortly thereafter.
Nível 19 : 4,000/8,000, 1,000 ante
We've probably lost another ten players already, with Chad Eveslage joining the parade to the cashier.
Eveslage three-bet shoved his short stack with
and Michael Stembera called with
. The
board provided no help for the short stack, and Eveslage is out.
Nível 19 : 4,000/8,000, 1,000 ante
Lauren Billings started the day as one of the shortest stacks and looked down at
and decided to move all in. She was called by James Mackey who held
. The board would run out
and Mackey's full house was more than enough to send Billings to the rail.
Meanwhile over at Table 439 there was a four-way all in on the very first hand. Two players held ace-king and the other two pocket queens. The board would run dry and the two with ladies would split the pot.
Nível 19 : 4,000/8,000, 1,000 ante
The dealer called out "all in" as Christopher Hyden pushed in his stack in middle position. Amir Lehavot called with a small stack on his left, and Christopher Thompson wasted no time pushing over the top in the small blind.
Christopher Hyden:

Amir Lehavot:

Christopher Thompson:
Thompson's big pair held on the
board and Hyden and Lehavot were sent to the cashier after a very short Day 3.