Event #8: $1,500 Millionaire Maker No-Limit Hold'em
Dias: 1b
Event #8: $1,500 Millionaire Maker No-Limit Hold'em
Dia 1b Começado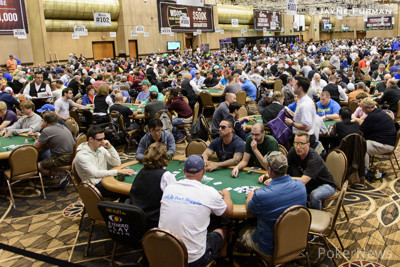 Hello and welcome to Day 1b of Event #8: $1,500 Millionaire Maker No-Limit Hold'em, a tournament so large that Day 1a and 1b are running concurrently and completely filling the available space of the Rio All-Suite Hotel & Casino's three vast tournament rooms.
This tournament has over 6,800 players registered in it and we fully expect a massive crowd to buy into the second and final starting flight. Judging by the queue that stretches from the registration desk to the Poker Kitchen, we could possibly hit 8,000 runners in total, and that is completely nuts when you think about it.
The Day 1b field will not only have plenty of fresh faces, but also anyone who played and busted on Day 1a and fancies exchanging an extra $1,500 for 4,500 tournament chips and the chance to become the latest poker millionaire.
Plan for today is to play nine 60-minute levels with a break at the end of every second level.
Hold onto your hats, ladies and gentlemen, this should be a fast and bumpy ride.
Nível: 1
Blinds: 25/25
Ante: 0

Nível 1 : 25/25, 0 ante
The players are in their seats and the dealers instructed to get this show on the road.
Nível 1 : 25/25, 0 ante
The Amazon Orange section contains 42 tables and below you find a selection of well knock names that are seated here at the start of the Millionaire Maker Day 1B.
Nível 1 : 25/25, 0 ante
You pay $1,500 for a tournament, sit down, get
and flop two pair on
. On the turn another jack pops up and you now have a full house. The only problem is your opponent, who shows up with
and has the higher boat. Just seen on table 384 ... exit in the very first hand of play.

Nível 1 : 25/25, 0 ante
A short, but sweet, selection of stellar names who are hoping to add a seven-figure score to their already impressive list of poker accomplishments.
Nível 1 : 25/25, 0 ante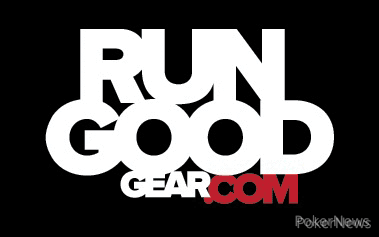 Get 10% Off on RunGoodGear Products!
Need some poker swag?
There's a brand new batch of RunGoodGear products available, including the new RunGood Cardbox T-shirts, spaded hoodies and a newly added section just for women, like RunGood Pros Lauren Kling, Katie Dozier and Amanda Baker.
PokerNews fans can grab some RunGoodGear on a discount during the World Series of Poker. Simply use the promo code "pokernews" for your next order and receive 10% off. That's right! Type "pokernews" into the promo code box and 10% of your order goes right back into your bankroll.
For more information - or if you want to check out some of the new swag available - check out RunGoodGear.com.
Nível 1 : 25/25, 0 ante
And the next few familiar faces that take a shot at the Million Dollars.
Nível 1 : 25/25, 0 ante
We even have a waiting list at the seven star and diamond entrance, let alone the normal registration that has a queue all the way to the Pavilion and Brasilia Rooms. The 7,000 player mark is already eclipsed and will increase significantly in the hours to come.