Nível 33 : 100,000/200,000, 30,000 ante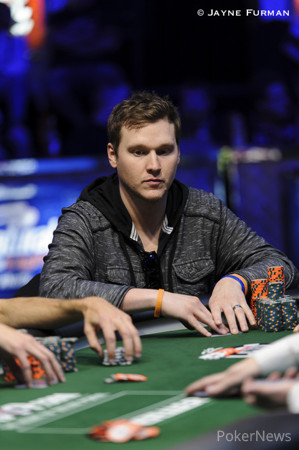 Brad Anderson hails from Missoula, Mont. and the trip to Las Vegas was planned around playing the Millionaire Maker. This is only his second bracelet event that Anderson played with the first being last year's Millionaire Maker.
When he got to Vegas, Anderson felt the $1,500 buy-in was a little too high, so he decided to play a $275 satellite. He won the satellite and is now one of five players competing for $1 million.
We caught up with Anderson as the players went on break to talk about how the tournament is playing out and his game plan for the rest of the day.
PokerNews: Congratulations. How does it feel to be playing for over $1 million?
Brad Anderson: Thank you. It's crazy. It's so surreal. It hasn't really set in that we are playing for over a million dollars. It's just crazy.
Things seem to be going your way today.
Yeah. I am running pretty well. In a tournament this big, they tell me the main thing is you have to run well. And I am.
You came in as one of the shorter stacks of the day and now you are the overwhelming chip leader. What were some of the key moments for you today?
I ran a couple of big bluffs early to get some chips and the kid to my right, Stephen (Graner) was a really good player with a lot of chips. He ended up having some tough hands, some cooler hands that could have gone either way and he was losing chips. That kind of freed up me to play a little more pots. I started the day trying to stay out of his way because he had a lot of chips and I respect his game.
Then I started to get some cards, there was an ace-queen versus ace-jack. I was put all in and I just felt if it was meant to be, it was meant to be. Then I picked up a big hand after that and kind of built it up and went on a crazy run.
How did you avoid all the land mines through the three previous days?
I felt like I played pretty well, but then I got lucky a few times for a few really huge pots. I was all in and hit a jack to make a set against kings. And another one I was short-stacked and shoved a hand into a favorite and then got lucky. You have to get lucky more than a few times in a field this big.
I feel like I picked my spots and tried to avoid mistakes. Add some luck and here I am with a chance to win a million.
This is obviously a huge score, what does it mean?
It really means a lot. Maybe I can play a little bit more after this. I have some friends that are good players and I really spent a lot of last year studying the game, reading books and picking the brains of other players. I lost some money but I wanted to improve.
What's your game plan for the rest of the day?
Everyone at the table is a good player. I just have to apply pressure and try not to double someone up. Keep playing, avoid mistakes and apply pressure on the shorter stacks. I guess we'll see how it goes.