Event #3: €1,100 No-Limit Hold'em Turbo Bounty Hunter
Dias: 1
Nível: 11
Blinds: 800/1,600
Ante: 200
Nível 10 : 600/1,200, 200 ante
On the flop of
, Jordy Palma was all in and Kai Schuster moved all in over the top for 22,100. Jaroslav Peter had the biggest stack of the trio and called to put two players at risk.
Jordy Palma:

Kai Schuster:

Jaroslav Peter:
Palma picked up more outs with the
turn, but the
river was a blank to eliminate the Frenchman. Right after, Josep Maria Galindo Lopez arrived with a fresh stack and other recent re-entries include James Akenhead and Brandon Cantu, while the biggest stack at the table is Benjamin Benoit.

Nível 10 : 600/1,200, 200 ante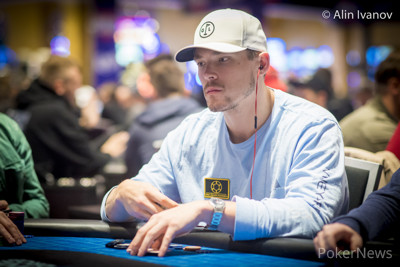 Alex Foxen raised to 2,200 from the under-the-gun position and was called by Gudmundur Gunnarson in the big blind.
The flop came
, Gunnarson check-called the 1,900 bet of Foxen.
The
was turned over and now Gunnarson check-called the 4,600 bet of Foxen.
The
on the river completed the board, Gunnarson checked again. Foxen looked at Gunnarson, then at the board again. Foxen stared at Gunnarson again and then decided to go all in for about 19,000. Gunnarson was now up for a decision and took some time to think. Eventually, he folded.
"What did you have?" Jack-eight?" Foxen said.
"Good read. What about you?" Gunnarson replied.
"I had queen-ten." Foxen claimed as he put his chips in a rack as the table was going to break and the players were divided over the open seats amongst the other tables.
Jogador
Fichas
Progresso

Alex Foxen

37,000

7,000

Gudmundur Gunnarsson

14,600
Nível: 10
Blinds: 600/1,200
Ante: 200
Nível 9 : 500/1,000, 100 ante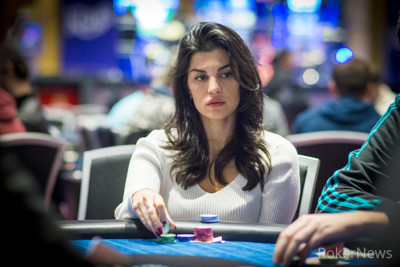 Aylar Lie moved all in for 18,200 from early position and Viktor Kovachev also moved all in from two seats over to force out everyone else.
Aylar Lie:

Viktor Kovachev:
The board came
and Lie left the table with a "hard to beat aces," then grabbed her dog and went for a walk.
Nível 9 : 500/1,000, 100 ante
Jogador
Fichas
Progresso

Andrej Desset

85,000

35,000

Michal Mrakes

68,000

55,000

Arsenii Karmatckii

68,000

48,000

Dominik Desset

60,000

40,000

Federico Quevedo

60,000

-8,000

Rolf Galasen

60,000

-8,000

Phil Hellmuth

58,000

43,000

Fabrice Halleux

34,000

34,000

Sebastian Langrock

30,000

6,000

Salvatore Camarda

29,000

29,000

Jesper Hansen

29,000

9,000

Viliyan Petleshkov

25,000

25,000

Michael Magalashvili

24,000

-2,000

Alexander Lakhov

24,000

24,000

Jan Bednar

22,000

2,000

Chris Ferguson

22,000

5,000

Carlo Savinelli

22,000

-2,000

Jerry Odeen

17,000

-3,000
Nível 9 : 500/1,000, 100 ante
Jan Mach bet the river of a board
for 3,500 in the small blind and Teunis Kooij shoved for 29,000 in the big blind. Mach eventually folded and the Dutchman raked in the pot.
Among the chip leaders towards the end of the registration period are Yehuda Cohen, Marc MacDonnell, Larwrence Whyte and Martin Kabrhel.
Cohen collected yet another bounty after winning a flip with
against the
of Tony Lefort, the board came
.
Kabrhel got into a three-bet pot with Jerome Sgorrano and continued for 7,000 on the
flop. Sgorrano check-called and checked again from the cutoff on the
turn, then reluctantly called a bet worth 16,600 by Kabrhel. The
fell on the river and both started some table chat. Sgorrano checked and Kabrhel's bet of 50,000 forced a fold.
Jogador
Fichas
Progresso

Martin Kabrhel

135,000

30,000

Lawrence Whyte

125,000

35,000

Yehuda Cohen

100,000

36,000

Marc MacDonnell

90,000

45,000

Bernd Gleissner

70,000

32,000

Teunis Kooij

42,000

8,000

Jerome Sgorrano

30,000

1,000

Jan Mach

22,000

Tony Lefort

Eliminado
Nível: 9
Blinds: 500/1,000
Ante: 100

Nível 8 : 400/800, 100 ante
Milad Oghabian was all in for his remaining 7,900 with
on the board already. He was called by the player in the small blind.
Milad Oghabian:

Small Blind:
Oghabian had a set of queens and his opponent had top pair with the aces. The
on the river didn't really matter much as Oghabian had him drawing dead and he doubled up.
Nível 8 : 400/800, 100 ante
Joining the action on the
turn, Felipe Ramos in the big blind bet 2,500 and was called by Francisco Fernandez on the button. The
fell on the river and Ramos bet 10,000. "Really?" Fernandez asked and added "I have a seven, seven four suited," before mucking the
face up.
"What is this table?" Fernandez asked after that, having spotted the newly arrived Martin Kabrhel with his monster stack.
Michael Eiler arrived with a new ticket in hand as re-entry while Salvatore Camarda went from zero to hero one table over.