Event #3: €1,100 No-Limit Hold'em Turbo Bounty Hunter
Dias: 1
Event #3: €1,100 No-Limit Hold'em Turbo Bounty Hunter
Dia 1 Começado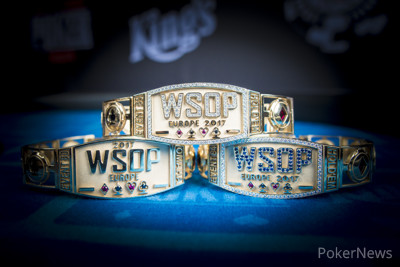 Today sees the start and finish of Event #3: €1,100 No-Limit Hold'em Turbo Bounty Hunter and the tournament is set to begin at 3 p.m local time. This is a brand-new event for the 2017 World Series of Poker Europe; the player capturing the coveted gold WSOPE bracelet will go down in history as a first-time ever winner.
The usual suspects are expected to take a seat today, including Ryan Hughes, Chris Ferguson, John Racener and Alex Foxen, who are all vying for the WSOP Player of the Year top spot. Other notables expected to show up include Chris Moneymaker, Phil Hellmuth, Roberto Romanello, Mike Leah, Allen Kessler, Kenny Hallaert, Barny Boatman, Ismael Bojang and Oleksandr Shcherbak, who captured the first WSOPE Bracelet here in Rozvadov a few days ago.
Event #3 is a one-day event and will reach its conclusion later today. Once the official final table has been reached, a live stream will start broadcasting with hole-cards and a 30-minute security delay. Players who enter the event will receive 20,000 in tournament chips and every player has a €300 bounty on their head. Levels will be 20 minutes long with 20-minute breaks after every six levels. A 60-minute dinner break is scheduled after Level 14, which will be around 8 p.m. local time. Registration will be open up until the start of Level 11 (approximately 7 p.m) and unlimited reentries are available, giving the hunters plenty of ammo to work with.
Alongside this tournament, Event #2: €550 Pot-Limit Omaha will play to a conclusion today and also crown a bracelet winner. 31 players have returned earlier today for Day 2 and all updates of this event can be followed here. Follow PokerNews and don't miss all the action as we crown two brand-new winners today right here at King's Casino in Rozvadov!
Nível: 1
Blinds: 50/100
Ante: 0

Nível 1 : 50/100, 0 ante
The floor has just announced that the button will start in Seat 9 and instructed the dealers to shuffle up and deal. There are currently 85 players registered.
Nível 1 : 50/100, 0 ante
The screens show 85 entries right away at the start and among those seated early on are Chris Ferguson, Roland Israelashvili, Barny Boatman and Jeff Lisandro.
Jogador
Fichas
Progresso

Roland Israelashvili

20,000

Chris Ferguson

20,000

Barny Boatman

20,000

Chi Cuong Huynh

20,000

Mohammadjavad Haddadnia

20,000

Rolf Galasen

20,000

Jerry Odeen

20,000

Aaron Duczak

20,000

Jeff Lisandro

20,000

Fahredin Mustafov

20,000
Nível 1 : 50/100, 0 ante
Sebastian Langrock bet 1,000 into a pot of 1,200 on the river of a board
and his sole opponent in the cutoff called. Langrock rolled over
for the straight and scooped the pot.
Soon after, Langrock got involved into a bigger pot with Michal Eiler and both saw a board of
. Eiler checked out of the big blind and Langrock made it 1,500 to go from the button. Eiler gave it brief consideration and called, then mucked quickly when Langrock flipped over
for a full house.
Nível 1 : 50/100, 0 ante
Some 30 players are waiting in line to get their ticket and enter the tournament while the screens show a total of 105 entries mid way through level one. Below are further notables that are already seated.
Jogador
Fichas
Progresso

Vivian Saliba

20,000

20,000

Ambassador

Roberto Romanello

20,000

20,000

Felipe Ramos

20,000

Team Brazil

Emil Lukac

20,000

Romain Follet

20,000

Christopher Back

20,000

Sergej Barbarez

20,000

20,000

Jan Bednar

20,000

20,000

Pedro Oliveira

20,000

20,000

Jesper Hansen

20,000

20,000
Nível: 2
Blinds: 75/150
Ante: 25

Nível 2 : 75/150, 25 ante
Jogador
Fichas
Progresso

Brandon Cantu

20,000

20,000

Maxim Lykov

20,000

20,000

Alex Foxen

20,000

20,000

Ali Sameeian

20,000

20,000

Max Pescatori

20,000

20,000

Martin Kabrhel

20,000

20,000

Rex Clinkscales

20,000

20,000
Nível 2 : 75/150, 25 ante
Andrej and Dominik Desset are sitting next to each other while Marek Tatar arrived on their right, and both brothers cracked up given their seat draw.
A few tables over, Max Pescatori sits next to Ali Sameeian and Brandon Cantu, while Ivo Donev is on the same table as well.
Jogador
Fichas
Progresso

Andrej Desset

20,000

20,000

Dominik Desset

20,000

20,000

Marek Tatar

20,000

20,000

James Akenhead

20,000

20,000

Ivo Donev

20,000

20,000

Ryan Hughes

20,000

20,000

John Racener

20,000

20,000

Christian Arstad

20,000

20,000

Tal Shemon Cohen

20,000

20,000

Eddy Scharf

20,000

20,000