Nível 21 : 20,000/40,000, 40,000 ante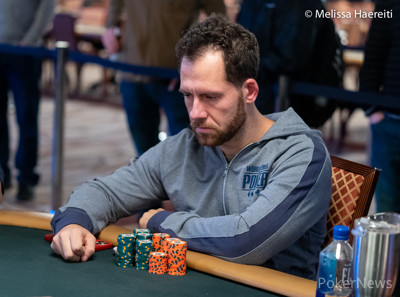 No-Limit Hold'em
Dan Cates raised to 100,000 from under the gun and Eli Elezra called from the cutoff while Ryan Leng came along from the big blind.
The flop was
and all three players checked.
The turn was
and Leng checked. Cates bet 550,000 and Elezra folded while Leng called.
The river was
and Leng checked once more. Cates bet 1.15 million and Leng went deep into the tank.
"All I wanted was a jack on the turn," Leng said as he spent nearly five minutes thinking.
Cates sat like a statue.
"You look like you want me to pay you."
Leng tossed the losing hand in the muck.
With some encouragement from the table, Cates showed the bluff
.
"You're a wild man," one observer said.
Jogador
Fichas
Progresso

Dan Cates

4,530,000

715,000

Eli Elezra

4,050,000

-50,000

Ryan Leng

1,505,000

-645,000