Event #55: $400 Colossus
Dias: 1a
Event #55: $400 Colossus
Dia 1a Começado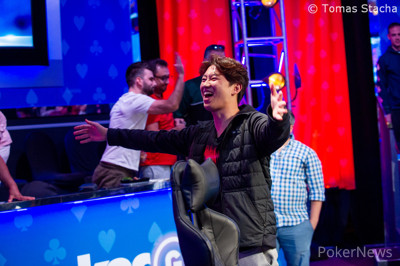 Today at 10 a.m local time Day 1a of Event #55: $400 Colossus will get underway.
This tournament will feature 40-minute levels with a 40,000 starting stack for every player who enters. One reentry per flight will be permitted. The structure calls for a total of 17 levels to be played on both Day 1 flights, with a 20-minute break after every three levels. Late registration will remain open until the end of the 75-minute dinner break after Level 12 (approx 8:15 p.m.)
In 2019, this tournament garnered a whopping 13,109 entries to create a prize pool of $4,382,515. Topping the field at the end was Sejin Park collecting his first WSOP bracelet and the grand prize of $451,272. Park defeated well-known poker pro Georgios Kapalas heads-up who took home $278,881 for his efforts.
Flight B will begin at 10:00 a.m. on Saturday, October 30 and both flights will be combined for Day 2 on Sunday, October 31 at 10:00 a.m. After 15 levels on Day 2, the remaining players will bag for Day 3 restart on Monday, November 1 at 10:00 a.m. and play down to a winner.
Stay tuned to PokerNews for the updates throughout this exciting event.

Further to a tweet from the official World Series of Poker (WSOP) account, the start of the Colossus has been delayed until 11:00 a.m.
Players who got a seat assignment for Pavilion White tables will be redirected to the Amazon Orange section while the players with a Pavilion Green ticket will be able to get a seat at 1:20 p.m.

Tournament officials are still organizing ahead of the start of the Colossus Day 1a. Stay tuned for more details.
Nível: 1
Blinds: 100/200
Ante: 200

Nível 1 : 100/200, 200 ante
Nível 1 : 100/200, 200 ante
On the
turn, J.P Griffen and his opponent had already built a pot of about 16,000. After being checked to Griffen fired out a bet of 10,000 and got called.
The
fell on the river and both players checked. Griffen tabled
for a pair of aces and scooped the pot.
Jogador
Fichas
Progresso

J.P Griffen

70,200
Nível 1 : 100/200, 200 ante
Jogador
Fichas
Progresso

Justin Arnwine

40,000

40,000

Howard Bragg

40,000

40,000

Fernanda Lopes

40,000

40,000

Steve Jarrett

40,000

40,000

Tom Dykema

40,000

40,000

Jeremy Smith

40,000

40,000

George Miro

40,000

40,000
Nível 1 : 100/200, 200 ante
On a flop of
the player first to act put in a bet of 2,000. Cedric Danneker raised to 8,000 and after a few seconds his opponent threw his hand into the muck. Danneker tabled
to show the bluff.
On the following hand, Danneker raised to 1,100 from middle position and only the cutoff called.
The dealer spread a flop of
and Danneker check-called a bet of 1,600.
The
landed on the turn and Danneker put in a check-raise to 9,000, which his opponent called.
On the
river, Danneker threw in three 5,000 valued chips for a total bet of 15,000 and his opponent tanked for about a minute before mucking his hand.

Nível 1 : 100/200, 200 ante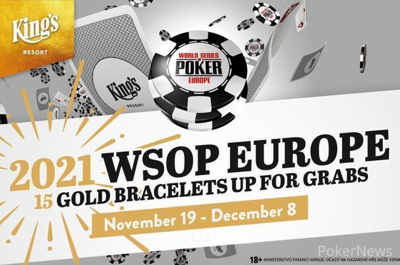 With less than a month to go for the 2021 World Series of Poker Europe (WSOPE), King's Resort confirmed its COVID rules for the series on Tuesday, October 26.
To comply with the latest laws in the Czech Republic, it has been announced that anyone who wishes to enter King's Resort in Rozvadov will need to prove they have had two doses of an EU-approved COVID vaccine — or a single dose if you have received the Johnson & Johnson/Janssen Pharmaceuticals jab.