Nível 37 : 300,000-600,000, 600,000 ante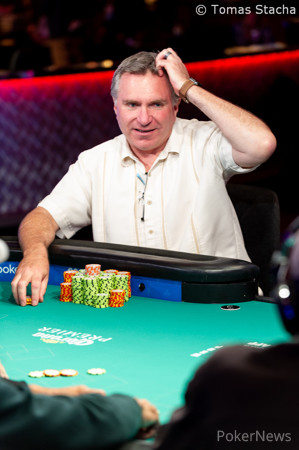 Hand #51: All players folded to Jean-René Fontaine in the big blind. Fontaine showed
as he collected the walk.
Hand #52: Adam Richardson bet 1.4 million on the cutoff, and Howard Mash called from the button. The flop came
, Richardson bet 1.5 million and Mash called.
The turn came the
, Richardson bet 4.5 million and got the fold from Mash.
Hand #53: Howard Mash opened to 1.4 million from the cutoff, and Adam Richardson called on the big blind. The flop came
, and Richardson check-folded to a 1.6 million bet from Mash.
Hand #54: Adam Richardson limped on the small blind, and Howard Mash checked back. The action checked through the flop on a board of
, bringing the
turn. Richardson bet 1 million and Mash folded.
Jogador
Fichas
Progresso

James Mcnurlan

61,300,000

-700,000

Adam Richardson

24,900,000

2,300,000

Howard Mash

17,000,000

14,800,000

Jean-René Fontaine

16,200,000

1,300,000