Nível 40 : 600,000/1,200,000, 1,200,000 ante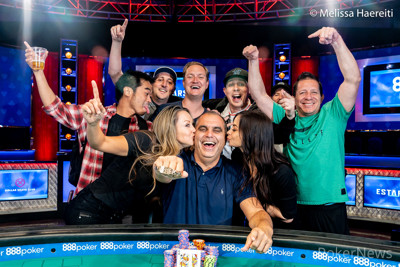 Howard Mash has taken down Event #32: $1,000 Seniors No-Limit Hold'em Championship, winning his first career bracelet and the $662,594 first prize after a hard-fought heads up battle with Jean-René Fontaine. These two players started Day 4 – fourteen hours ago – as the top two players in the Day 3 chipcounts and finished the night the same way they started the day.
Mash, a financial advisor from Florida, had taken the chip lead all the way back in Day 2, and kept a vice-like grip on it that only slipped briefly during the mid-stages of play today.
"At one point I was just staying alive barely," Mash said after his victory. "I stayed in and stayed in, then got lucky. Any tournament with 5,900 people, you have to get lucky to win."
Mash is more than a keen amateur, with over $319,000 in prior winnings, who makes time to study. Having only just qualified for the Seniors Event (he turned 50 last month), he says that poker is "like a hobby – but a pretty serious hobby."
Day 3 had whittled an in-the-money field of 252 down to 19 competitors over ten one-hour levels. Before the live streaming began, more than two thirds of them had busted to collect prizes ranging from $28,772 for 19th (Dane Nielsen, prompting the first redraw of the day) to $76,165 for 8th place (Mike Lisanti just missing out on having his hole cards broadcast to the world). The final table bubble spot fell to British player Ali Zihni (10th for $46,114).
Final table payouts:
| Place | Player | Country | Prize |
| --- | --- | --- | --- |
| 1 | Howard Mash | United States | $662,594 |
| 2 | Jean-René Fontaine | France | $409,249 |
| 3 | James McNurlan | United States | $303,705 |
| 4 | Adam Richardson | United States | $226,996 |
| 5 | Donald Matusow | United States | $170,887 |
| 6 | Farhad Jamasi | United States | $129,582 |
| 7 | Samir Husaynue | United States | $98,981 |
| 8 | Mike Lisanti | Canada | $76,165 |
| 9 | Mansour Alipourfard | United States | $59,044 |
Final Table action:
The start of today's final table saw the chips distributed very unevenly, with Jim McNurlan almost hidden behind a wall of gaming discs totalling over 33 million. Nothing in no-limit hold'em is predictable, however, and as the blinds rose ever higher other stacks rose to match McNurlan's and finally surpass it.
The money jumps grew serious as the final table played down, but the lively, warm spirit of the tournament as a whole never faltered. There were hugs shared as opponents hit the rail and copious banter led by short stack Samir Husaynue, who manoeuvred his way past the elimination of Mansour Alipourfard in 9th ($49,044), and Lisanti to end up busting in 7th ($98,981).
After a cagey start six-handed, Farhad Jamasi ran out of wiggle room stack-wise and Adam Richardson took him on preflop with
vs.
, hitting quads to bust him in 6th ($129,582). He was followed to the rail by Donald Matusow in 5th ($170,887) and play continued four-handed for a good portion of the day overall. McNurlan and Richardson traded time spent as the short-handed chip leader, with pots flying back and forth between them. Mash dwindled at this point, but as he later said, "didn't go on tilt, played solid and it worked out."
Bustouts often come like buses: not at all for hours and then in a flurry. Richardson was eliminated in 4th place ($226,996) just minutes before McNurlan lost a final flip to take 3rd ($303,705).
In a day of several chapters, the heads up section was the most intense. Mash rediscovered his form and kept his cool when Fontaine doubled repeatedly, fighting hard throughout. The two of them were also evenly matched in terms of supporters; cries of "one time" from Mash's friends (some of them also handsomely rewarded backers) mingled with "allez-la!" from the French-speaking quarter.
Fontaine, from the French territory of Réunion, is no stranger to large-field tournament success, having won the 4,348-runner EPT National in Barcelona last year for over $620,000. He was to be denied a bracelet this time, however, as a small-ball favouring Mash eventually closed out the lengthy one-on-one battle. Fontaine took home $409,249 for his runner up finish.
Of his win, Mash said, "I had a bad year last year personally and this totally makes up for it. I'm in shock. It's like a dream come true for me."