Event #23: $1,500 Eight Game Mix
Dias: 3
Event #23: $1,500 Eight Game Mix
Dia 3 Começado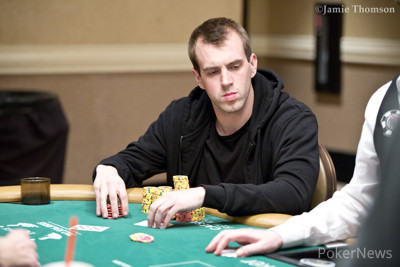 Welcome back to the Rio All-Suite Hotel and Casino, and the 50th Annual World Series of Poker for the final day of the Event #23: $1,500 Eight Game Mix. The original 612 player field has now dwindled down to the final 28 who will be returning today to battle it out for a shot of the $177,294 first place prize and a WSOP gold bracelet.
Starting the day in the chipleader role is Canada's Alex Livingston with a stack of 587,000. Livingston started the second day off strong and never really went back as he continued his heater throughout the latter stages of the night. Underneath Livingston on the leaderboard with 395,000 is a well-known mixed game specialist in Chris Vitch after a rollercoaster of a day that never had him short but did have him swinging from big to average stack on several occasions.
A red-hot Murilo Souza will be starting the day third with 383,000 in chips and all of the momentum in the world. Souza is fresh off of a bracelet victory in Event #14: $1,500 H.O.R.S.E that he won under a week ago and will be in contention for another here today. Just when you thought the competition and storylines couldn't get any better, Philip Long shows up and blows all expectations away. Long will be attempting to go back-to-back in this event and amazingly sits near the top of the counts with 353,000.
Day 3 begins at 2 p.m. local time with the players returning to action filled limits of 10,000/20,000. The levels will remain 60-minutes in length and there will be a 15-minute break after every two levels of play, with a 60-minute dinner break at the end of level 6. Play will not stop until a winner is crowned, collecting the $177,294 and a WSOP bracelet.
The PokerNews live reporting team will be bringing you all the action throughout the day, so stay tuned!
Nível: 21
Limit Flop / Draw: 5,000/10,000
Stud Games: 2,000-ante, 3,000 bring-in, 10,000 completion
No-Limit & Pot-Limit: 2,500/5,000 / 5,000-ante
Nível 21 : 10,000/20,000, 0 ante
The tournament director has now informed all dealers to shuffle up and start pitching the cards.
Nível 21 : 10,000/20,000, 0 ante
PLO
Alex Livingston potted to 13,000 from the hijack and Frederik Brink called in the cutoff. Chris Vitch elected to three-bet to 54,400, Livingston chucked and Brink called.
The dealer spread
out on the flop and Vitch slammed down a stack, betting 85,000. Brink took a brief moment to think and then threw his cards into the muck, sending the early pot to Vitch.
Nível 21 : 10,000/20,000, 0 ante
PLO
From blinds, Chris Vitch and Toby Lewis made it to the river of the
board with around 35,000 in the middle. Vitch checked and thought for nearly a minute when Lewis bet 18,000. Then he called but Lewis showed a straight with
and Vitch mucked his hand.
Few feet away, Noah Bronstein busted Douglas Raney from the neighboring table in a hand of Limit Hold'em.
Nível 21 : 10,000/20,000, 0 ante
Stud Hi-Lo
Keeth Beharrell had three low cards out and he falled a bet from Tuvya Felt whose board featured a pair of threes and three hearts. Felt fired on seventh again and Beharell opted to raise. Felt called but he found himself scooped as Beharrell tabled a seven-high straight and six-low.
Felt:
/

Beharrell:
/
Nível 21 : 10,000/20,000, 0 ante
2-7 Triple Draw
John Trumbul raised from the small blind and called when Vladimir Shchemelev made it three bets. Both players peeled one and Trumbul check-called. They drew one each and Trumbul called one more bet. He still needed one while Shchemelev patted the final draw. The action went quickly check-check and Trumbul tabled his hand only to see that he drew a
. Shchemelev showed
and raked in the pot.
Nível 21 : 10,000/20,000, 0 ante
Stud Hi-Lo
Sachin Bhargava:
/
/

Matt Glantz:
/
/

John Evans:
/
/

Chris Bjorin:
/
/
Sachin Bhargava moved his remaining stack in on fourth street and found three callers. John Evans led on every street afterward, he was called down by both Matt Glantz and Chris Bjorin. The four players went to showdown and Evans tabled
for a pair of aces with a seven-six low.
Bjorin mucked and Glantz showed
for two pair. Bhargava stood up and tabled
, losing both pots. He headed to the payout desk as Evans and Glantz split up the pot.
Nível 21 : 10,000/20,000, 0 ante
2-7 Triple Draw
In a three-bet pot, Cory Zeidman drew one from the small blind and so did big blind John Trumbul and Sokchheka Pho from the cutoff. Zeidman placed in his last 4,000 and Trumbul called for 10,000. Pho raised, Trumbul called, and they all kept drawing one to the end. No more bets were made between Trumbul and Pho and a three-way showdown followed.
Zeidman:

Trumbul:

Pho:
Zeidman only briefly flashed his hand as he knew his tournament was over.