Event #23: $1,500 Eight Game Mix
Dias: 1
Event #23: $1,500 Eight Game Mix
Dia 1 Começado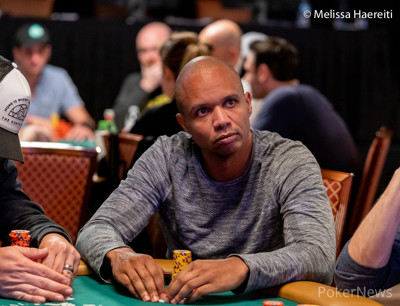 Following the $1,500 versions of Dealer's Choice and H.O.R.S.E. events that have both found their winners earlier this week, the mixed-game action at 2019 World Series of Poker now moves on to Event #23: $1,500 Eight Game Mix, a three-day event which starts today at 3 p.m. local time.
The variety of disciplines included in 8-Game allows the participants to showcase their prowess in both limit and big bet games with the traditional H.O.R.S.E. disciplines enhanced by the presence of No-Limit Hold'em, Pot-Limit Omaha, and 2-7 Triple Draw. The event rules allow players an optional single re-entry should they need it.
This year marks the fifth time the $1,500 8-Game Mix has been included among bracelet events, with the debut edition won by none other than Phil Ivey back in 2014. The tournament then had a one-year hiatus before returning to the schedule in 2016, and it has become a permanent fixture ever since then.
The turnouts for the event undoubtedly prove the popularity of the $1,500 8-Game. Each of the previous four appearances on WSOP schedule resulted in a field attacking 500 entries, always falling just short of the mark. Paul Volpe, Ron Ware, and Philip Long have followed in Ivey's footsteps and emerged as champions.
| Year | Winner | Country | First prize | Entries |
| --- | --- | --- | --- | --- |
| 2014 | Phil Ivey | United States | $166,986 | 485 |
| 2016 | Paul Volpe | United States | $149,943 | 491 |
| 2017 | Ron Ware | United States | $145,577 | 472 |
| 2018 | Philip Long | United Kingdom | $147,348 | 481 |
PokerNews will provide live updates from the 8-Game battle from start to finish so make sure to come back at 3 p.m. for the hand histories.
Nível: 1
Limit Flop / Draw: 50/100
Stud Games: 25-ante, 25 bring-in, 100 completion
No-Limit & Pot-Limit: 25/50 / 50-ante
Nível 1 : 100/200, 0 ante
Jogador
Fichas
Progresso

Nick Pupillo

10,000

10,000

Mike Ross

10,000

10,000

Carol Fuchs

10,000

Georgii Belianin

10,000

Philip Long

10,000

Shirley Rosario

10,000

10,000

Mark Gregorich

10,000

10,000

Jyri Merivirta

10,000

10,000

Marcel Vonk

10,000

10,000

Ron Ware

10,000

10,000

Jen Harman

10,000

10,000

Tim Finne

10,000

10,000

Tim Frazin

10,000

10,000

Scott Abrams

10,000

10,000

Brian Hastings

10,000

10,000

Mike Sexton

10,000

10,000

Abdel Hamid

10,000
Nível 1 : 100/200, 0 ante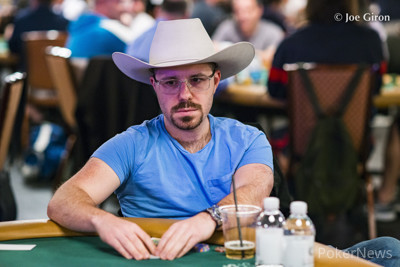 Stud
Dan Smith had aces out on sixth street and he bet against an opponent whose board showed a pair of sevens. Smith then fired on seventh again and his opponent raised. Smith gave it some thought and then called, but mucked after his opponent showed a full house.
Dan Smith:
/
/

Opponent:
/
Jogador
Fichas
Progresso

Dan Smith

9,200

9,200
Nível 1 : 100/200, 0 ante
Razz
Tim Finne completed with a five and a player to his left called with a queen. Finne barreled on fourth and fifth street and his opponent figured it was time to give up when Finne received another low card on fifth.
Tim Finne:
/

Opponent:
/
Jogador
Fichas
Progresso

Tim Finne

10,200

200
Nível 1 : 100/200, 0 ante
Razz
Defending champion Philip Long was betting into the pot by the time the action was picked up. Long's board was tasty as he had three wheel cards out. But so was the board of Lisa Ahumada who called with three wheel cards of her own.
"Wow, strong boards," Long observed.
Long peeled a nine and Ahumada a ten and Ahumada call two more bets, prompting a showdown. Long announced he had a seven but his smooth seven finished second to Ahumada's rough six.
Long:
/

Ahumada:
/
Jogador
Fichas
Progresso

Philip Long

8,500

-1,500
Nível 1 : 100/200, 0 ante
Razz
Sachin Bhargava has already added some chips to his stack, increasing his belongings to 11,800. Bhargava recently won a pot in a hand of razz with the action seen from fifth street where Bhargava bet and got called by Rostislav Tsodikov. Both players tapped the felt on the following street and Tsodikov announced a ten. Bhargava had him beat with a seven.
Bhargava:
/

Tsodikov:
/
Nível 1 : 100/200, 0 ante
Jogador
Fichas
Progresso

Allen Kessler

10,000

Felipe Ramos

10,000

Team Brazil

Bradford Albrinck

10,000

Murilo Souza

10,000

Eric Kurtzman

10,000

Al Barbieri

10,000

Tony Cousineau

10,000

Ivo Donev

10,000

Eric Rodawig

10,000

Kenna James

10,000

Yuri Martins

10,000

James Obst

10,000

Chris Tryba

10,000

Tom Koral

10,000
Nível 1 : 100/200, 0 ante
Limit Hold'em
Gregory Donatelli raised in the first position and his neighbor Michael Chow called. Kenna James joined them from the small blind and they went to the
flop where James led out, receiving two calls.
The turn was the
and the action was checked to Chow who bet and both of his opponents called to see the
river. Chow fired one more bet in position and only Donatelli looked him up.
James predicted Chow would roll over a flush but he showed
instead. Nonetheless, his hand was strong enough to beat Donatelli.