Michael Mizrachi Makes PLO GIANT Final Table; Srinivas Balasubramanian Leads
Nível 31 : 150,000/300,000, 0 ante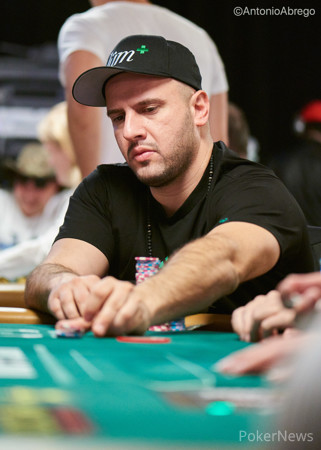 Three weeks ago, Michael Mizrachi became the unprecedented three-time Poker Players' Championship winner. After completing a hattrick in what is widely regarded as the toughest poker tournament in the world, Mizrachi stormed through the last starting flight of Event #11: $365 PLO GIANT.
Mizrachi claimed the overall chip lead in a massive 3,250-entry field, coming back in a stellar position ahead of Day 2. While Mizrachi was at the helm, most of the remaining players came back with shallow stacks and the field was quickly dwindled down. Mizrachi kept crushing, despite having one of the tougher seats in the room with Dzmitry Urbanovich to his left.
Mizrachi, however, kept running good. He was seen scoring a double knockout against aces and kings early in the day. He was grinding a big stack for the vast majority of the day and found a bag ahead of the final table. Arguably the most experienced and accomplished player on the nine-handed table, Mizrachi will undoubtedly be a favorite to take down the $116,015 top prize and his fifth career bracelet and second of this summer.
Mizrachi is sitting in the middle of the pack with 10,150,000, equalling 34 bigs for the first one or two hands. The blinds will raise after two minutes and Mizrachi's current stack will be worth just over 25 big blinds.
Final table seat draw:
| Room | Seat | Player | Country | Chip Count | Big Blinds |
| --- | --- | --- | --- | --- | --- |
| Brasilia | 1 | Srinivas Balasubramanian | United States | 18,325,000 | 61 |
| Brasilia | 2 | James Sievers | United States | 5,450,000 | 18 |
| Brasilia | 3 | Robert Cicchelli | Canada | 11,055,000 | 37 |
| Brasilia | 4 | Timothy Andrew | Canada | 10,425,000 | 35 |
| Brasilia | 5 | Kevin Nomberto | United States | 7,700,000 | 26 |
| Brasilia | 6 | Raymond Walton | United States | 3,075,000 | 10 |
| Brasilia | 7 | Sandeep Pulusani | United States | 4,375,000 | 15 |
| Brasilia | 8 | Pedro Arroyos | United States | 10,550,000 | 35 |
| Brasilia | 9 | Michael Mizrachi | United States | 10,150,000 | 34 |
While all eyes will be on Mizrachi tomorrow, there's one player in particular who's already showed that he's willing to battle it out with "The Grinder". Srinivas Balasubramanian will be sitting directly to Mizrachi's left and that's something that might prove to be a huge leverage for the chip leader. Balasubramanian had guarded over a third of all chips at one point, and while he eventually had to settle for 18,325,000, he still holds a huge lead over the remaining field.
Just like Mizrachi, Balasubramanian was maneuvering a big stack practically all day but his most impressive surge came when he knocked out Harry Binda and Robert Dukes in the same hand, flopping trip eights. Since then, Balasubramanian was almost unstoppable and even Mizrachi wasn't able to break Balasubramanian's run.
The two tangled in a colossal pot which saw Balasubramanian three-bet on the turn and Mizrachi raise-call. Mizrachi then called another bet on the river only to lose against a set of eights. That hand saw Mizrachi drop to two big blinds but he managed to spin it back up through two doubles.
So the two main characters of the plot have been set but let's not forget about the other players still in contention. Robert Cicchelli (11,055,000), Pete Arroyos (10,550,000) and Tim Andrew (10,425,000) have all bagged similar stacks to Mizrachi. The rest of the field is short-stacked but anyone can catapult their holdings back up just as Mizrachi showed after today's dinner break when he rose like a phoenix.
Make sure to come back Tuesday, July 3 at 2 p.m. to follow the final outcome. PokerNews will bring live updates from the final table so follow our report to see if Mizrachi claims his No.5 or whether it will be someone else conquering the PLO GIANT.