After more than eight hours on Day 2 of the PokerStars 2020 SCOOP 85-H: $1,050 PKO Thursday Thrill Special Edition, one player came out victorious out of 1,047 entries. Manuel "BigFudge95" Fritz from Austria defeated "xMOOMOx" heads-up for $73,597 and $63,900 in for a combined total of $137,497 which is the lionshare of the $1,047,000 prize pool which was created by all those entries on Day 1.
This score easily beats the previously biggest online score Fritz earned in a four-way deal he did back in April for $116,384 in the Sunday Million. The 2020 Platinum Pass winner didn't win that tournament as he finished in second but the assumption is that he is a lot happier with this result as it is a new personal best and comes with a pretty SCOOP title. Fritz was joined on the final table by "G A W", Jamie "Ship It 2010" O'Connor, Evan "PURPLE"K"99" Parkes, Peter "pitaoufmg" Patrício, Victor "VICTOR TXR1" Teixeira, Rui "sousinha23" Sousa, and "Cramos88" besides "xMOOMOx" off course.
PokerStars SCOOP 85-H: $1,050 PKO Thursday Thrill Special Edition Final Table Results
| Place | Player | Country | Bounties | Prize |
| --- | --- | --- | --- | --- |
| 1 | Manuel "BigFudge95" Fritz | Austria | $63,900 | $73,597 |
| 2 | xMOOMOx | The Netherlands | $14,482 | $73,596 |
| 3 | G A W | Romania | $8,656 | $44,536 |
| 4 | Jamie "Ship It 2010" O'Connor | United Kingdom | $22,152 | $32,145 |
| 5 | Evan "PURPLE"K"99" Parkes | Canada | $8,523 | $23,202 |
| 6 | Peter "pitaoufmg" Patrício | Brazil | $17,262 | $16,746 |
| 7 | Victor "VICTOR TXR1" Teixeira | Brazil | $3,594 | $12,087 |
| 8 | Rui "sousinha23" Sousa | Portugal | $10,734 | $8,724 |
| 9 | Cramos88 | Brazil | $3,914 | $6,696 |
Before the First Break
When the tournament restarted at 1 p.m. EST, it didn't take long for the gust of eliminations to start. "Furadan" was the one to kick things off when they eliminated "mahmuttt88" with pocket jacks against the nines of the latter. By the time the final seven minutes of Level 24 were done, five players had already busted. Another eight players left in the next level, including Scott "D_DIGGLER99" Hill and Pete "psxfrcndhe" Chen,
Kyriakos "9cream4" Papadopoulos ran his ace-jack into the queen-ten of Tudor "tdr01" Lazar who flopped a ten to send the Greek out of the tournament. Another eight players busted before the first break of the day, which included Diogo "NORTE" Cardoso, Felipe "lipe piv" Boianovsky, Allan "allan sheik" Mello, and Nick "justnl2" Lampropoulos who never showed up for Day 2 as he had been sitting out from the start.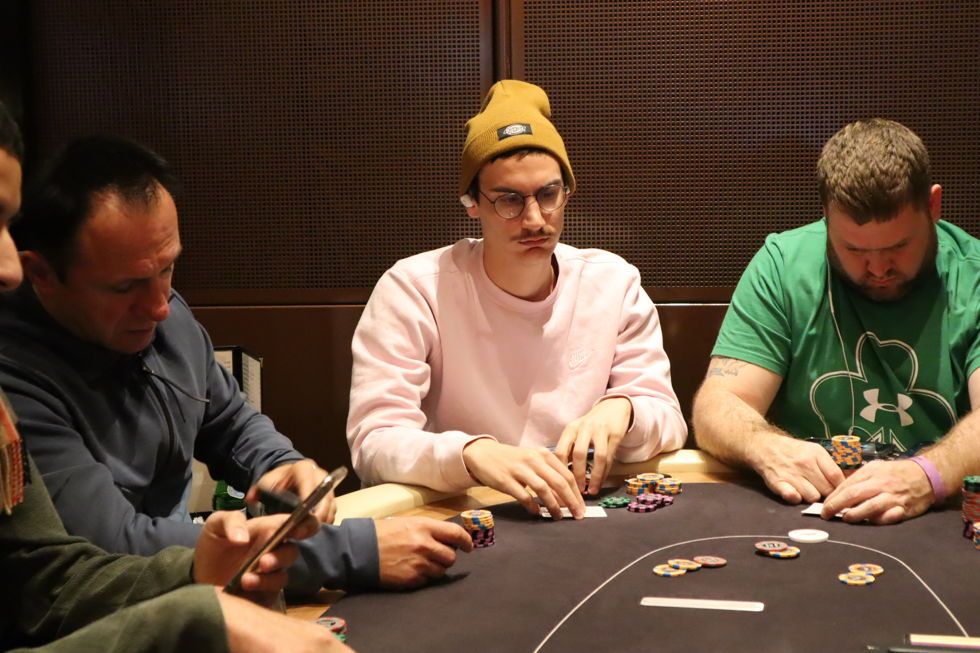 From 38 Players to the Final Two Tables
Things didn't slow down after the first break, Jakob "Succeeed" Miegel was one of the first victims of Fritz today. He four-bet shoved with jacks and was called by Fritz who held queens. Mike "gorodski" Gorodinsky busted shortly after to "Cramos88" with fives and got rivered. Just before this, O'Connor had eliminated "eStfu" and went on a rampage, he took out Luke "Bit2Easy" Reeves, "Bolko", and Lazar in quick succession to give him a big chip lead. He then also took out "luisnrd" just before the second break.
"Igrok0081" and "Onny87" were felted by Patricio with "Furadan", "tangananator, "Relthor1301", and "mellum3" falling to Sousa while Felipe "Fepoker20" Meister busted to Fritz to get the field down to fifteen and the final two tables.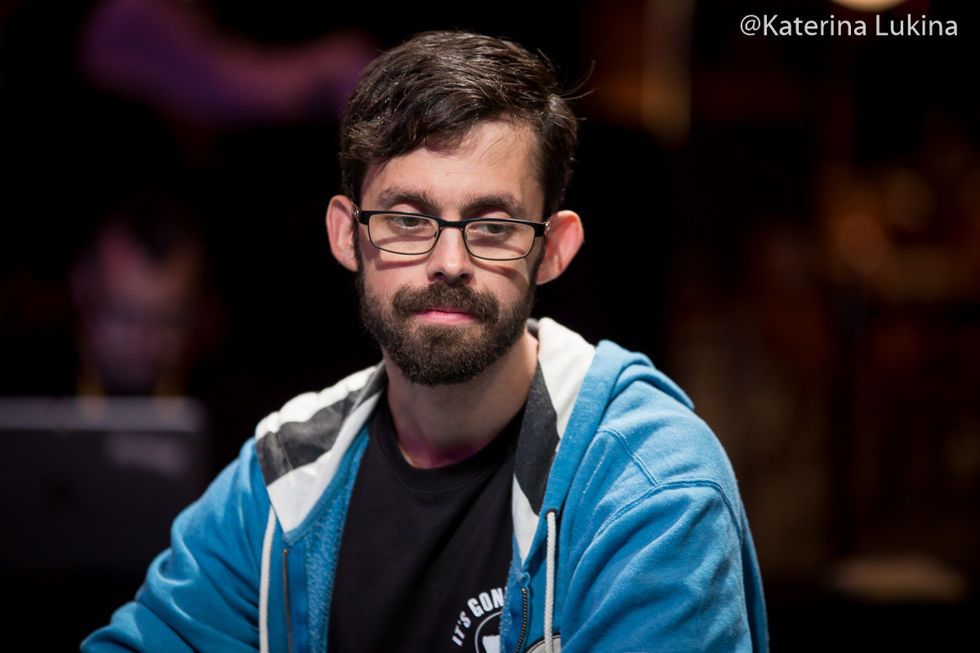 The Final Table Bubble
"FluAnta" was eliminated by "L1VeYRdrEamS" with "Neyko348" leaving the tournament next thanks to Patricio who also took out "DaanOss". "L1VeYRdrEamS" then busted to O'Connor before "Hubertus91" was taken out by Patricio. This got the field down to ten players and the final table bubble.
In the end, the bubble lasted almost an hour with Parkes and "Fritz doubling up. As the level duration also increased to 30 minutes, it would take another break before German "germaxi" Christiansen busted in tenth place to Fritz with ace-five when Fritz flopped a Broadway immediately with ace-king.
From Nine Players to a Winner
Two players doubled up before "Cramos88" left the final table first when he shoved his king-eight into the ace-ten of "G A W". Parkes then doubled up twice, once through "xMOOMOx" and once through O'Connor before Day 1 chip leader Sousa busted to him with nines. Parkes' jacks held the lead throughout the runout of the board. "G A W" then doubled through Texeira before the latter lost the remainder of his stack to "xMOOMOx" with jacks versus kings.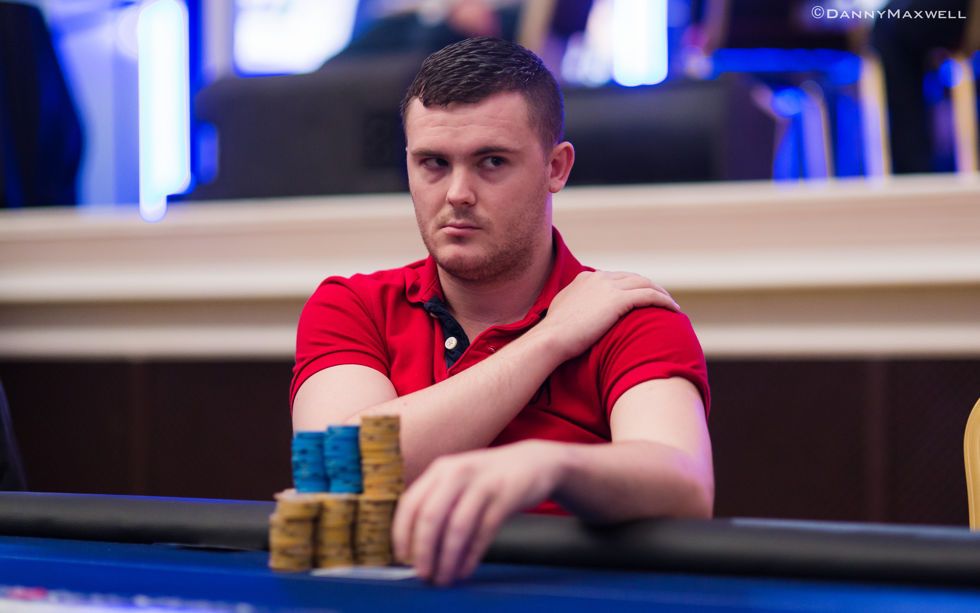 "G A W" doubled up again but this time through O'Connor to take the chip lead with Patricio busting next with jacks against the ace-king of Fritz. Parkes was eliminated in fifth place when he ran treys into the ace-queen of "G A W". Even though O'Connor was chip leading for most the day, he couldn't recover and then lost his last chips to "xMOOMOx". Three-handed "G A W" had the chip lead but the chips were flying back and forth the whole time with big action everywhere for an entire hour.
"xMOOMOx" doubled up twice before "G A W" was eliminated by Fritz as they called all three barrels of the latter with two pair but Fritz had the full house to get the tournament to the heads-up stage. Heads-up itself last 40 minutes with "xMOOMOx" getting short several times and doubling up a few times. They got back to even stacks twice but most pots went to Fritz until the final hand where "xMOOMOx" called every barrel on every street of Fritz and ended up calling for their tournament life with a pair of jacks while Fritz had rivered the straight.
This is it for this tournament but PokerNews will be back on Sunday, May 24 for live coverage of SCOOP 96-M: $530 NLHE Main Event 2nd Chance ($1,500,000 GTD), SCOOP 96-H: $5,200 NLHE Main Event 2nd Chance ($1,500,000 GTD), and SCOOP 97-H: $5,200 PLO Main Event 2nd Chance ($750,000 GTD) so make sure to come back then.