HK$400,000 Super High Roller
Dia 2 Terminado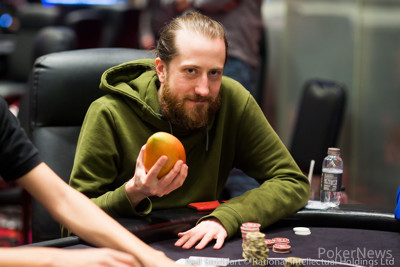 In a day that started out hopeful to get down to a final table of eight players, the alternate ending came at the conclusion of 10 one-hour levels.
It was Day 2 of the HK$400,000 Super High Roller in PokerStars Championship Macau at City of Dreams. Registration remained open until play resumed on Sunday and closed with a total field of 88 entries. Fifty-two players had seats as play got back underway.
With registration closed, tournament staff got to work on the numbers. They came back with a total prize pool calculated at HK$33,802,560 and 13 players were scheduled to earn a payout. The min-cash will be worth HK$676,000 and the eventual winner will collect an impressive HK$8,974,000 which is worth well over US$1.1 million.
The day ended with 14 players bagging chips to return for a final day on Monday. None had as many chips as Steve O'Dwyer who finished the day with 3,065,000
They didn't quite make it in the money. The tournament was down to 14 players with half an hour left in the final level of the day, but they weren't able to find one more elimination in the hand-for-hand play to put the tournament in the money, so play will resume Monday with the bubble still intact.
Here's a look at the chip counts players will return with on Day 3 when they play down to a champion:
| Player | Country | Chip Count |
| --- | --- | --- |
| Steve O'Dwyer | Ireland | 3,065,000 |
| Fedor Holz | Germany | 2,225,000 |
| Kahle Burns | Australia | 2,165,000 |
| Stanley Choi | Hong Kong | 2,010,000 |
| Zuo Wang | China | 1,955,000 |
| Qiang Lin | China | 1,930,000 |
| James Chen | Taiwan | 1,860,000 |
| Manig Loeser | Germany | 1,735,000 |
| Michael Egan | Australia | 1,330,000 |
| Daniel Neilson | Australia | 1,025,000 |
| Zhao Hongjun | China | 895,000 |
| Behzad Ahadpour | St. Kitts and Nevis | 675,000 |
| Dan Smith | USA | 535,000 |
| Isaac Haxton | USA | 420,000 |
Early in the day, Troy Quenneville emerged as the chip leader after a series if big pots went his way. The first was when he eliminated Wayne Yap who held the second-nut flush with
on a board of
. Quenneville turned over
for the best flush and scooped up a big pot.
Not long after, he took out Yuan Li when Li jammed the river with
on the table. The river was an action card as it had given Li a flush with his
, but Quenneville's aces had made a boat, earning him another huge pot and the chip lead.
However, Quenneville was unable to survive the day. He lost a big chunk of his stack when he got his ace-jack all in against Zuo Wang's ace-king and couldn't catch up.
Then, the one-time chip leader got it all in preflop with another one-time chip leader, Michael Egan who started the day with the most chips. The two were racing with Quenneville hoping to hit a card with his
against the
of his opponent. The board came
and Egan unnecessarily improved to a set, eliminating Quenneville from the tournament.
Some of the players who didn't make it to Day 3 included Fabian Quoss, David Peters, Daniel Dvoress, JC Alvarado, Dario Sammartino, Mustapha Kanit, Philipp Gruissem, Davidi Kitai, Sam Greenwood, Bertrand Grospellier, and Sylvain Loosli.
One of the unheralded efforts from today's play came from Steve O'Dwyer's mango (pictured above). Yuan Li was playing this event and is well known for having an orange at the table with him for good luck, like Johnny Chan. The two have running banter about the topic and Li presented O'Dwyer with a mango for good luck and it has been instrumental in his success.
Several times when O'Dwyer has been in critical situations, he has rubbed the mango or placed it forward, closer to the board, and he has been saved each time. There's no doubt the mango will be back on Monday for Day 3 to continue to work its magic.
Play resumes at 12:30 on Monday and will continue until just one remains. Check back in with PokerNews tomorrow for reports of the action.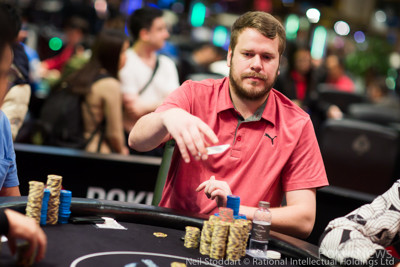 An online search for a player's results can often be missing so much of the story.
For instance, when you look up Canadian Troy Quenneville who is playing this HK$400,000 Super High Roller, you would see that he only had about $500 in cashes up until last November. After two big cashes within a couple of days for more than $600,000, he's now playing in a tournament that cost him the equivalent of $50,000 to enter.
That seems like quite a leap.
However, for the early part of Day 2, Quenneville was chip leading this event.
When you look a little deeper, you realize that he's been playing online with results dating back to 2008. He's "teckidtq" on PokerStars where he has $2.6 million in winnings, and he goes by "good player" on partypoker.
"Yeah, I guess I'm playing professionally. I've been playing for 10 years since the Moneymaker boom. I started online. Most of my experience is online," Quenneville explained as we sat down with him during the dinner break of the Super High Roller. He talks quietly, pausing to think through his responses before speaking.
"I just finished school about a year and a half ago and I thought about entering the job market but I gave poker one last chance and I've just been running really hot."
That's a bit of an understatement. The recent Mechanical Engineering graduate went from having essentially no live results to coming second in WPT Caribbean and first in partypoker Million within a couple of days last November, earning $620,000.
"I'm still trying to figure out what happened. I just ran insanely hot, as you can imagine," Quenneville explained. "I was happy with the way I played. Everything kind of just worked out, I don't know how to explain those kind of results. I got lucky and things went well."
He's also found some big online wins this year, topping PokerStars' Super Tuesday in February and partypoker's Super High Roller in March.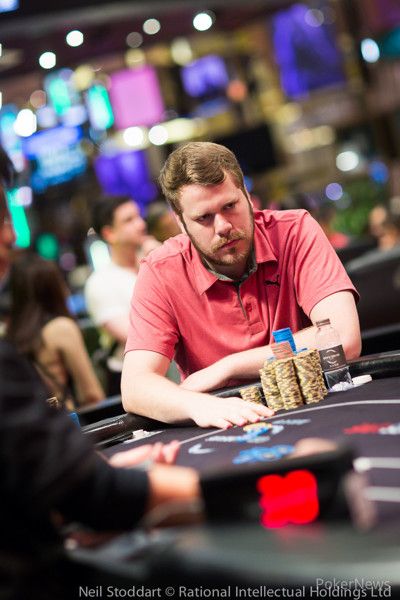 He still has just five results listed on his Hendon Mob profile, all with flags bearing a red-white-and-blue theme of Costa Rica, where he has lived for the past three years, Punta Cana, and Panama. But his breakout into the live world was hard-earned.
He has been playing live for years but just couldn't find the results he gets online.
"There was nothing but bricks. I must've been oh-for-thirty in WSOP events. It was frustrating for a while but I realized it was easy to lose live for years when one year of live tournaments correlates to one session online and it is easy to lose. So I think the variance got to me. Luckily, lately, the variance is on the other side."
Still, with just two big live results under his belt, it seems like a leap of faith to dive into this Super High Roller where he has to face the likes of Dan Smith, Isaac Haxton, Fedor Holz, Steve O'Dwyer, Bertrand Grospellier, Sam Greenwood, Davidi Kitai, and others.
"I've been winning online pretty consistently. I keep a close eye on my software, seeing my win rate, and I thought I was good money in the field. Especially when I saw how many fun players were in the field. So I kind of took a shot."
He's been playing bigger online too, playing four-figure tournaments. He says that has been "more so in the past year. There's not a no-limit tournament online that I won't play, to be honest."
With some great scores in the past six months, he has that invaluable ingredient: confidence. It can often be what it takes to outshine opponents. "I think it's allowing me to play my best game which I believe is good enough [for this event]."
We'll be watching to see if Quenneville's recent success can be replicated here at PokerStars Championship Macau. But keep an eye on his online success where he's proven to be on top of the game.
"I was at PokerStars Panama. That was great. I like this stop. I might hit the next couple PokerStars stops. It allows me to travel. They're good destinations to see around the world. Other than that, I don't know how much more live I'll be playing. I enjoy online."
After recent changes in the legality of online poker down under, Sarah Herring talks to Stevan Chew about how this will change the landscape for Australian players.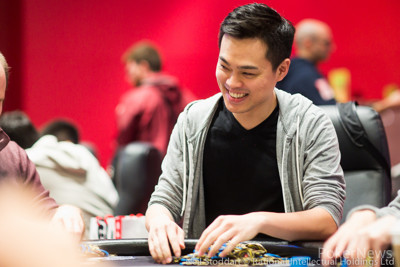 Poker professional James Chen may not be a familiar face to many who do not play poker in Macau on a regular basis, but he has been making waves recently on the tournament poker scene. Oh, and he's also the mastermind behind popular poker results tracking app RunGood.
Chen started Day 2 of PokerStars Championship Macau Super High Roller as the fifth largest stack, which is no mean feat when you consider the caliber of the field. However, with over $1.2 million in live career tournament earnings, this is not Chen's first rodeo.
The Taiwanese player has already enjoyed a great deal of success in Macau, specifically in high roller events, taking down the September 2015 MPC23 HK$80,000 High Roller for a cool US$219,850 – his third ever live tournament cash according to Hendon Mob.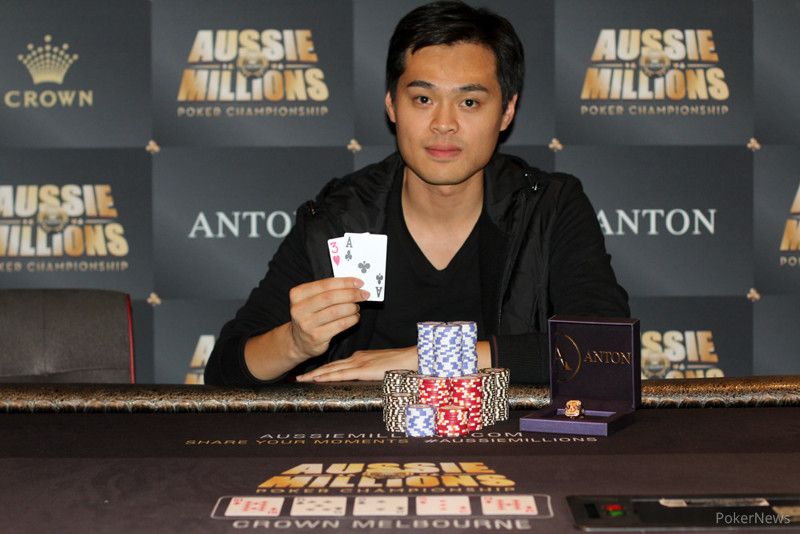 Twelve months later, after cashing at the 2015 Asia Championship of Poker, the 2016 APPT 10 and three World Series of Poker side events Chen did it again and took down the MPC25 HK$80,000 High Roller for US$293,044. He followed this up by winning two events at the 2017 Aussie Millions, taking down the AU$2,250+250 H.O.R.S.E Event for US$29,322 before going on to win the AU$25,000 Challenge for US$652,909.
This puts Chen second on Taiwan's All Time Money List – just less than US$50,000 behind current number one spot Kitty Kuo. Not a bad achievement at all for a man who prefers cash games to tournament poker.
"I've always been mainly a cash game player," states Chen on his professional Facebook page.
"Most tournament pros play more live events in a season than I have currently played lifetime. In the events I have played, I often tried to run up a stack or bust on day 1, and twice I quit with an average stack for a cash game seat."
Chen is a prolific cash game player and is a regular at the biggest cash games on offer at Wynn Macau, which can be as large as HK$1,000/$2,000 (~US$130/$260) or even higher.
"Most of the time I just play the biggest game they [Wynn] have. Lately, it's been HK$1k/$2k. The game's been alright but there's also a lot of good professionals that play the game regularly so a lot of times we are just battling it out against each other."
The HK$400,000 Super High Roller is the biggest – when it comes to the buy-in – tournament Chen has entered, but he is not phased at all about the magnitude of the money he is playing for.
"That's one of my strengths; I don't really get affected by the stakes, whether they're too big or too small. So if I'm playing big I'll still be playing my game, if I'm playing small I know some players will just start to mess around but I still play my game and just think in big blinds."
Eloquently spoken and clean cut, Chen comes across as an extremely focused individual, even more so at the poker tables.
"It's not that I don't enjoy tournaments, but stacks are deeper in cash games, allowing more room for play, and the decisions are usually more intricate and interesting to me. Cash games are also more consistently profitable, and at sufficiently high stakes, a player can win the equivalent of a final table payout in one session."
"Tournaments are still fun to compete in, however, and they're much easier than cash games for family and friends to follow. These days, I try to play a mix of both."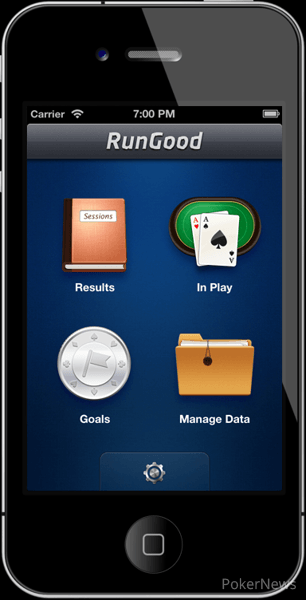 So where did he find the time to design his own poker tracking app? Well, if you come from a programming background this is probably pretty easy. Most people can come up with 'great' ideas for an app, but turning an idea into a practical application is not quite as simple as it sounds, especially if there are already other apps on the market that already fill the niche you may have in mind.
But what if you don't think they're good enough? Well, you can just design your own and do it better. How's your computer coding? For most people the answer will be 'not very good' and that will be the end of the matter. However, it would seem that Chen is not most people.
"I actually learned programming from scratch – I was looking for a tracker to use and I wasn't satisfied with anything available online so I was like, 'ok, I'm going to make one myself'."
"I bought two programming books, started studying and then started coding after two months. The whole thing, studying and coding took one year, but along the way, there was a lot of other stuff I learned as I went along. There were some redesigns. I'm sure someone with a programming background probably would have been able to do it faster but I was starting from scratch."
With drive, determination and focus like that it's no wonder Chen is a natural when it comes to high stakes poker. Has he got what it takes to go the distance in the PokerStars Championship Macau Super Higher Roller? Only time will tell, but we definitely fancy his chances.
There is plenty to do and see while here in Macau. Sarah explored Studio City, just a short walk from City of Dreams, which is a must see while here! The complex opened in 2015 and hosts the world's only figure eight shaped ferris wheel.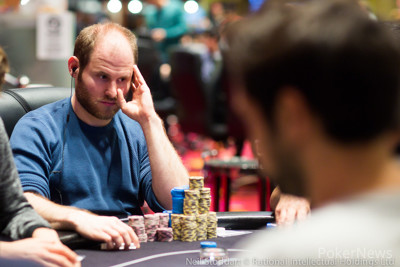 Anyone who has spent any time playing online on PokerStars knows the quick bee-bee-bee-beep that reminds you that you're on the clock with a decision to make. It's a sound that's immediately recognizable.
It's a given that you only have so long to act when playing online poker and, in recent years, there've been calls to implement a timer for live poker as well to speed up play.
Earlier this year, PokerStars offered their very first live "shot clock" tournament at PokerStars Championship Bahamas, and this Super High Roller is in the same format. Though it's missing the signature beeping noise, the live tournament is beginning to resemble its online counterpart.
"It's taken them a couple tournaments to get out the kinks. The actual physical shot clocks here are awesome," said Sam Greenwood as we caught up with him during a break. A large brick of a clock sits on each table with an unmissable "30" lit up in red.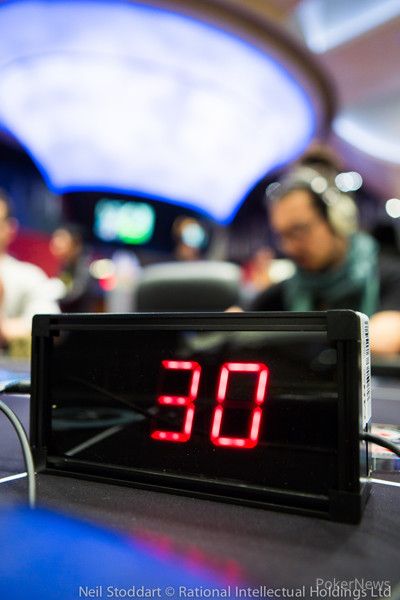 Players have five seconds to act before the dealer starts the clock. If they don't act before the timer hits zero, one of their three 30-second timebank chips will be used for extra time. When those run out, no decision can take longer than the 30-second clock.
"In these tournaments, I wish they'd replenish time chips. I wish they'd give you a little more time when you need the time. But these are minor things. Generally I like them a lot. They speed up the pace of play."
Greenwood finished the day with the second-best stack yesterday. He's clearly having no trouble adapting to the format, so we asked him how he approaches the shot clock. Is there some meta-level strategy involved in using the time chips?
"I'm mostly just making sure I don't waste them in small or medium pots. In this tournament, we only have three chips. That's part of the reason I kind of like replenishing time chips because then you can use them more strategically, but now we have three chips worth 30 seconds each for a three-day tournament. Just burning one to try to trick somebody… I'm just trying to make sure I don't use them."
There is some speculation that the shot clock is an inevitable progression for live poker and that it may be a matter a time before every tournament uses a clock to keep the action moving quickly. But Greenwood doesn't see that as the best approach.
"I don't think it should become the standard in all tournaments. I don't think it should only be a high roller thing either."
He went on to explain that in main events, where there are often a lot of people who are playing their first big live tournament having won a satellite or are taking a shot, they are already nervous and it'd be a lot to add the pressure of a shot clock, making it unappealing for them.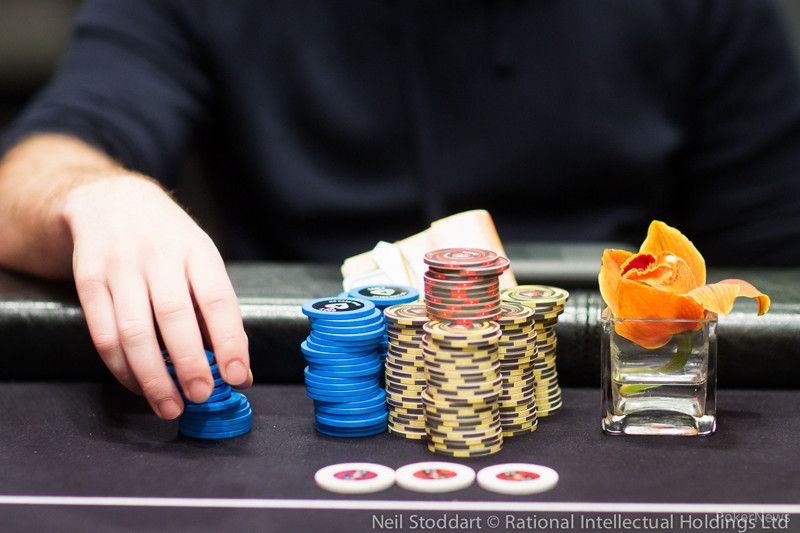 "I've played hundreds of thousands of hands live," Greenwood said. "So I have my defaults pretty locked in and can act quickly. But for a lot of people, they can't — even stuff like physically handling chips or reading bet sizes. I don't think it should be a high-roller-only thing. It's like any tournament format. I don't think every tournament should become a turbo but turbos are a good addition to have on the schedule."
It will be interesting to see how players choose to use their time chips as the tournament gets deeper. Greenwood will be one to watch as he started Day 2 with a great stack. Will players elect to save their chips for critical moments on the final table? Or will they use the chips for tough decisions in these middle stages so that they are more likely to make final table?
We wanted to know how much of an edge Greenwood felt the time chips would provide at the final table. Does a player with no extra time have poor chances? Do time chips provide a big advantage at that essential stage of the tournament?
"It's not a big enough edge to make up for being the worst player," he answered. "If I had a stack at the final that was worth maybe $500,000, I would probably be willing to pay one percent of that to get a time chip — to go from zero to one."
It's still early stages in the implementation of a live shot clock and there will almost certainly be tweaks to the format as organizers learn from each event, but there has been no resistance to the timer here in Macau. It seems to be here to stay.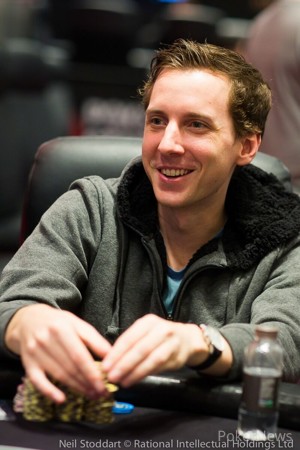 While Australia Day was back in January no one appears to have told the poker players this fact and the antipodeans have been marking their mark here in Macau.
After beginning Saturday's HK$82,400 event in pole position Melbourne's Mike Addamo did not relinquish his stranglehold on the tournament, winning one of the coveted gold Pokerstars Championship trophies and the sizable HK$1,936,500 (~US$249,200) first prize.
Another Australian who acquitted himself admirably was Michael Egan who bagged up an impressive 1,067,000 in chips at the end of Day 1 of the PokerStars Championship Macau Super High Roller – the only player to break the six-figure mark.
Canada's Sam Greenwood continued the run of form that saw him take second place in the PokerStars Championship Panama $10,000 High Roller last month, finishing the Day close behind Egan with 976,000 in chips.
China's Yuan Li (893,000), Australia's Daniel Neilson (891,000) and Taiwan's James En Ning Chen (830,000) round out the top five.
Fresh from his sixth place finish in the HK$82,400 Single Re-Entry Dan Smith played his rush to finish as the sixth largest stack with 803,000. German wunderkind Fedor Holz also joined the party, buying in towards the end of Day 1 and earning a quick double to power through and finish the day with 790,000.
In total, an impressive 62 unique players entered poker's gladiatorial high-rolling arena to do battle in this big buy-in tournament and the action was fast and frantic from the get-go with several players opting to rail against fate and the hands they were dealt, spawning 17 re-entries so far.
With unlimited re-entries available until registration closes at 12:30pm local time (GMT+7) when play resumes the sky really is the limit for those with deep enough pockets.
Once again the live coverage will be in the capable hands of the PokerStars blog team as they keep you updated with all the tournament thrills and spills as the action unfolds.
PokerNews will be focusing on the buzz surrounding the PokerStars Championships Macau debut as well as focusing on the big stories that inevitably unfold at these high-caliber events.
For those wishing to check out the highlights from Day 1 you can check out the following links below:
PokerStars Championship Debuts in Macau!
PokerStars Macau Is In the Center of the Asian Poker Boom
The Hong Kong Players Taking Macau by Storm
Michael Egan Finds Late Surge to Bag Day 1 Chip Lead
Here's how the Super High Roller is stacking up so far:
| Player | Country | Chip Count |
| --- | --- | --- |
| Michael Egan | Australia | 1067000 |
| Sam Greenwood | Canada | 976000 |
| Yuan Li | China | 893000 |
| Daniel Neilson | Australia | 891000 |
| James En Ning Chen | Taiwan | 830000 |
| Dan Smith | USA | 803000 |
| Fedor Holz | Germany | 790000 |
| Stevan Chew | Australia | 753000 |
| Isaac Haxton | USA | 739000 |
| Behzad Ahadpour | St. Kitts and Nevis | 719000 |
| Yang Wang | China | 651000 |
| Guodong Sun | China | 608000 |
| Cyril Andre | France | 595000 |
| Troy Quenneville | Canada | 536000 |
| Bertrand "ElkY" Grospellier | France | 531000 |
| Mikita Badziakouski | Belarus | 519000 |
| Ye Zhang | China | 470000 |
| Wayne Yap | Singapore | 455000 |
| Ollie Price | UK | 395000 |
| Leo Yah Ho Cheng | Canada | 382000 |
| Ahadpour Khanghah | Iran | 380000 |
| Philipp Gruissem | Germany | 350000 |
| Steve O'Dwyer | Ireland | 350000 |
| Sergio Aido | Spain | 328000 |
| Kahle Burns | Australia | 326000 |
| Manig Loeser | Germany | 326000 |
| Sylvain Loosli | France | 318000 |
| Ying Seng Tang | Hong Kong | 315000 |
| Shan Huang | China | 300000 |
| Stanley Choi | Hong Kong | 295000 |
| Qiang Zhao | China | 270000 |
| Hendrik Latz | Germany | 248000 |
| Daniel Dvoress | Canada | 240000 |
| Adrian Attenborough | Australia | 197000 |
| JC Alvarado | Mexico | 192000 |
| Timothy Adams | Canada | 191000 |
| Aymon Hata | UK | 189000 |
| Jean-Noel Thorel | France | 175000 |
| Martin Kozlov | Australia | 162000 |
| Rafael Moraes | Brazil | 161000 |
| Guang Pu Lu | Canada | 151000 |
| Nick Petrangelo | USA | 142000 |
| Mustapha Kanit | Italy | 140000 |
| David Peters | USA | 137000 |
| Zuo Wang | China | 134000 |
| Fabian Quoss | Germany | 112000 |
| Ali Reza Fatehi | Iran | 65000 |
HK$400,000 Super High Roller
Dia 2 Começado