HK$400,000 Super High Roller
Dia 1 Terminado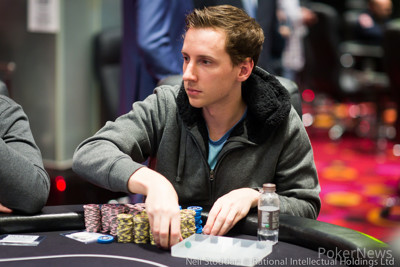 A tournament with a sky-high buy-in of HK$400,000 is going to attract some of the best poker players in the world, and that's just what we saw today on Day 1 of the PokerStars Championship Macau Super High Roller.
Registration is still open until Day 2 begins tomorrow, but so far there are 79 entries at PokerStars LIVE Macau inside the City of Dreams complex in Macau. After eight levels of play, the day concluded with 47 players with chips to carry to Sunday's Day 2.
With unlimited reentries allowed and the thought of dropping another HK$400,000 not seeming to be much of a deterrent, there were 17 reentries today.
Several of those came from Yu Liang. He bought in four times today and four times he drew the same seat. He was eliminated for the fourth time just moments before the day ended when he bet 30,000 on a flop of
and Michael Egan called. He bet another 60,000 on the
turn when Egan checked to him, and Egan raised all in. Liang was drawing dead when he called with
and saw Egan's pocket eights that had made a set on the flop. If he wants to try for a fifth time, he can still reenter before play begins on Sunday.
It was that pot that gave the Aussie the chip lead. Egan finished the day with 1,067,000 chips — the only player to tip over to a seven-figure count. Canada's Sam Greenwood came near the million mark, counting out 976,000 to seal up for Sunday.
The tournament features a unique shot clock structure whereby players have 30 seconds to make a decision. If they don't act before the timer hits zero, they have three 30-second timebank chips they can use.
When play kicked off a little after the scheduled 1:30pm, chips started flying in some large pots right out of the gate with Isaac Haxton and Jean-Noel Thorel battling each other 20 minutes into the first level.
Haxton raised to 3,200 from the button and Thorel called in the small blind, going to a heads-up flop of
. Haxton fired out another 3,000 when action came to him and Thorel raised it up to 8,500, getting a quick call.
The turn was the
and Thorel threw more chips in, betting 10,000. Haxton thought for a bit and raised to 55,000, getting a call before the dealer revealed the
river. Thorel quickly checked and then folded when Haxton went all in, giving Haxton a good-sized stack early.
The same two players got all the chips in on the flop before the first level ended with both players holding a set. Haxton's tens were better than Thorel's sevens and Haxton collected the rest of Thorel's stack.
Thorel was another one of the players who had no fear of dropping another HK$400,000 on a fresh stack. He managed to survive the day, bagging 175,000 for Day 2. Haxton used his momentum to build a stack of 739,000 at the end of play.
Here's a look at the top 10 stacks at the close of Day 1:
| Player | Country | Chip Count |
| --- | --- | --- |
| Michael Egan | Australia | 1,067,000 |
| Sam Greenwood | Canada | 976,000 |
| Yuan Li | China | 897,000 |
| Daniel Neilson | Australia | 851,000 |
| James En Ning Chen | Taiwan | 830,000 |
| Dan Smith | United States | 803,000 |
| Fedor Holz | Germany | 790,000 |
| Stevan Chew | Australia | 753,000 |
| Isaac Haxton | United States | 739,000 |
| Behzad Ahadpour | St. Kitts and Nevis | 719,000 |
Registration will remain open until Day 2 begins on Sunday at 12:30pm, so the final entry tally and prize pool numbers won't be available until mid-day tomorrow. Players will battle it out through 10 levels or until eight players remain before the final day plays out on Monday.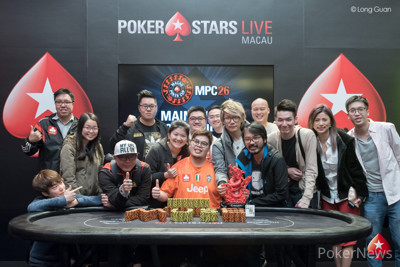 Macau may be playing host the newly re-branded PokerStars Championship Macau and be widely considered the gambling Mecca of the Orient, but the former Portuguese enclave is not the only place in the region that has a vibrant poker community.
Whilst the neighboring Special Administrative Region of Hong Kong is more widely renowned as a global financial market, it also a fertile breeding ground for those with a head for numbers and a keen understanding of risk assessment.
While these skills are essential for those working in finance and the stock market, they are transferable and can stand you in good stead at the baize as well as the bank.
Two players who have used these skills to their advantage are 35-year-old Park Yu 'Sparrow' Cheung and 29-year old Alan King Lun Lau.
Both players are coming into the PokerStars Championship Macau with red hot form; Cheung fresh from his largest ever career tournament score after taking down February's Macau Poker Cup 26 HK$50,000 (~US$6,434) event for US$126,503, Lau right off the back of winning the MPC's largest Red Dragon Main Event in Macau poker history, defeating the 1,216-strong field to earn himself a US$420,803 pay day.
A former certified public accountant, Cheung has been playing professionally now for seven years after initially starting the game as a hobby with friends. The hobby soon turned into a part-time job and before long Cheung was earning more at the tables than he was working as an accountant and made the decision to play professionally.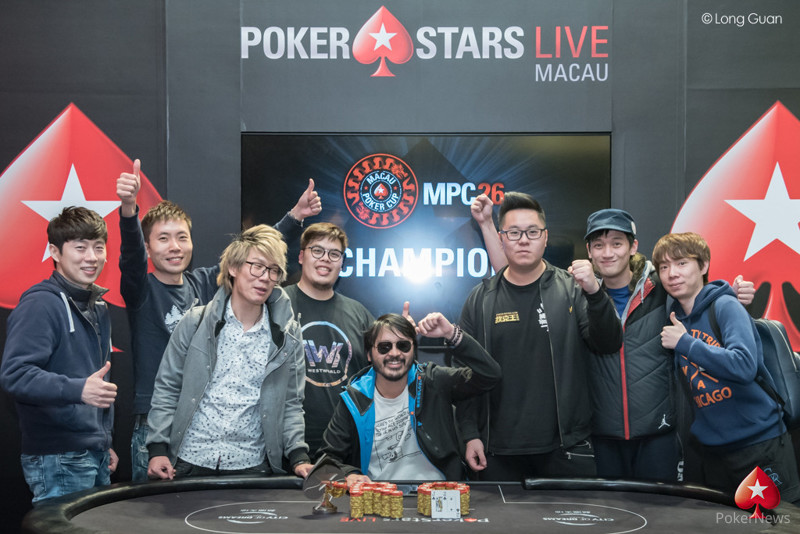 Park Yu 'Sparrow' Cheung winning the HK$50,000 MPC26 Event, image courtesy of Kenneth Lim and PokerStars
It appears to have been the right decision with the Hong Kong native sitting eighth on the Hong Kong All Time Money List, racking up an impressive $894,904 in career tournament earnings so far. This includes 13 World Series of Poker cashes, 9 of which came at the 2016 WSOP where he final tabled the $1,000 WSOP.com Online event, eventually finishing in fourth for $46,201.
Lau too comes from a financial background, working as a commercial banker for HSBC before quitting to study for a Masters degree in risk management.
Ironically whilst studying how to manage risk Lau also began playing poker and by the end of his two-year course, chose to try his newly learned risk management skills at the poker tables rather than become a risk analyst.
It certainly paid off; Lau has earned $672,498 in career tournament earnings and over $400,000 in online earnings over the last three and a half years and is sitting right behind Cheung in ninth on the Hong Kong All Time Money List.
Two cashes for Cheung at the 2017 Aussie Millions, including a final table at the AU$1,025+125 Poker Hall of Fame event and a cash for Lau in the AU$1,300+200 Deep Freeze, plus several cashes between the pair of them at MPC26 in addition to their recent career highs puts them both in the top 20 of the 2017 Global Poker Index (GPI) Player of the Year race.
"We are lucky to be in the top 20," said Lau when asked about his recent run of form. The two are not getting too carried away with their recent success, however, as former 2015 PokerStars Asia Player of the Year Lau can attest to:
"Myself and Sparrow are not playing in the highest stakes tournaments like the HK$400,000 Shot Clock. At some point, I'm sure people will overtake us and it's not really our goal, at least this year, to win the GPI POY," said a modest Lau.
It is still an impressive achievement, though, and the two are currently the only Asian players in the top 100 of the 2017 GPI POY, which is no mean feat. Cheung is currently sitting in 16th with Lau not far behind in 19th.
The two are also keen to share their skills and success with their fellow countrymen and have founded the Hong Kong Poker Players Association (HKPPA) along with fellow poker aficionados Jason Lo, Stephen Lai and Ray Chiu.
The quintet wanted to create an association and poker club where Hong Kong-based players could share strategy and poker knowledge and provide their members with information about the best tournaments to play in addition to building a vibrant poker community.
"The HKPPA started 2-3 years ago because the poker circle is very small in Hong Kong in terms of player numbers and at that time there was no poker club or organization in Hong Kong so we wanted to make one," explained Lau.
The HKPPA currently boasts over 1,000 members and run a Hong Kong-based 'no payments, no gains' poker league where they host weekly events with the best players earning themselves an HKPPA sponsorship in Macau-based poker tournaments to further improve their skills.
As HKPPA Chairman Cheung has a passion for the game and wants to see more Asian players taking their place on the world stage.
"We wish to make poker more popular in Hong Kong and to help and assist poker players from Hong Kong to play poker in Macau and overseas, to put Hong Kong on the world stage when it comes to poker, and not only Hong Kong, but also Asia," said Cheung.
Both are very impressed with the re-branded PokerStars Macau Championship and think it can only be good for the Asian poker scene.
"It's just like moving the EPT to Macau, I'd like to see more events like this here. Because this event is more global, more foreigners are coming, more good players are coming and I can try to play against them and not just play against other Asian players so it's a very good experience," said Cheung.
""I wish to see more Asian players travel overseas to play the big tournaments like the WSOP, and for Asia… I hope to see more tournaments in different areas outside of Macau," stated Cheung.
"I see more events like the PokerStars Championship coming," agreed Lau.
"Everyone is so excited about this tournament series – the poker room has grown twice as large so I want to see more of these kinds of big events coming to Macau," Lau continued.
Of course, with the two of them putting Hong Kong on the map when it comes to the GPI that is certainly an achievable goal, and one that can only be good for poker in Asia.
PokerStars photographers Neil Stoddart and Manuel Kovsca have been busy snapping some great photos from today's Day 1 of the Super High Roller. Here are some of the shots of today's action.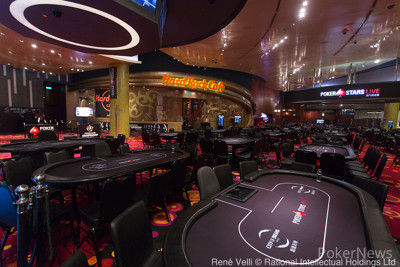 There are just three PokerStars LIVE poker rooms in the world: Hippodrome, Manila, and Macau.
While most of the world knows PokerStars as the world's largest online poker site, they are carving their way into the brick-and-mortar poker realm with these three locations, the latter of which is where PokerStars Championship Macau is being held for the next week.
"Our focus is really just the live events. For our team, we're not looking at the online portion. Of course it's PokerStars-branded and most people, especially outside of Asia, clearly make that connection with the online, but not so much out here. They may not know that it's an online brand."
That's Fred Leung, Senior Marketing and Business Development Manager for Live Poker Events in Asia.
"You can just put 'PokerStars dude'," he joked as he had to think to recall his official title.
The PokerStars LIVE room in Macau is inside the incredible City of Dreams complex and has been in operation since May of 2008.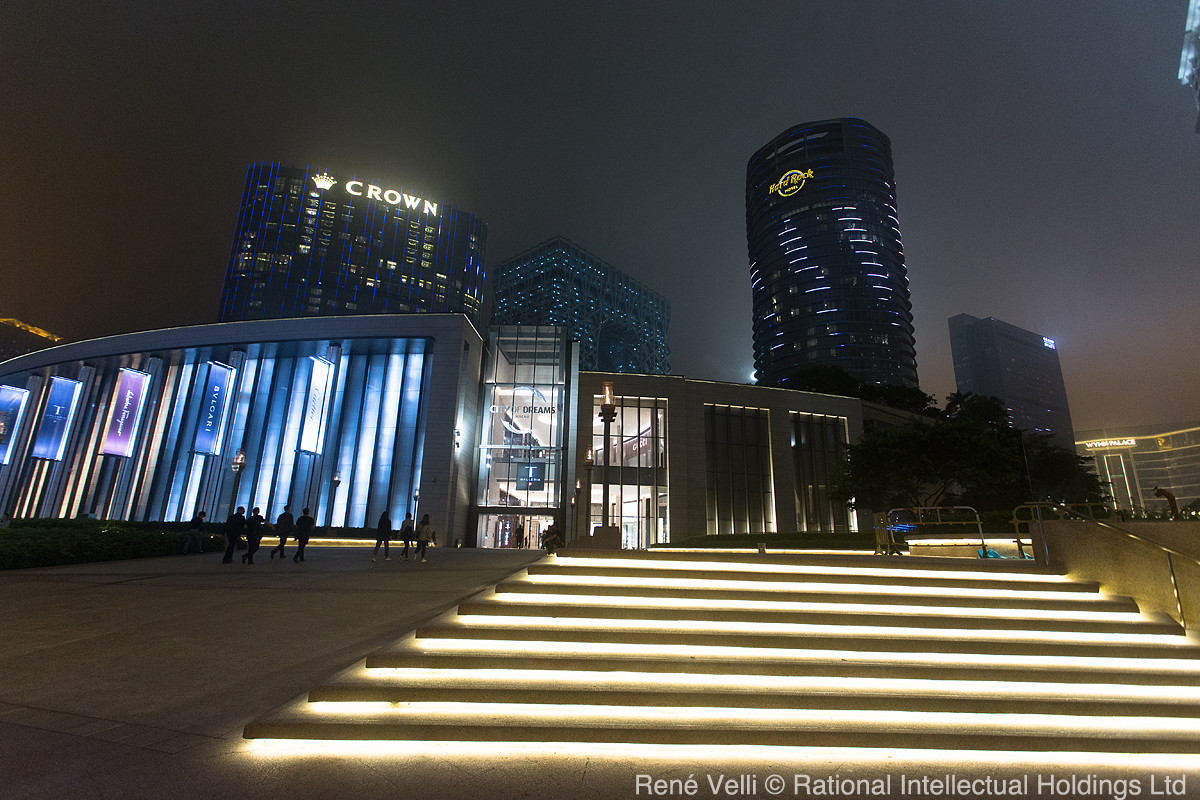 The 24-hour poker room has four permanent cash-game tables and five tournament tables, though many more tables are rolled in for events like this PokerStars Championship.
"There's a special event every single month, if not more than one," Leung explained.
The Asia Championship of Poker is held in this room, as is the Macau Poker Cup, often referred to as the Red Dragon which is the name of the series' Main Event.
"It's the best place for tournaments in Asia, arguably Asia-Pacific if you just take away the Aussie Millions. That's one standout from Australia."
And it's a poker room for every kind of player. "We have a HK$2,000 Main Event, HK$5,000, HK$15,000, this one's HK$40,000, and the ACOP is HK$100,000," Leung said.
He's enthusiastic about the poker room's role in Asian poker despite the headlines of Macau seeing a drop in gambling revenues recently, causing some cries of alarm.
"Macau has been on the decline, especially in the last year," Leung admitted. "But you're talking about the one percent of one percent people. The sheer volume hasn't changed very much. It's really the guys who are betting hundreds of millions of dollars — you might be talking about 50 people — but if those 50 guys don't show up, it makes double-digit profit differences.
"Poker is still on its way up — especially tournament poker. The game is just emerging."
He recalls the 2008 Macau Poker Cup Main Event which he played. There were just 33 players.
"That exact same tournament, we just ran in February, had over 1,200 players. It's still a freezeout. There's no reentry. Which gives you a sense of how far we've come."
Macau is the world's gambling capital, surpassing even Las Vegas in gambling revenue. For people who've never been to Macau and are more familiar with America's Sin City, it's easy to think of it as Asia's Vegas, but Leung points out some differences.
"It's probably an easy way for people to describe it. Certain things are in parallel. It's probably better described as 1960s Las Vegas with the inclusion of more modern things. In 1960s Vegas, people really came there to gamble. You didn't have all these shows and other forms of entertainment. Macau is barely touching the tip of the iceberg there."
Like Vegas, it's a gambling destination where nearly everyone you see is from somewhere else. "There's about 600,000 people in Macau now but they have like 25 million annual visitors. So the money's all coming from outside Macau." A glance around the field in this HK$400,000 Super High Roller confirms this fact as some of the best poker players from North America, Europe, and Asia fill the tables.
This is poker done the PokerStars way in one of only three permanent PokerStars poker rooms in the world.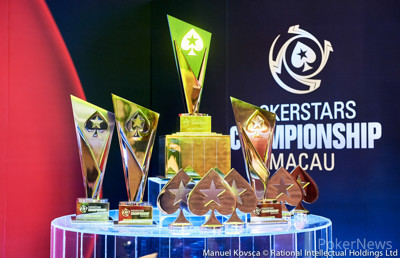 The third leg of the inaugural PokerStars Championship got underway on Thursday 30 March. Running until 9 April the prestigious tour makes its debut in the PokerStars LIVE Macau poker room located at luxurious City of Dreams complex on Macau's burgeoning Cotai Strip.
Featuring a packed schedule with events ranging from HK$1,100 (US$140) all the way up to the giddy heights of HK$400,000 (US$51,475) there are tournaments to suit all players and bankrolls.
PokerNews will be in Macau providing live coverage on the Main Event, High Roller, PLO High Roller and Single-Day High Roller. The Super High Roller will be covered exclusively by the PokerStars Blog, but we're there to provide you with feature stories from the floor as the tour progresses.
Here's a look at some of the key events on the schedule:
| Event | Dates | Buy in |
| --- | --- | --- |
| PokerStars National Championship: | March 30-April 3, 2017 | HK$8,800 (HK$2,000,000 guaranteed) |
| PokerStars Cup: | March 31-April 3, 2017 | HK$3,300 |
| PokerStars Championship Super High Roller Shot Clock: | April 1-3, 2017 | HK$400,000 |
| PokerStars Asia Open: | April 2-3, 2017 | HK$5,500 (HK$1,000,000 guaranteed) |
| PokerStars Championship Main Event: | April 3-9, 2017 | HK$42,400 |
| No Limit Hold'em - Shot Clock: | April 4, 2017 | HK$206,000 |
| PokerStars Championship PLO High Roller: | April 5-6, 2017 | HK$82,400 |
| PokerStars Championship High Roller: | April 7-9, 2017 | HK$103,000 |
| PokerStars Open: | April 7-9, 2017 | HK$2,200 |
There are dozens of other events planned and you can check out the full schedule here. There are cash games aplenty with stakes ranging from HK$25/50 (~US$3.25/6.50) all the way up to HK$200/400 (~US$25/50) and higher and we expect the action here to be as impressive as the tournament thrills on offer.
The HK$8,800 PokerStars National Championship is already well underway with Day 2 set to start at 5pm local time (GMT+7). This event has already attracted an impressive 708 runners so far with France's Allan Tirel is leading the charge with 232,100 in chips, but with late registration open for the first level of Day 2 the field size could well increase further.
The highlight of the series so far (bearing in mind we are a scant three days in) is the fact that event #3, the HK$82,400 (~US$10,600) NL Hold'em Single Re-Entry, attracted a very respectable 94 entries (73 unique players plus 21 re-entries).
Just 10 players remain in contention for the HK$1,936,500 (~US$249,200) first prize with the top thirteen places making the money. Currently, Australian poker pro Michael 'Imluckbox' Addamo holds the chip lead, finishing Day 2 as the sole player to break the one-million chip-mark.
The Melbourne native boasts more than $620,000 in live tournament earnings with his biggest career score coming back in the 2016 WSOP in one of the $1,500 NLHE events where he finished third for $196,202.
While this represents Addamo's only six-figure live cash the Australian is also a prolific online player playing under the handle 'Imluckbox' on PokerStars where he took down the SCOOP-05-H: $700 NL Hold'em 6-Max Event last year for a cool $142,465.
Should Addamo maintain his momentum when play resumes at 1pm local time he will guarantee himself a career tournament high, though with 2012 Global Poker Index (GPI) Player of the Year Dan Smith hot on his heels with 863,000 as the second biggest stack it will certainly not be easy.
Super High Roller
By far the biggest attraction of the day will be the massive HK$400,000 Super High Roller which is scheduled to start at 12:30pm local time.
Boasting 60-minute levels, a 250,000-chip starting stack and unlimited re-entries the sky is the limit for those with deep enough pockets. The tournament has a 30-second shot clock meaning players have just half a minute to make their decision, though it is worth noting that all players start with three time bank chips, each worth an additional minute of time. Once these are used up players will not receive any more so quick decision-making will be the order of the day.
So far there are 21 confirmed entries including Isaac Haxton, Sergio Aido and Sam Greenwood to name but a few but we expect this figure to grow as the day progresses as many of the remaining players in the HK$82,400 have expressed interest in playing.
You won't find any live updates and chip counts on PokerNews.com today, we'll leave that to the PokerStars Blog. Our partners in crime have a battalion of reporters ready to cover each and every step of all the players in today's event. So head over to PokerStars Blog for live updates and chip counts.
Today we'll be focusing our attention on the big stories in Macau with a series of features on the Super High Roller and the PokerStars Championship's first visit out East so stay tuned.
HK$400,000 Super High Roller
Dia 1 Começado