Nível:

3
Blinds:

100/200
Ante:

200
Among the players in Day 1b so far there is Rex Clinkscales, Ben Heath, Benny Glaser and Sylvain Loosli.
Nível:

2
Blinds:

100/100
Ante:

100
Day 1b is underway, and the turbo 20-minute level flight has seen 300 players take their seats already.
Nível:

1
Blinds:

100/100
Ante:

0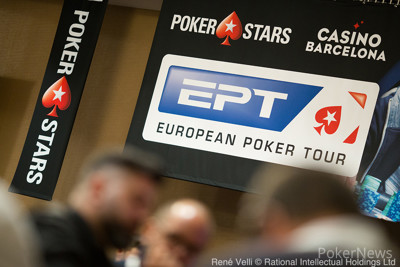 At 7 p.m. local time, cards will be in the air for the second of four starting days of the €1,100 EPT National at the 2018 EPT Barcelona. The Barcelona National has been one of the most popular 1K's in Europe for years. Last year drew an astonishing 4,557 runners, making it the largest live event in PokerStars history. Tons of players were already spotted in and around Casino Barcelona last night, including 800 players in the EPT National satellite, and another bumper field is expected in the sun-drenched Catalonian city.
Last year, flying under the PokerStars Championship Banner, Argentina's Pedro Cairat conquered the massive field for a life-changing payday of €432,178. Two years ago, back when it was called the Estrellas Main Event, Mohamed Samri won it for €353,220, after chopping with Teun Kooij heads-up, who walked away with the bigger payday of €372,060.
Two $30,000 Platinum Passes are added by PokerStars to spice up the EPT National even further. The eventual winner on Sunday, August 26 will receive one, as well as one lucky winner of the Crazy Pineapple hand challenge on Day 2. Both of them will be able to punch their ticket to the Bahama's for the PokerStars Players NL Hold'em Championship, held from 6-10 January 2019.
Day 1b will commence at 7 pm local time and will feature 20-minute levels. Play will be suspended after 15% of the field is remaining, which means Day 2 has to be reached in order to make the money. One entry per flight is permitted, allowing players to buy in up to four times in this tournament, one for each starting day.
PokerNews will cover one of the most popular tournaments in Europe wire-to-wire and will bring you all the live updates from this event, as well as eight other events over the course of the next twelve days.
Day 1b Blind Schedule
| Level | Blinds | Small Blind | Big Blind | Ante |
| --- | --- | --- | --- | --- |
| 1 | 20 min | 100 | 100 | |
| 2 | 20 min | 100 | 100 | 100 |
| 3 | 20 min | 100 | 200 | 200 |
| 4 | 20 min | 100 | 300 | 300 |
| 5 | 20 min | 200 | 400 | 400 |
| 6 | 20 min | 200 | 500 | 500 |
| Break    20 min | | | | |
| 7 | 20 min | 300 | 600 | 600 |
| 8 | 20 min | 400 | 800 | 800 |
| 9 | 20 min | 500 | 1000 | 1000 |
| 10 | 20 min | 600 | 1200 | 1200 |
| 11 | 20 min | 800 | 1600 | 1600 |
| 12 | 20 min | 1000 | 2000 | 2000 |
| Break    20 min | | | | |
| 13 | 20 min | 1000 | 2500 | 2500 |
| 14 | 20 min | 1500 | 3000 | 3000 |
| 15 | 20 min | 2000 | 4000 | 4000 |
€1,100 EPT National
Dia 1b Começado