€1,100 EPT National
Dias: 3
€1,100 EPT National
Dia 3 Terminado
Nível 36 : 250,000-500,000, 500,000 ante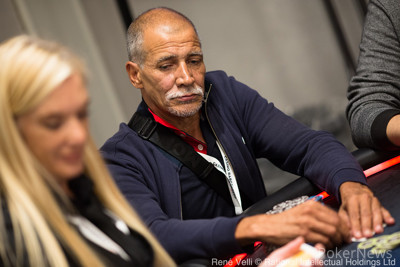 After nearly nine hours of play, 49 players have been whittled down to the EPT National final six with Jean-René Fontaine returning as the chipleader at noon on Sunday, August, 26.
Fontaine bagged a stack worth 42,500,000 and will be joined by Julien Martini, Jerome L'Hostis, Alberto Ah-Line, Jan 'The Wolf' Teunis, and Claudio Di Giacomo.
The EPT National started back on Wednesday, August,22 as the curtain raiser for the PokerStars European Poker Tour Barcelona and has seen four days worth of packed poker action so far at the Casino Barcelona.
Final Day Seating and Chip Counts
| Seat | Player | Country | Chip Count | Big Blinds |
| --- | --- | --- | --- | --- |
| 1 | Jean-René Fontaine | France | 42,500,000 | 85 |
| 2 | Julien Martini | France | 38,775,000 | 78 |
| 3 | Jan Teunis | Netherlands | 8,950,000 | 18 |
| 4 | Jerome L'Hostis | France | 19,775,000 | 40 |
| 5 | Claudio Di Giacomo | Italy | 7,700,000 | 15 |
| 6 | Alberto Ah-Line | France | 12,300,000 | 25 |
Payouts
| Place | Payout |
| --- | --- |
| 1 | €547,000 |
| 2 | €323,000 |
| 3 | €242,000 |
| 4 | €197,000 |
| 5 | €155,000 |
| 6 | €123,000 |
Action of the Day
The play got off to a fast start with all-ins, double up and eliminations a regular occurrence. The field had been reduced to 18 within the first four levels, and at that point, the play slowed down a little.
Before that point, defending champion, Pedro Cairat was eliminated in 34th place for €11,950 after he ran pocket fives into pocket sixes to end his dream of back-to-back titles.
Ludovic Geilich started the day among the big stacks but took a huge knock when he saw his pocket aces lose to Claudio Di Giacomo's pocket nines. Geilich was able to rebuild and even saw his ace-two hit runner runner nut flush, but not long after the final three tables were drawn he departed in 24th place after he ran ace-queen into ace-king and found no help from the board.
Joris Ruijs had quite the battle with Day 3 chipleader Valentin Cristea with the two players regularly exchanging large amounts of their stacks. Ruijs got the better of Cristea on the first occasion when his ace-king hit a flush against pocket aces to secure a vital double-up, but later on, it was Cristea who won the battle when he survived against Ruijs with pocket eights against king-jack. However, both players were unable to reach the final table with Ruijs taking 14th place shortly after Cristea exited in 16th.
Arni Gunnarsson (12th place - €39,150), Yunsheng Sun (11th place - €44,350), and Giovanni Gallo (10th place - €44,350) departed before the final table of nine came together.
Roger Taieb was the first player to depart after he got his last ten big blinds into the middle with pocket jacks, only to see Jerome L'Hostis win the pot after he hit a higher pair with queen-ten on the queen-king-six-four-deuce board.
And there was to be another unfortunate exit after Mariano Leandro Hyon saw his ace-queen lose to Julien Martini's ace-nine after the two of them got all their chips into the middle. Martini paired his nine to send Leandro Hyon to the rail in 8th place for €64,800.
With just one more elimination required before the final six came back for the last day, the play tightened up for most of the player except Jean-René Fontaine who managed to flip Martini's big chip lead into his own. Fontaine made an amazing call with pocket tens on an ace-jack-eight-four-six board, and further increased his stack when he got paid with a full house against Jan Teunis.
Jan Dentler was the final player to miss out on a spot in the final day after he saw his three-bet shove with ace-nine called by Julien Martini who held ace-ten. Martini's dominating ace held and Dentler was confirmed as the 7th place finisher for €91,220.
PokerNews will be back with all the action at noon as the EPT National crown's its 2018 champion.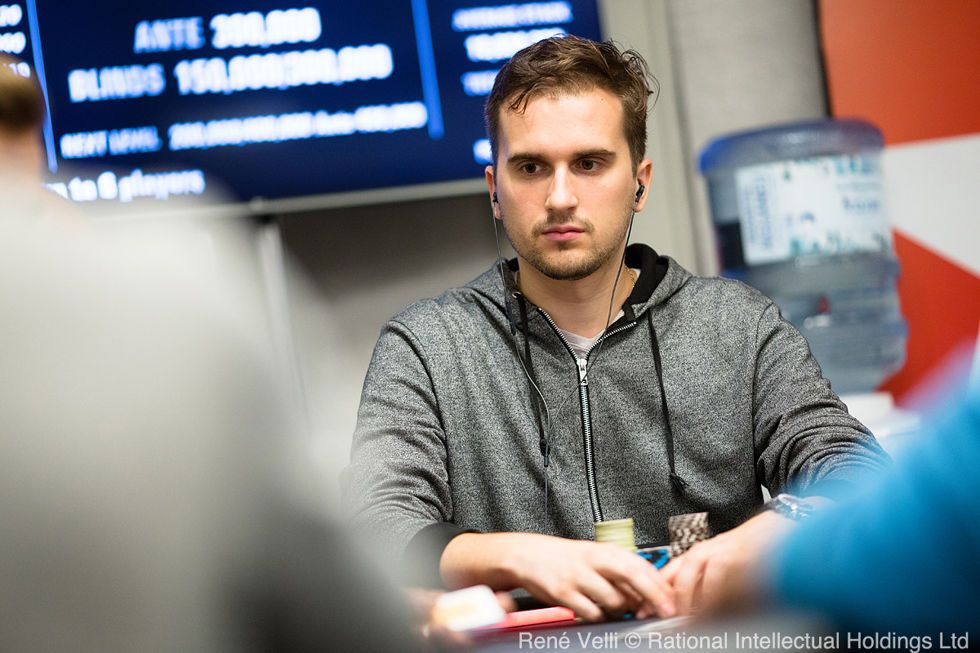 Nível 36 : 250,000-500,000, 500,000 ante
Jogador
Fichas
Progresso

Jean-René Fontaine

42,500,000

2,000,000

Julien Martini

38,775,000

5,775,000

Jerome L'Hostis

19,775,000

975,000

Alberto Ah-Line

12,700,000

12,700,000

Jan Teunis

8,950,000

950,000

Claudio Di Giacomo

7,700,000

-1,500,000
Nível 36 : 250,000-500,000, 500,000 ante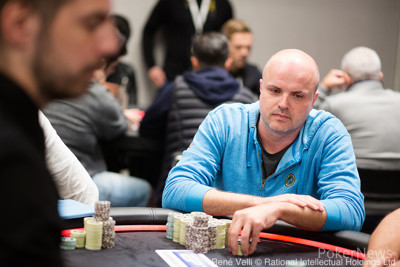 Julien Martini raised from under the gun to 1.2m, and Jan Dentler moved all in for 5.5m from the cutoff. The rest of the table folded and Martini called.
Julien Martini:

Jan Dentler:
Board:
Dentler saw his hand was dominated and he would be eliminated unless the board came to his rescue. There was no sign of help on the flop, and the ten of spades on the turn only cemented the pot to Martini.
Dentler missed out on a place at the table on the final day and walked away in 7th place for €91,220.
The play has now been concluded for the day, and the players will return tomorrow at noon.
The full chip counts will be posted shortly and a recap of the day's action will follow later.

Nível 36 : 250,000-500,000, 500,000 ante
Claudio Di Giacomo shoved 4,225,000 all in from middle position. Jerome L'Hostis asked for a count, then called from the big blind.
Claudio Di Giacomo:

Jerome L'Hostis:
Di Giacomo paired his kicker right away on
and doubled up shortly after cards were back in the air.
Nível: 36
Blinds: 250,000/500,000
Ante: 500,000

Nível 35 : 200,000-400,000, 400,000 ante
The seven remaining players are on a 75-minute dinner break. Once they return, they play down until six before chips are bagged for the night.

Nível 35 : 200,000-400,000, 400,000 ante
In the penultimate hand before the dinner break, Claudio Di Giacomo raised to 1,000,000 from early position. Jerome L'Hostis three-bet to 3,400,000 from the big blind, Di Giacomo four-bet shoved and L'Hostis called all in for 11,575,000.
Jerome L'Hostis:

Claudio La Giacomo:
The board ran out
to give L'Hostis the double before the break.
Nível 35 : 200,000-400,000, 400,000 ante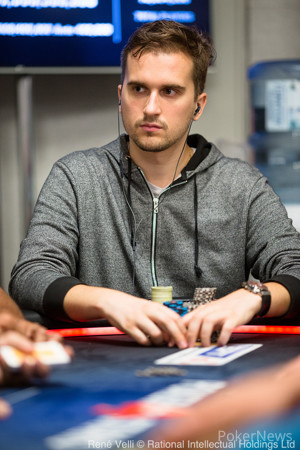 The action folded to Julien Martini on the button, and he raised to 800,000. Jan Teunis called from the small blind, and Jerome L'Hostis called in the big blind. The flop came down
, and Martini continued for 600,000 after the action was checked to him.
Teunis made the call, and L'Hostis folded before the
turn was revealed. Tuenis checked, and Martini continued for 2.6m. Tuenis thought for a minute before he raised to 6m, which was called by Martini after he too had a minute's thought.
Teunis checked on the
river, and Martini moved all in. The latter just had Tuenis covered, and he went into the tank for two minutes.
"Nice bluff," he then announced, before he swiftly folded and Martini swooped the 20m pot.
Nível 35 : 200,000-400,000, 400,000 ante
Jan Teunis raised from under the gun and saw Jean-René Fontaine call from the small blind and Julien Martini call in the big blind. Both players in the blinds checked to Teunis on the
flop, and he continued the aggression with a bet worth 1.5m. Fontaine made the call and Martini folded.
The turn brought the
, and Fontaine check-called a 3m bet from Teunis. On the
river, Fontaine led quickly for 6m. Tuenis got a confirmation of the bet amount and thought for close to 30 seconds before he made the call.
Fontaine flipped over
for a full house as Teunis conceded the pot.