€10,300 Single-Day High Roller
Event Info
| | |
| --- | --- |
| Buy-in | €10,000 |
| Premiação | €814,800 |
| Players | 84 |
Informações do Nível
| | |
| --- | --- |
| Nível | 21 |
| Blinds | 50,000 / 100,000 |
| Ante | 10,000 |
€10,300 Single-Day High Roller
Dia 1 Terminado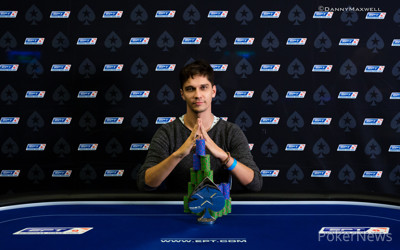 A total of 64 players came to play the €10,300 Single-Day High Roller at the PokerStars.com EPT Malta. 20 of them did not succeed on their first try and bought back in to have another go at trying to conquer the trophy and accompanying €224,100 first place prize.
In the end, WCOOP finalist Jakub "Olorionek" Michalak from Poland succeeded in that goal, though it must be said he struck a deal three-handed to eventually walk away with €178,133.
| Place | Player | Country | Prize |
| --- | --- | --- | --- |
| 1 | Jakub Michalak | Poland | €178,133 |
| 2 | Rocco Palumbo | Italy | €138,763 |
| 3 | Charlie Carrel | United Kingdom | €170,754 |
| 4 | Orpen Kisacikoglu | Turkey | €80,250 |
| 5 | Scott Seiver | United States | €63,550 |
| 6 | Behzad Ahadpour | Iran | €49,700 |
| 7 | Pratyush Buddiga | United States | €39,100 |
| 8 | Adrian Mateos | Spain | €30,550 |
| 9 | Morten Mortensen | Denmark | €23,200 |
| | | | |
| 10 | Steve O'Dwyer | Ireland | €20,400 |
| 11 | Diego Zeiter | Argentina | €20,400 |
The Day started with 4 tables in action, quickly followed by more tables started as players dropped by. Some of them left rather quick, as the structure dictated fast play early on. The first player to bust was Marcin Chmielewski who made his departure before the first time the level went up. First to burn through two bullets was Max Silver, running kings into aces on his first go and pocket sevens into an ace-queen that made a flush on his second try.
As the last player to enter before late registration closed, Pratyush Buddiga got 12.5 big blinds to work with to make magic happen. And so he did as he doubled early on and cruised to the money.
As the bubble approached, the in Dubai living Iranian businessman Behzad Ahadpour went on a rampage. He was the life of the party, laughing constantly and making sure the entire table was having a good table at all times. Especially Scott Seiver seemed to enjoy the antics as he nearly choked laughing from time to time. While there was big money on the line, the table of Ahadpour was the complete opposite of the boring game people make poker out to be sometimes. Big bets, great speeches, good jokes and some interesting reversed psychology from time to time made for a game that attracted somewhat of a rail in an otherwise solely on poker focused tournament room.
Meanwhile, over on the other table, Pasquale Grimaldi lead the tournament overall. The sole player close to him was British wunderkind Charlie Carrel that had just 14,000 fewer in chips. Things went sour real quick for the Grimaldi though, as he clashed with the only player that could really hurt him; Carrel. What started as a simple and small pot with a single raise preflop and the flop checked through, spun out of control on the turn as a third heart hit. Grimaldi lead, Carrel raised and Grimaldi shoved. Carrel called with the second nut flush, Grimaldi was drawing dead with his lower five hearts. Grimaldi made his exit the next hand and the remaining 11 players were in the money.
As Diego Zeiter made his departure in 11th place (€20,400) and defending champion Steve O'Dwyer lost jacks to ace-queen to go out in 10th place (€20,400) a final table was formed. The remaining 9 players moved to the final table played in the tournament room upstairs. The Behzad Ahadpour-show moved, but would be as entertaining as before. The talking only increased and so did the laughter.
Danish pro Morten Mortensen started the final table as the shortest player in the field and departed first. He made his move with pocket sixes and ran into the pocket nines of Scott Seiver.
Spanish EPT Grand Final and WSOP Europe champ Adrian Mateos, who started the final table as one of the shorter stacks as well, would find his head on the chopping block next. He open shoved with ace-queen and saw Behzad Ahadpour shoving over the top with pocket tens. Pratyush Buddiga slammed his queens and calling-chips on the table from the big blind to try his hand at a double knockout. The ten on the river spoiled that party for Buddiga as Ahadpour tripled and Mateos made his exit.
Buddiga would not recover from that hit as he made his departure minutes later. Again, the flamboyant Ahadpour was the one doing the dirty work. Buddiga wagered it all with sixes, Ahadpour called with king-queen and hit a queen on the turn.
While Behzad Ahadpour was the epiphany of an enjoyable character to share the table with, and he by now had gathered so many chips he had a fair shot at the title, would be the next to go nonetheless. He lost several big pots, doubling Jakub Michalak and Rocco Palumbo in the process, to get into dangerously short territory. On top of that, he was getting tired he said, so he forced things by shoving all in. His amigo Scott Seiver was the one calling with ace-ten and the American was in excellent shape to knock out Ahadpour as the Iranian showed ten-eight. The eight on the flop changed things drastically for Seiver and Ahadpour spent the next minute apologizing.
While Ahadpour had found new life with his double up and Seiver was on life support, it was still Ahadpour next to go. He limped in with eight-five and flopped two pair in a three-way pot. Unfortunately for Ahadpour and the rail that enjoyed his antics, it was big blind Jakub Michalak with a flopped set of fives that set the trap by checking. Ahadpour open-shoved the flop in position for a couple times pot and all Michalak had to do was call. No eight on the turn or river and the gigantic cooler took out the most entertaining player of the tournament.
Scott Seiver followed him out the door after getting it in with jacks to Michalak's ace-six. An ace on the turn was all she wrote for Seiver who departed in 5th place for €63,550. Orpen Kisacikoglu hit the rail 5 minutes later, failing to get lucky with nine-six to Charlie Carrel's king-queen.
With just 3 players left, a deal was agreed upon. Chipleader Charlie Carrel got the most money with €170,754, Jakub Michalak settled for €160,658 and Rocco Palumbo guaranteed himself of a €138,763-payday. With still €17,475 and the trophy to play for, the action was back underway soon enough.
Carrel lost a couple of big hands to eventually go out in third place. "Bad read," he said with a smile after calling it off with ace-seven to Rocco Palumbo's ace-queen. The board brought no help to either, and Palumbo was in pole position heads up while Carrel was heading to the rail where Cate Hall and Ben Heath had been standing for most of the evening cheering their friend on.
Palumbo started the heads up with the lead but a two-pair versus a higher two-pair situation shifted the chip lead and momentum to his Polish opponent. After a hand where Jakub Michalak once again made two pair and got three streets of value, Palumbo all of the sudden was the extreme short stack. He managed to double up once more but the crucial last coin flip would go to Michalak as Palumbo pushed his stack and luck with king-nine into Michalak's pocket deuces. Palumbo turned a ton of outs but hit none of them on the river and he had to leave the biggest prize, trophy, and honors to Jakub Michalak.
The 29-year old Jakub "Olorionek" Michalak from Gdynia, Poland made the final table of the WCOOP Main Event just last month (6th for $305,439.66). Tonight's victory in the €10,300 Single-Day High Roller at the PokerStars EPT Malta is his second biggest live score to date, as he won the ISPT back in 2013 for €436,000 as well.
Before he busted in 3rd, we spoke to Charlie Carrel about finding new edges in poker, balancing online and live poker, and how he thought William Kassouf was treated during the WSOP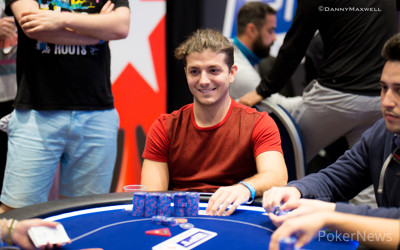 Jakub Michalak raised to 225,000 on the button. Rocco Palumbo responded with a shove of 2,500,000 from the big blind. It send Michalak in the tank.
"Normally I would snap-fold this, but I'm tired," smiled Michalak, who spent the better part of two minutes glossing over his options. Eventually, the Polish pro called, putting Palumbo at risk.
Rocco Palumbo:

Jakub Michalak:
The flop
gave Palumbo the queens as extra counterfeit outs. The
made it even spicier, as now the kings, queens, jacks, tens and nines were all outs for the Italian. The river, however, was the
, missing Palumbo's many outs.
Michalak's pair of deuces remained in front, giving him the title and €188,229! Palumbo finished in second place and took home €138,763.
An extensive recap of the €10,300 Single Day High Roller will follow.
| | | | | | |
| --- | --- | --- | --- | --- | --- |
| Jakub Michalak | | | | 8,400,000 | 2,890,000 |
| Rocco Palumbo | | | | Eliminado | |
Nível:

21
Blinds:

50,000/100,000
Ante:

10,000
The heads-up players are taking a short break to stretch their legs.
Jakub Michalak opened to 165,000 and Rocco Palumbo defended. The flop was
, Palumbo checked, Michalak bet 140,000 and Palumbo called. On the
turn, Palumbo check-called a 345,000 bet from Michalak.
The river was the
. Palumbo checked a third time and Michalak calmly shoved all in. It gave Palumbo a headache, but after spending the better part of a minute thinking he committed his last 785,000.
Michalak showed
for king-high and Palumbo scooped it up with
for just a pair of fives.
| | | | | | |
| --- | --- | --- | --- | --- | --- |
| Jakub Michalak | | | | 5,510,000 | -1,540,000 |
| Rocco Palumbo | | | | 2,890,000 | 1,540,000 |
Jakub Michalak raised his button to 200,000 and Rocco Palumbo called from the big blind.
Palumbo check-called 160,000 on the
flop, 465,000 on the
turn and 850,000 on the
river.
Michalak showed
and Palumbo mucked.
| | | | | | |
| --- | --- | --- | --- | --- | --- |
| Jakub Michalak | | | | 7,050,000 | 1,700,000 |
| Rocco Palumbo | | | | 1,350,000 | -1,700,000 |
Jakub Michalak raised to 200,000 and Rocco Palumbo defended. Both players checked the
flop. Palumbo led 275,000 on the
turn and Michalak called. Palumbo then bet 625,000 on the
river and Michalak called again.
Palumbo showed
for two pair, but Michalak held
for the higher two pair to win the pot.
| | | | | | |
| --- | --- | --- | --- | --- | --- |
| Jakub Michalak | | | | 5,350,000 | 1,725,000 |
| Rocco Palumbo | | | | 3,050,000 | -1,725,000 |
After three hands of action, Rocco Palumbo now leads with 4,775,000 to the 3,625,000 of Jakub Michalak.
| | | | | | |
| --- | --- | --- | --- | --- | --- |
| Rocco Palumbo | | | | 4,775,000 | 385,000 |
| Jakub Michalak | | | | 3,625,000 | -385,000 |