$1,600 Mystery Bounty [$1,500,000 GTD]
Dias: 2
$1,600 Mystery Bounty [$1,500,000 GTD]
Dia 2 Terminado

Nível 34 : 200,000/400,000, 400,000 ante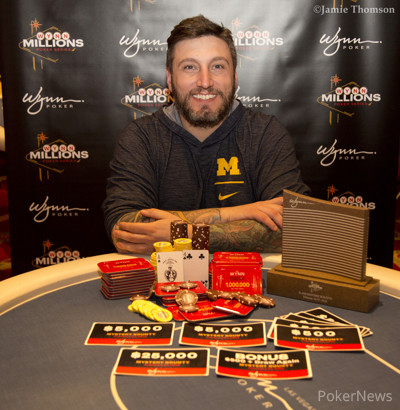 The Mystery Bounty format continued its run as a breakout hit among poker players, and on Sunday the knockout drum drew most of the attention all afternoon.
Player breaks were especially busy, with runners lined up to take their draw while tournament directors stepped up their efforts to get as many bounties in as the break time would allow. Wynn Poker staff worked overtime to ensure a smooth bounty process, and they delivered once again with an exciting day full of big moments.
Some of the mystery bounties contained a bonus draw, with $500 and the opportunity to reach back in for more. The highlight of the day came when Hung Tran spiked his redraw for the $100,000 top prize. The big numbers drew loud reactions from the slow-peeling players, followed by an announcement of the prize from Tournament Director Ray Pulford, and then a mixture of cheers and groans from the rest of the field.
The other big bounties included five $50,000 prizes and eight $25,000 prizes, once of which was claimed by winner Eddy Konarske, who drew a total of nine envelopes from the drum during his dominating run on his way to a total payday of $260,072.
The $1.5 million guaranteed Wynn Millions Mystery Bounty, a $1,600 buy-in tournament that ran from February 24-27, attracted 2,103 entrants over a trio of starting flights, creating a $1,997,850 prize pool in the process. On Sunday's Day 2, 228 players returned to the Las Vegas Strip casino to finish things off, and Konarske was the last person standing following a heads-up chop with Rambo Halpern, taking home $222,000 for his efforts.
On top of the traditional prize pool, the tournament had a separate mystery bounty in play. After each elimination, the player with the winning hand would pull an envelope with the potential to win up to $100,000 for the bounty. There were three envelopes with the maximum bounty, along with four at $50,000. The minimum amount the players could receive was $500.
All three of the $100k envelopes were snatched up long before the final table. Had one or more been in play, it's likely the final table action would have moved quickly as the players would have had some extra equity in play chasing that six-figure bounty.
2022 Wynn Millions Mystery Bounty Final Table Results
| Place | Player | Prize |
| --- | --- | --- |
| 1 | Eddy Konarske | $222,000* |
| 2 | Rambo Halpern | $200,000* |
| 3 | Laszlo Nagy | $119,863 |
| 4 | Aaron Massey | $90,901 |
| 5 | Z Stein | $67,327 |
| 6 | Josh Light | $52,223 |
| 7 | Dennis Wilke | $41,017 |
| 8 | David Yokoyama | $32,862 |
| 9 | Harrison Ashdown | $27,468 |
*Denotes a heads-up deal
The Final Nine
The final table began just before midnight after Eric Ward was eliminated in 10th place ($25,119).
Early at the final table, Harrison Ashdown lost a race against Laszlo Nagy and was eliminated in ninth place ($27,468). David Yokoyama was the next out the door in eighth place ($32,862).
Dennis Wilke, who had been the big stack for quite some time, ran into a rough patch and then lost a crucial race against Eddy Konarske to bust in seventh place ($41,017).
Josh Light lost a race against Rambo Halpern to bust in sixth place ($52,223). On the ensuing hand, Z Stein finally put his small stack in the pot preflop and lost a race against Konarske. Stein took fifth place for $67,327.
And then came the hand of the tournament. With Nagy down to less than half a big blind, he not only won an all-in to stay alive, but earned a $30,000 pay jump when Aaron Massey moved all-in with
and was called by the biggest stack, Konarske, who had
. The board ran out king-high and also a 4, which sent Massey home in fourth place ($90,901) instead of becoming the chip leader.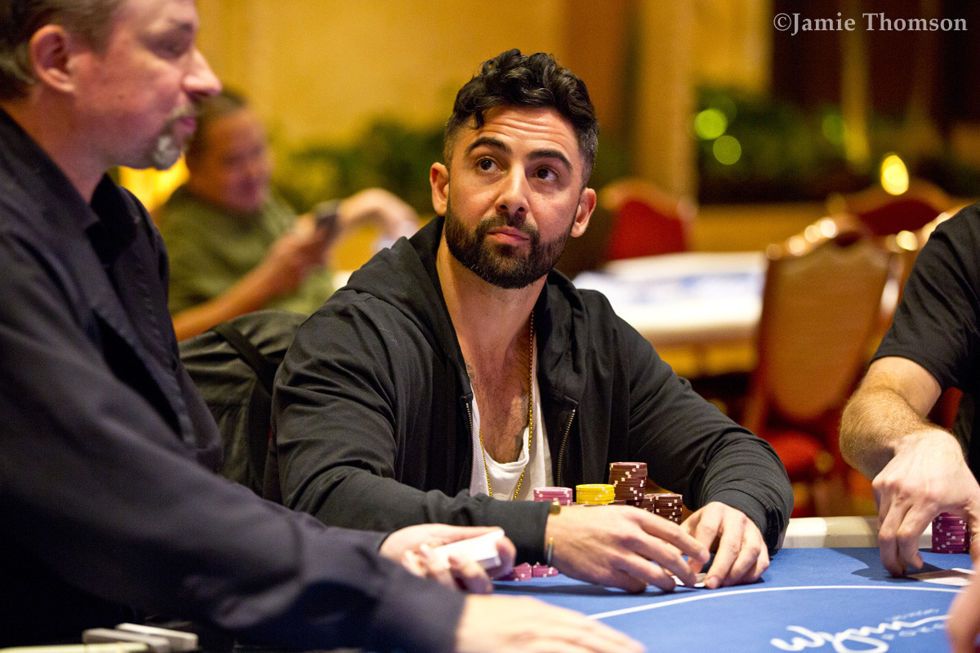 Nagy busted the following hand but earned $119,863 for third place. Konarske and Halpern then began discussions on a chop, although Konarske held a 3:1 chip advantage.
After some discussions, they agreed that Halpern would receive $200,000 and Konarske would get $222,000, putting an end to the exciting tournament.
The Wynn Millions series continues this week, including the highly anticipated $10,000 buy-in Main Event, which guarantees at least $10 million in the pot. Last summer, the Wynn hosted that very same event and Andrew Moreno took it down for $1,460,106, beating out 1,328 entrants in the largest non-WSOP Main Event $10k in Las Vegas poker history.
Click here for all of PokerNews' coverage of the 2022 Wynn Millions!

Nível 34 : 200,000/400,000, 400,000 ante
Eddy Konarske, the chip leader, and Rambo Halpern have agreed to a heads-up chop. Stay tuned for a full recap and final payouts.

Nível 34 : 200,000/400,000, 400,000 ante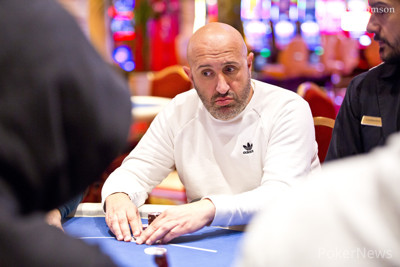 After dodging a bullet to survive with less than a full big blind, Laszlo Nagy was all-in with
against Eddy Konarske and Rambo Halpern.
The board showed
and Halpern bet 1 million, which convinced Konarske to fold. Halpern showed
for a wheel and busted Nagy in third place ($119,863).

Nível 34 : 200,000/400,000, 400,000 ante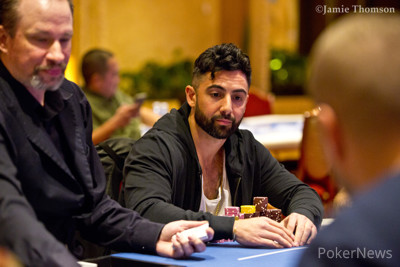 A wild turn of events led to Aaron Massey hitting the rail while Laszlo Nagy secured an unlikely ladder into the top three.
Just a few moments prior, Massey and Nagy clashed in a hand that left Nagy with just one T-25,000 chip as the big blind beckoned.
As Laszlo was the big blind and he had only 25,000, he was committed to the pot and only eligible to win the ante - his own. Nagy found a pair of sixes and won his 25,000 back, extending his life for a few more minutes.
On the very next hand, Nagy was committed to the pot once again, this time in the small blind.
Eddy Konarske opened to 900,000 and Massey shoved for 1,100,000. After thinking it over, Konarske called and all three players turned over their cards, with Nagy and Massey at risk.
Laszlo Nagy:

Aaron Massey:

Eddy Konarske:
The board ran out
, giving Konarske a pair of fours to knock out Massey- instead of giving the latter the chip lead. Nagy had kings and sevens to claim the small main pot and jump into the top three. Massey hit the rail in fourth place for $90,901.

Nível 34 : 200,000/400,000, 400,000 ante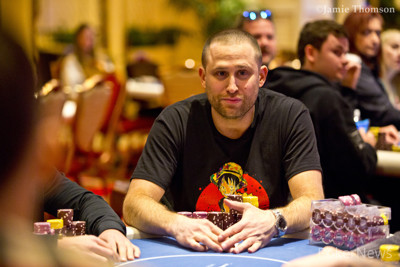 Z Stein moved his small stack of 1,775,000 all-in preflop and was called by the biggest stack, Eddy Konarske.
Z Stein:

Eddy Konarske:
The board came out
, giving Konarske a winning straight. Stein was out in fifth place and earned $67,327.

Nível 34 : 200,000/400,000, 400,000 ante
Rambo Halpern raised to 900,000 from early position and Josh Light shoved for his last 2,300,000. The rest of the table got out of the way and Halpern called without hesitation.
Josh Light:

Rambo Halpern:
The board ran out
and the queens held to eliminate Halpern in sixth place for $52,223.
Nível: 34
Blinds: 200,000/400,000
Ante: 400,000

Nível 33 : 150,000/300,000, 300,000 ante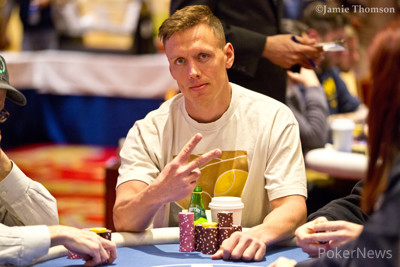 Action was caught with Dennis Wilke all-in for 5,225,000 preflop and Eddy Konarske pondering his move. He eventually decided on a call.
Dennis Wilke:

Eddy Konarske:
Off to the races they went and watched the board run out
, giving Konarske a huge hand and Wilke was sent home in seventh place for $41,017.

Nível 33 : 150,000/300,000, 300,000 ante
Eddy Konarske opened from early position to 625,000 and Rambo Halpern made the call. They both saw a flop of
and Konarske continuation bet for 750,000. His opponent made the call and then they both checked the
on the turn.
The river was a seemingly meaningless
, or so you might think. Konarske bet 1,600,000 and showed
after Halpern made the call. As it turned out, the 4 on the river gave him a set and he scooped a nice pot.
Jogador
Fichas
Progresso

Eddy Konarske

19,800,000

7,600,000

Rambo Halpern

10,150,000

-3,000,000

Z Stein

2,650,000

-2,200,000