Adam Owen Rides Multiple Double KOs to Chip Lead for Day 1b
Nível 18 : 3,000-6,000, 0 ante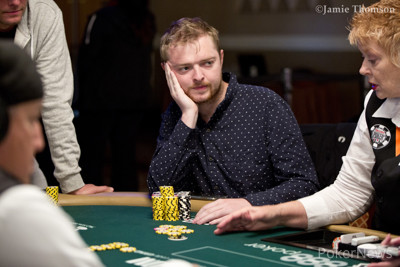 Adam Owen bagged the chip lead for Day 1b of Event #18: $565 Pot-Limit Omaha with 410,000. Owen will lead the way for 45 other players when they start Day 2 tomorrow at 2 p.m. tomorrow.
Day 1a drew 1,711 players and 1b drew 1,479 and 107 total players will return for Day 2.
This year's event saw 707 more entries that last year. Of course this year's field was bolstered by the second flight, but it still leaves the "PLO-lossus" as the biggest live PLO tournament in the world. The defending champion Ryan Laplante failed to bag, so there will be a new champion in this event.
Kyle Bowker, Dylan Linde, Mike Dentale, Felipe Ramos, Nacho Barbero, and the newest three-time WSOP bracelet winner Frank Kassela could not make Day 2.
Some old school faces managed to find a bag, with Chris Ferguson and Erick Lindgren each bagging in Day 1b. JC Tran (147,000) doubled up two times late and also bagged for Day 2 in search of his third WSOP bracelet.
Avi Lam, Tomas Gelezuinas, Rep Porter and Darren Taylor round out the top five stacks from Day 1b. Porter had an early move to Jason Mercier's (272,000) and spent the early part of the day holding a shorter stack, before exploding late and competing for the chip lead. Mercier managed to jump way in front early, hitting the 100,000 mark early in the day.
The players return tomorrow at 2 p.m. to take their shot at the second-ever $565 PLO bracelet at the WSOP.
Follow all the updates on PokerNews.com and on twitter or Facebook.
Day 2 Seat Draw
| Room | Table | Seat | Player | Country | Chip Count |
| --- | --- | --- | --- | --- | --- |
| Brasilia | 715 | 1 | Danny Schultz | Germany | 96,000 |
| Brasilia | 715 | 2 | Eric Doerr | United States | 136,000 |
| Brasilia | 715 | 3 | Jason Stockfish | United States | 224,000 |
| Brasilia | 715 | 4 | Joshua Reichard | United States | 270,000 |
| Brasilia | 715 | 5 | Rene Hochmuth | Germany | 75,500 |
| Brasilia | 715 | 6 | Filippos Stavrakis | United States | 165,000 |
| Brasilia | 715 | 7 | Igor Sharaskin | Russian Federation | 173,000 |
| Brasilia | 715 | 8 | Hassan Tahsildar | United States | 425,000 |
| Brasilia | 715 | 9 | Thomas Zanot | United States | 52,000 |
| | | | | | |
| Brasilia | 716 | 1 | Maxx Coleman | United States | 238,000 |
| Brasilia | 716 | 2 | Jeff Sluzinski | United States | 122,000 |
| Brasilia | 716 | 3 | Erick Lindgren | United States | 99,000 |
| Brasilia | 716 | 4 | Ankush Mandavia | United States | 299,000 |
| Brasilia | 716 | 5 | Michel Leibgorin | France | 222,000 |
| Brasilia | 716 | 6 | Yashuo Chin | United States | 222,000 |
| Brasilia | 716 | 7 | Andre Nyffeler | United States | 85,000 |
| Brasilia | 716 | 8 | Ryan Wince | United States | 180,000 |
| | | | | | |
| Brasilia | 717 | 1 | Nicholas Seiken | United States | 126,000 |
| Brasilia | 717 | 2 | Kevin Pionkowski | United States | 77,000 |
| Brasilia | 717 | 3 | James Ray | United States | 135,000 |
| Brasilia | 717 | 4 | Hunter Cichy | United States | 133,000 |
| Brasilia | 717 | 5 | Douglas Spicer | United States | 50,000 |
| Brasilia | 717 | 6 | Martin Kozlov | Australia | 153,000 |
| Brasilia | 717 | 7 | Brent Roberts | United States | 93,000 |
| Brasilia | 717 | 8 | Chris Ferguson | United States | 96,000 |
| Brasilia | 717 | 9 | Paresh Doshi | United States | 42,000 |
| | | | | | |
| Brasilia | 718 | 1 | Pierce Mckellar | United States | 200,000 |
| Brasilia | 718 | 2 | Lee Watkinson | United States | 46,000 |
| Brasilia | 718 | 3 | Yves Kupfermunz | Belgium | 136,000 |
| Brasilia | 718 | 4 | A-Vi Lam | Canada | 309,000 |
| Brasilia | 718 | 5 | Bariz Sudhanshu | United States | 43,000 |
| Brasilia | 718 | 6 | Cody Slaubaugh | United States | 726,000 |
| Brasilia | 718 | 7 | Kevin Napadow | United States | 96,000 |
| Brasilia | 718 | 8 | Shady Badran | United States | 159,000 |
| Brasilia | 718 | 9 | Dien Le | United States | 64,000 |
| | | | | | |
| Brasilia | 719 | 1 | Jae Lim | United States | 28,000 |
| Brasilia | 719 | 2 | Rep Porter | United States | 337,000 |
| Brasilia | 719 | 3 | James Chen | United States | 116,000 |
| Brasilia | 719 | 4 | Juan Tejeda | United States | 181,000 |
| Brasilia | 719 | 5 | Joey Ingram | United States | 40,000 |
| Brasilia | 719 | 6 | Riley Fuller | United States | 42,000 |
| Brasilia | 719 | 7 | Wing Wong | United States | 106,000 |
| Brasilia | 719 | 8 | Nathan Gamble | United States | 180,000 |
| Brasilia | 719 | 9 | Dermot Blain | Ireland | 44,000 |
| | | | | | |
| Brasilia | 720 | 1 | Andreas Krause | Germany | 33,000 |
| Brasilia | 720 | 2 | John Dallaire | United States | 231,000 |
| Brasilia | 720 | 3 | Matthew Colvin | United States | 31,000 |
| Brasilia | 720 | 4 | Shiva Dudani | United States | 55,000 |
| Brasilia | 720 | 5 | Frank Bonacci | United States | 86,000 |
| Brasilia | 720 | 6 | Andrew Whitaker | United States | 183,000 |
| Brasilia | 720 | 7 | Adam Goldberg | United States | 76,000 |
| Brasilia | 720 | 8 | Patrick Ruth | United States | 68,000 |
| Brasilia | 720 | 9 | Scott Davies | United States | 110,000 |
| | | | | | |
| Brasilia | 721 | 1 | Marek Ohnisko | Czech Republic | 243,000 |
| Brasilia | 721 | 2 | Robert West | United States | 187,000 |
| Brasilia | 721 | 3 | Darius Tamulevicius | Lithuania | 142,000 |
| Brasilia | 721 | 4 | Victa Park | United States | 248,000 |
| Brasilia | 721 | 5 | Ruslan Dykshteyn | United States | 277,000 |
| Brasilia | 721 | 6 | Joe Beevers | United Kingdom | 168,000 |
| Brasilia | 721 | 7 | Mark Davis | Ireland | 143,000 |
| Brasilia | 721 | 8 | Jason Mercier | United States | 272,000 |
| Brasilia | 721 | 9 | Will Failla | United States | 111,000 |
| | | | | | |
| Brasilia | 722 | 1 | Renier Gonzalez | United States | 97,000 |
| Brasilia | 722 | 2 | Jessie Bryant | United States | 167,000 |
| Brasilia | 722 | 3 | Brock Parker | United States | 125,000 |
| Brasilia | 722 | 4 | Andrew Barber | United States | 63,000 |
| Brasilia | 722 | 5 | Jonathan Zarin | United States | 143,000 |
| Brasilia | 722 | 6 | Jim Hademenos | United States | 290,000 |
| Brasilia | 722 | 7 | Matt Repinski | United States | 130,000 |
| Brasilia | 722 | 8 | Daniel Pearlman | United States | 60,000 |
| Brasilia | 722 | 9 | Lars Nickolai | Germany | 160,000 |
| | | | | | |
| Brasilia | 723 | 1 | Ronald Gesmundo | Canada | 220,000 |
| Brasilia | 723 | 2 | Adam Owen | United Kingdom | 410,000 |
| Brasilia | 723 | 3 | Senovio Ramirez III | United States | 56,000 |
| Brasilia | 723 | 4 | Santiago Torres | Spain | 66,000 |
| Brasilia | 723 | 5 | Alexander Peterson | United States | 57,000 |
| Brasilia | 723 | 6 | Daniel Harmetz | United States | 150,000 |
| Brasilia | 723 | 7 | Christopher Phoel | United States | 31,000 |
| Brasilia | 723 | 8 | Thi Ngo | Canada | 190,000 |
| Brasilia | 723 | 9 | Joseph Sanders | United States | 154,000 |
| | | | | | |
| Brasilia | 724 | 1 | Sean Legendre | United States | 61,000 |
| Brasilia | 724 | 2 | Tomas Geleziunas | Lithuania | 368,000 |
| Brasilia | 724 | 3 | Tyler Coates | United States | 76,000 |
| Brasilia | 724 | 4 | Eric Froehlich | United States | 242,000 |
| Brasilia | 724 | 5 | Mark Radoja | Canada | 109,000 |
| Brasilia | 724 | 6 | JC Tran | United States | 147,000 |
| Brasilia | 724 | 7 | Jie Gao | Canada | 59,000 |
| Brasilia | 724 | 8 | Andrew Bulliard | United States | 147,000 |
| Brasilia | 724 | 9 | Richard Ellerman | United States | 23,000 |
| | | | | | |
| Brasilia | 726 | 1 | Foster Hearn | United States | 162,000 |
| Brasilia | 726 | 2 | Jeffrey Trudeau | United States | 218,000 |
| Brasilia | 726 | 3 | Adam Swan | United States | 92,000 |
| Brasilia | 726 | 4 | Eli Loewenthal | United States | 148,000 |
| Brasilia | 726 | 5 | Marco Palacios | United States | 113,000 |
| Brasilia | 726 | 6 | Tyler Smith | United States | 171,000 |
| Brasilia | 726 | 7 | Thai Tran | United States | 66,000 |
| Brasilia | 726 | 8 | Alan Sternberg | United States | 112,000 |
| Brasilia | 726 | 9 | Daniel Ruiz | United States | 117,000 |
| | | | | | |
| Brasilia | 727 | 1 | Steven Loney | United States | 78,000 |
| Brasilia | 727 | 2 | Darren Taylor | United Kingdom | 323,000 |
| Brasilia | 727 | 3 | Ricardo Alvarado | United States | 269,000 |
| Brasilia | 727 | 4 | Lucas Ford | Australia | 78,000 |
| Brasilia | 727 | 5 | Ryan D'Angelo | United States | 216,000 |
| Brasilia | 727 | 6 | Timothy Woodson | United States | 72,000 |
| Brasilia | 727 | 7 | Florian Strasser | Austria | 33,000 |
| Brasilia | 727 | 8 | David Diiorio | United States | 133,000 |
| Brasilia | 727 | 9 | Kyle Montgomery | United States | 233,000 |