Event #8: $25,000 Heads Up No-Limit Hold'em Championship
Dias: 2
Event #8: $25,000 Heads Up No-Limit Hold'em Championship
Dia 2 Terminado
Nível 44 : Blinds 20,000/40,000, 0 ante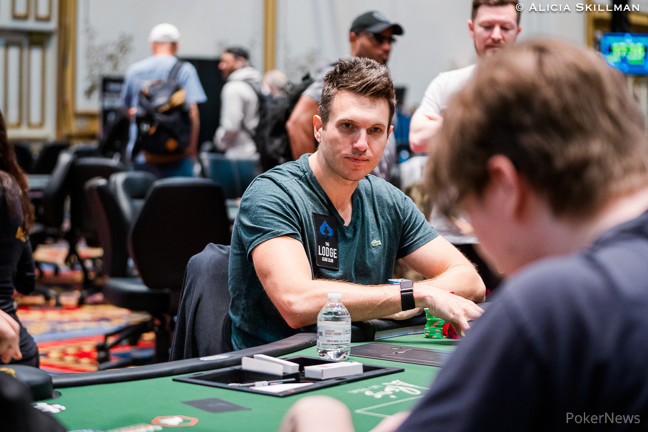 Doug Polk built his poker reputation on heads-up play. It's where he's most comfortable, staring at a single opponent directly across the table. And tomorrow, when the Final Four of Event #8: $25,000 Heads Up No-Limit Hold'em Championship begins at 4 p.m. local time, he has a chance to capture the one thing missing from his resume.
Polk headlines the four remaining players who will gather on the main feature stage inside the Horseshoe and Paris Las Vegas. He'll be joined by Sean Winter, Chris Brewer, and Chanracy Khun, three opponents who have navigated through the grind of four heads-up matches to reach this stage.
Full Bracket
Day 2 Action
Polk began the day by defeating Reiji Kono in the Round of 16, complimenting the young Japanese star after the match. The highlight of his day, though, was still to come. Facing Roberto Perez, who had a passionate rail chanting "Davy" for his online handle "DavyJones," Polk called a preflop shove with ace-queen. Perez had seven-five and took the lead with a five on the turn, but Polk hit a three on the river to complete a wheel as he took a victory lap around the rail.
Kono and Perez provided Polk with differing challenges on his way to making the Final Four. "Normally, I think when you think of a good player you think of an aggressive player. But the thing about heads-up is if you become too aggressive it becomes bad. So it's all about how you balance that aggression into your overall play style," Polk said after booking his ticket for the event's final day.
"[Kono] I think he had his foot fully on the gas and I was able to make a couple of reasonable call downs versus him to do well. I'm usually not the guy you can run over in heads-up no-limit…[Perez] legitimately never had a hand. He made some nice calls. He tried a couple of bluffs, got a couple through here and there. I don't think what we saw from him today is indication of how he plays as a whole."
Polk, who makes only occasional appearances at the WSOP while running the Lodge cardroom in Austin, Texas, already has three WSOP bracelets. His three opponents on Sunday are all still chasing their first. On a list of the game's best players without a bracelet, Winter and Brewer would be near the top. Winter gave an indication of his incredible poker talent when he called a river bet of 350,000 with just ace-high to take a commanding lead over Eric Wasserson on his way to finishing off the match a short time later. Brewer hit a queen on the river to beat Anthony Zinno and set up a match against Polk in the semifinals. It's one Polk is looking forward to.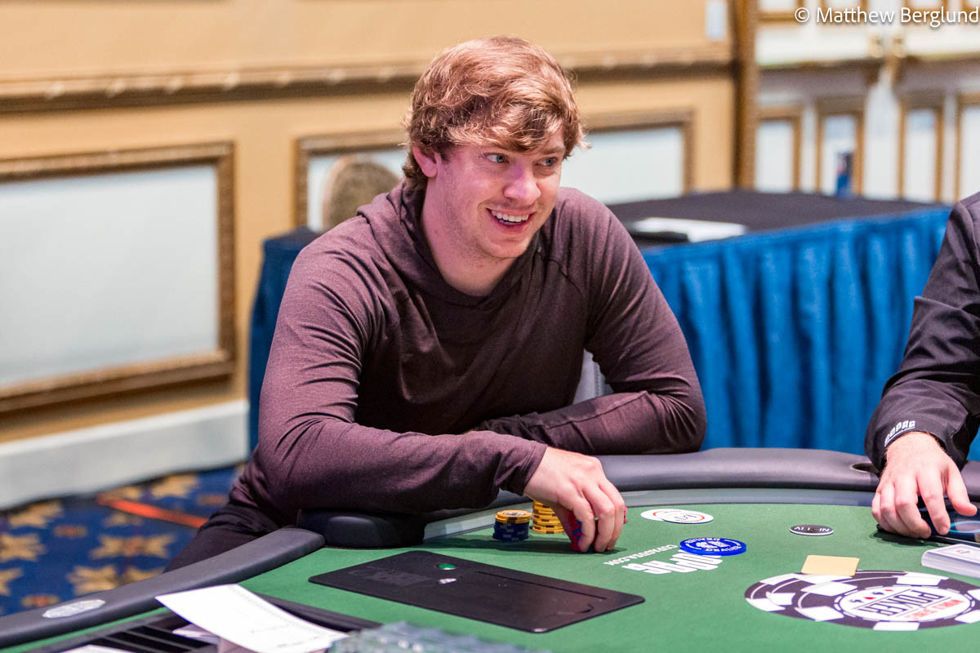 "It should be a fun one. I've played Chris a bunch online. When I was prepping for my match against Daniel Negreanu, we played a good chunk of hands and I smashed him pretty good. But he played pretty well. His frequencies and stuff were quite good, quite balanced. I thought he was a good player," Polk said.
The Montreal, Canada native Khun isn't the household name that Polk, Winter, and Brewer are in the poker community, but he still has WSOP cashes going back more than a decade and more than $400,000 in total earnings. After a grueling match against Gabor Szabo in the Round of 16, Khun made quick work of poker prodigy Landon Tice in the quarterfinals when he flopped two pair to beat Tice's pair of aces.
Polk vs. Brewer. Winter vs. Khun. The Final Four is set, and it all gets underway on Sunday. They are matchups that ChatGPT nearly correctly predicted at the beginning of the day. Action will be streamed on PokerGO beginning at 5 p.m. until a winner is crowned. Polk is the star and headliner, and he has no doubt about who should be considered the favorite.
"I feel really good about my chances. I'm probably the favorite tomorrow," he said. "I guess the only thing I would say is my short-stack game isn't particularly great, but as long as the stacks are deep I feel extremely good about my chances. I would imagine I'm the best deep-stacked No-Limit Hold'em player tomorrow. This is my favorite event. I think it's no surprise that I tend to do best in this event. There's only one other guy. That's what I usually do. That's what I've done my whole life. So I feel great."
It will be one of the most anticipated days on the poker calendar, and PokerNews will be following the action all the way and providing live updates until a new heads-up king is crowned.
Nível 44 : Blinds 20,000/40,000, 0 ante
The final four players of Event #8: $25,000 Heads-Up No-Limit Hold'em have been determined with each player locking up at least $192,513 thus far. The semifinals are slated to begin at 4 p.m. local time with the PokerGO stream beginning at 5 p.m. The matchups will be Doug Polk vs Chris Brewer and Sean Winter vs Chanracy Khun. The full bracket can be seen below:
Nível 44 : Blinds 20,000/40,000, 0 ante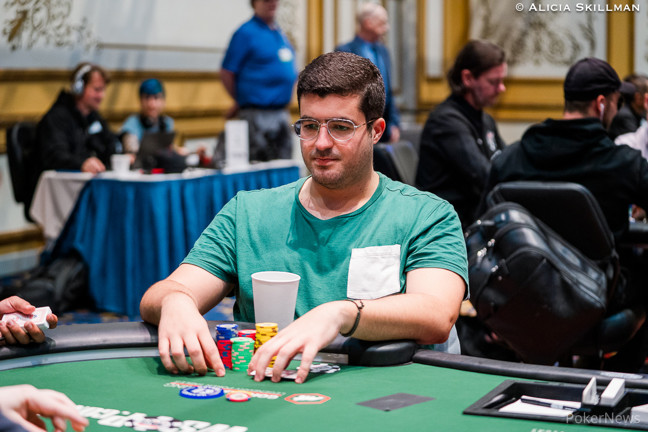 Roberto Perez pushed the last of his chips forward from the small blind and Doug Polk immediately made the call to put Perez at risk.
Roberto Perez: 7♣5♣
Doug Polk: A♥Q♦
Polk was well ahead preflop but the 4♥8♣2♥ flop gave Perez a multitude of outs. One of those outs came on the 5♦ turn and Perez seemed poised for a double up.
"I need a three!" Polk said to his rail. The dealer gave Polk exactly what he asked for with the 3♣ on the river. Polk quickly got up from his seat and did a victory lap around the table, high-fiving his rail on the way. He will face Chris Brewer in the semifinal matchup tomorrow while Sean Winter will face off against Chanracy Khun.
Roberto Perez will take home $74,648 for his impressive run.
Nível: 44
Blinds: 20,000/40,000
Ante: 0
Nível 43 : Blinds 15,000/30,000, 0 ante
Doug Polk limped in, then called when Roberto Perez raised to 90,000.
The flop came K♠K♥4♥ and Perez continued for 60,000. Polk called to the 2♣ turn as Perez slowed down and checked.
Polk bet 115,000 and Perez called to see the Q♥ river, where both players checked. Perez turned over A♣3♣, but Polk had A♦4♠ for two pair to win the pot.
Nível 43 : Blinds 15,000/30,000, 0 ante
Roberto Perez limped in from the small blind and Doug Polk checked in the big blind.
Polk checked again on the 10♣9♥8♣ flop and called a 45,000 bet from Perez.
The turn came the 4♥. Polk checked and Perez bet 145,000. Polk made the call.
Both players checked the A♣ river.
"Two-Pair" Doug Polk told his opponent, showing the 9♠4♠. Perez slid his cards into the muck as Polk extended his lead.
Nível: 43
Blinds: 15,000/30,000
Ante: 0
Nível 42 : Blinds 10,000/25,000, 0 ante
Roberto Perez bet 25,000 on a flop of 5♠Q♥2♥ and Doug Polk called.
Both players checked the A♦ turn before the 9♦ fell on the river.
Perez fired out another 50,000 and Polk came back with a raise to 165,000. Perez quickly folded and Polk turned over 5♣3♥.
"Did I get a bluff through," he asked Perez, who nodded.
"I got a bluff through," Polk yelled as he raised his arms in the air and his rail erupted in celebration.
Nível 42 : Blinds 10,000/25,000, 0 ante
Roberto Perez limped in from the small blind and Doug Polk checked his option. The players checked both the flop and turn leading to a final board of 4♣3♠A♠8♣J♣. Polk led out for 25,000 and Perez raised to 75,000. Polk put in the call. Perez showed K♥5♣ for King high and Polk showed the 10♦4♥ to take down the pot with fourth pair.