Nível 58 : Blinds 80,000/160,000, 0 ante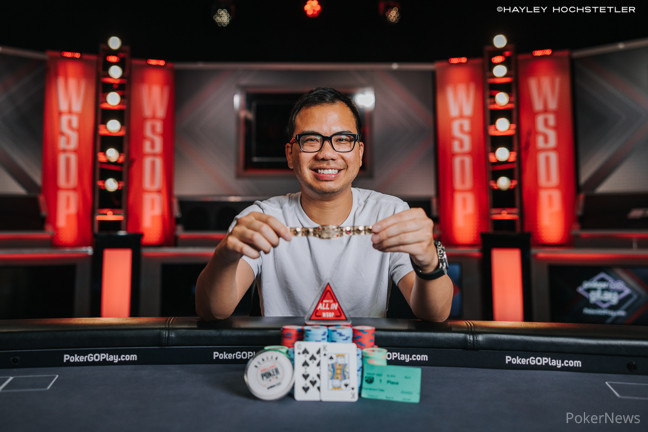 Chanracy Khun has topped the 64-player field in Event #8: $25,000 Heads-Up No-Limit Hold'em Championship for his first ever WSOP gold bracelet and the $507,020 first-place prize that goes along with it. Khun earned his victory fair and square after facing off against one of the greatest heads-up players, Doug Polk, in the finals.
When asked how he felt after capturing his first WSOP title and largest career poker victory, Khun was merely at a loss for words. "I feel really good. I'm relieved. And it's tough to find any words, but it's a mix of emotions. But at the end of the day, I'm really, really glad it's over." Chan admitted that he made some mistakes in the latter portions of the match due to the pressure of the situation and the loud rail, but still managed to prevail.
It was a surreal moment for the Canadian by defeating one of the best there is to play this format, but he can now call himself a heads-up champion which many others cannot. "When you play heads up, you're always going to play a different strategy against different opponents. I knew he was really, really good, so I just try to do my best. And so yeah, I was just luckier than him today. So any other day, the match would have been different. And yeah, today was my lucky day."
Polk definitely came into the match as the odds-on favorite and had the larger and more boisterous of the two rails. However, the heads-up specialist and YouTube entertainer will have to wait another day to claim another WSOP gold bracelet and that might not come until next year when this event rolls around again. Polk has often claimed that he has "retired" from professional poker, but maybe a deep run like this will ignite the fire in him to stick around a little longer this summer.
Final Results
| Place | Player | Country | Prize |
| --- | --- | --- | --- |
| 1st | Chanracy Khun | Canada | $507,020 |
| 2nd | Doug Polk | United States | $313,362 |
| 3rd | Chris Brewer | United States | $192,513 |
| 4th | Sean Winter | United States | $192,513 |
| 5th | Roberto Perez | Spain | $74,648 |
| 6th | Anthony Zinno | United States | $74,648 |
| 7th | Landon Tice | United States | $74,648 |
| 8th | Eric Wasserson | United States | $74,648 |
Semi-final Action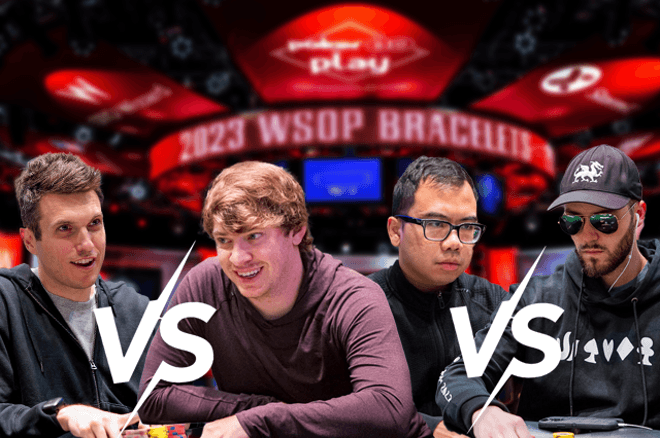 The fans barely had enough time to get settled in on the rail for both matches before an unnecessarily large pot broke out on the outer feature table. Still in the first level with 400 big blinds in play, Khun and Winter engaged in a three-bet pot. Winter opted to raise the flop and continue his story with another big bet on the turn. After the river brought four cards to a straight on the board, Winter sized up one more big bet before Khun ripped all in. Winter contemplated for a brief moment and opted to call it off. Khun tabled an eight-high straight while Winter was left with a seven-high straight. It was a shock to many as Khun quickly advanced to the final and was awaiting the winner of the other matchup.
That matchup between Polk and Brewer also had its fair share of drama, although it took a little longer for it to unfold. As the two players jostled for the chip lead in the early stages, the matchup never really swayed one way or the other. When the stacks were nearly identical, a preflop raising war broke out with Brewer having the last say when he five-bet shoved all in. Polk snap-called and saw the bad news when his pocket queens were dominated by the pocket kings of Brewer.
"Queen for the queen!" one railbird chanted as anticipation grew with each card that was turned over. An eight-high flop changed nothing and the turn was also a brick that left Polk drawing to just two outs. However, it was a queen on the river that brought the rail to its feet and the heads-up specialist did a double-lap around the Thunderdome to give everyone a high-five. Brewer was down to just a few big blinds and despite a double-up, he was soon flipped to the rail a couple of hands later.
Heads-Up Final
That set up the marquee matchup between Polk and Khun that would take place 30 minutes later inside the Main Stage. It was a rowdy rail on both sides of the fence with side bets and many beverages being consumed. Things started off slowly, with neither player gaining much of an edge on the other. As the chip lead swung back and forth for the first couple of hours, the atmosphere got more and more tense.
Polk was the first to take a significant lead as the night wore on when he won multiple pots in a row, including making the nut full house where he got paid off on two streets. However, the lead didn't last for long as Polk kept his foot on the gas. Polk opted to run a bluff for all of the chips on the river, but Khun managed to sniff it out and made the right call in order to double up.
"I just went with my gut feeling," said Khun of the hand. "I thought he was bluffing that hand for sure. If I had more time banks, it would have been easier. But for that hand in particular, I was quite confident that my hand might be good a lot of times. So yeah, I just went with the way I felt. It ended up being the right one."
As Polk was dwindled down to less than 10 big blinds, it was just a matter of time before all of the chips would go into the middle again. Khun set the trap by limping on the button, and Polk shoved all in from the big blind. Khun snapped him off with a dominating king-high as everyone on the rail rose to their feet. Polk was unable to connect with the board, and Khun was able to hold on for the victory.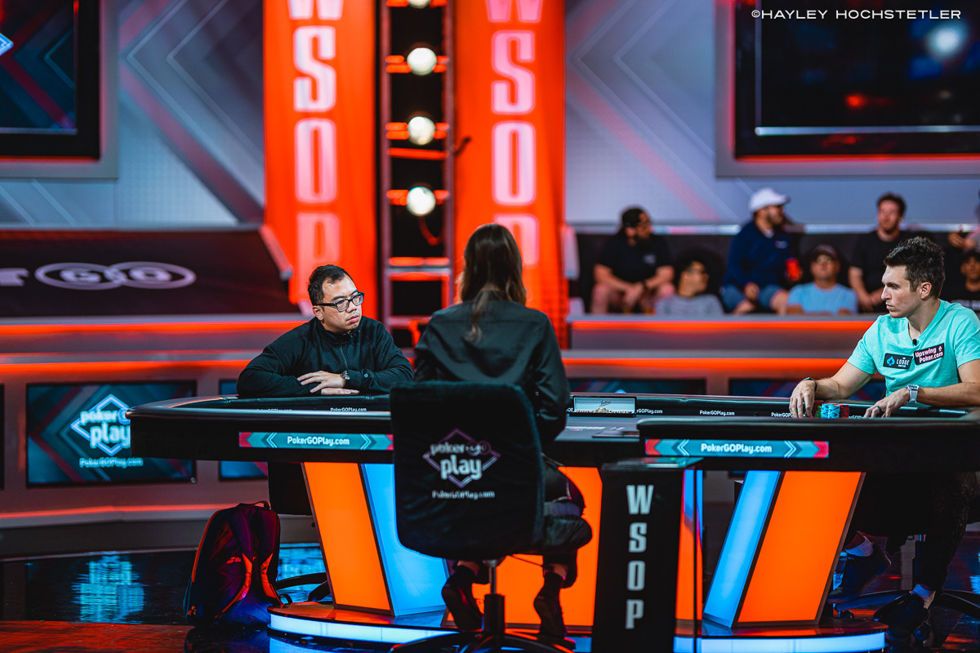 Chan will be heading back to Montreal, Canada to see his family in the next couple of days but will make the trip back to Las Vegas later this summer in time for the Main Event. "I'm just really thankful that I just get to play and my wife, well, my wife just stayed with the kids, and I really miss them. And hopefully, I'll get to see them soon and just be with them."
That wraps up the coverage for this event, but the PokerNews live reporting team will be with you throughout the summer to bring you all of the live updates for every WSOP bracelet event.