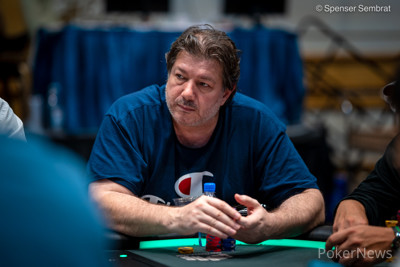 Stud 8/B
David Benyamine:
/
/

Opponent:
/
/
- folded seventh
Action started on fourth street with David Benyamine betting his queen-eight showing and getting called by the two low cards of his opponent.
On fifth, Benyamine's opponent picked up an ace and bet, and Benyamine called.
An eight landed on Benyamine's opponent's board, putting four-to-a-low on his board, and he bet again. Benyamine stuck around with a call to head to a face-down final street.
After receiving their last card, Benyamine's opponent checked, to which Benyamine decided to take the lead and bet. His opponent thought for a bit and flipped his hand over to fold.
Benyamine showed his neighbor his cards, which consisted of at least a queen and a ten, but both Benyamine and his neighbor said, "Full house."