Lawrence Brandt Wins Second Bracelet of 2022 in $3,000 H.O.R.S.E. ($205,139)

Nível 32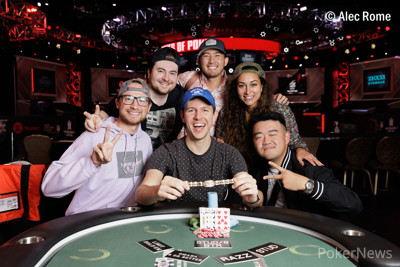 While a fourth day of play was needed, it didn't take Lawrence Brandt long in poker overtime to finish off his final two opponents to claim his second bracelet of the 2022 World Series of Poker (WSOP), winning Event #84: $3,000 H.O.R.S.E. for $205,139.
Brandt, who at the end of June won Event #58: $1,500 Pot-Limit Omaha Hi-Lo 8 or Better for $289,610, came back from the shortest stack of the day to eliminate both Tomasz Gluszko in third place and then Roberto Marin heads-up to claim the top prize within 90 minutes of play Sunday to become just the third double bracelet winner of the summer. Brandt joins Main Event champ Espen Jorstad and current Player of the Year leader Daniel Zack as the only players to do it.
"It feels awesome because this is my first H.O.R.S.E. tournament," said Brandt, who triumphed over a 328-player field. "The only reason I played this tournament was because I won the first one and I was staying around until the Tournament of Champions, so just running deep was a dream, getting to the final table was crazy, I came in third in chips today but was feeling really good and confident and the cards just went my way."
The cards certainly did go Brandt's way as after Marin took the chip lead early in the day, Brandt took it over with a big Stud win over Marin and never looked back.
Shortly after that hand, Brandt extended his lead by eliminating Gluszko with back-to-back hand wins in Stud 8 or Better.
Then in the heads-up match, after Marin was able to close the gap partially, it was another one-two punch from Brandt that had Marin teetering, and then knocked out in the next hand as Brandt finished Marin off with quad nines.
Event #84 Final Table Payouts
| PLACE | PLAYER | COUNTRY | PRIZE |
| --- | --- | --- | --- |
| 1 | Lawrence Brandt | United States | $205,139 |
| 2 | Roberto Marin | United States | $126,895 |
| 3 | Tomasz Gluszko | Poland | $87,687 |
| 4 | Richard Tatalovich | United States | $61,789 |
| 5 | Kevin Gerhart | United States | $44,415 |
| 6 | Kristan Lord | United States | $32,583 |
| 7 | Perry Friedman | United States | $24,403 |
| 8 | Yarron Bendor | United States | $18,669 |
Revisiting a Chaotic Day 3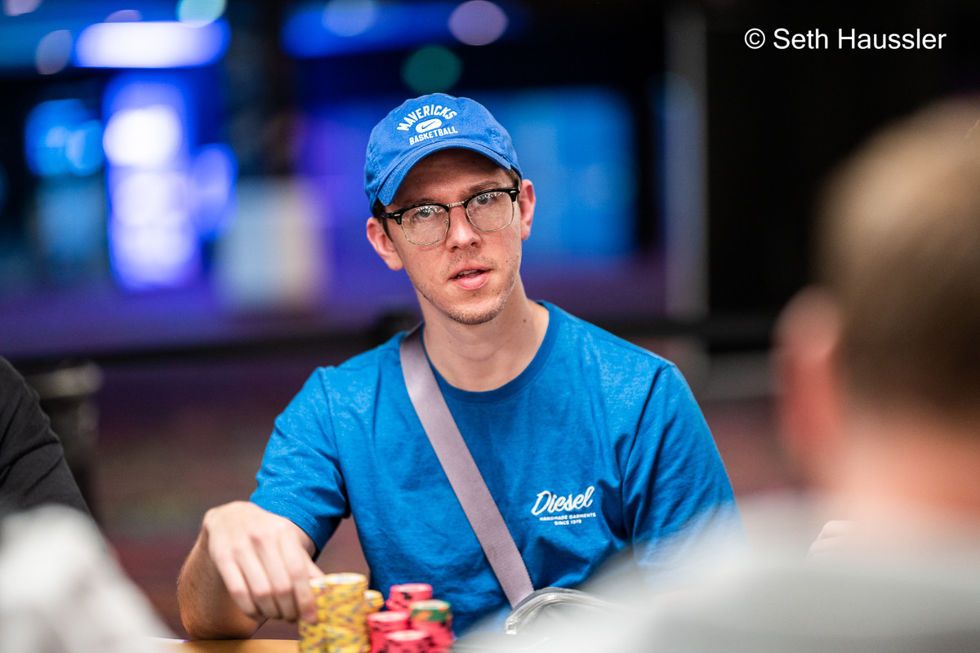 Brandt not only had to persevere with his chip stack, but mentally as well on Day 3, as while four-handed, a frightening situation was unfolding along the Las Vegas Strip and within Bally's and Paris, as what would prove to be unfounded reports on social media of an active shooter created panic throughout the area, ending tournaments early in other areas of the building, while this tournament played on. Brandt said the situation definitely impacted him.
"I was just trying to figure out what was happening and take a break and no one else wanted to. So I was rattled and I lost a big hand right after I found out about all the stuff going on, that I don't think I would have played otherwise, so I just had to put the headphones back in, zone back in, and then once I got back in the zone I felt like it was my tournament to win and I was able to overcome that."
Two Bracelets, But Not a Player of the Year Contender
Despite becoming one of only three players to win multiple bracelets this summer along with Jorstad and Zack, the win still only puts Brandt just inside the top 20 in the WSOP Player of the Year race. When asked whether he should maybe be higher in contention and if there's still a flaw in the points system, Brandt didn't seem concerned.
"I honestly haven't looked deeply into how the point structure works so I'm not expert enough to call it out if it is flawed.," he said.
Two Down, How Many To Go?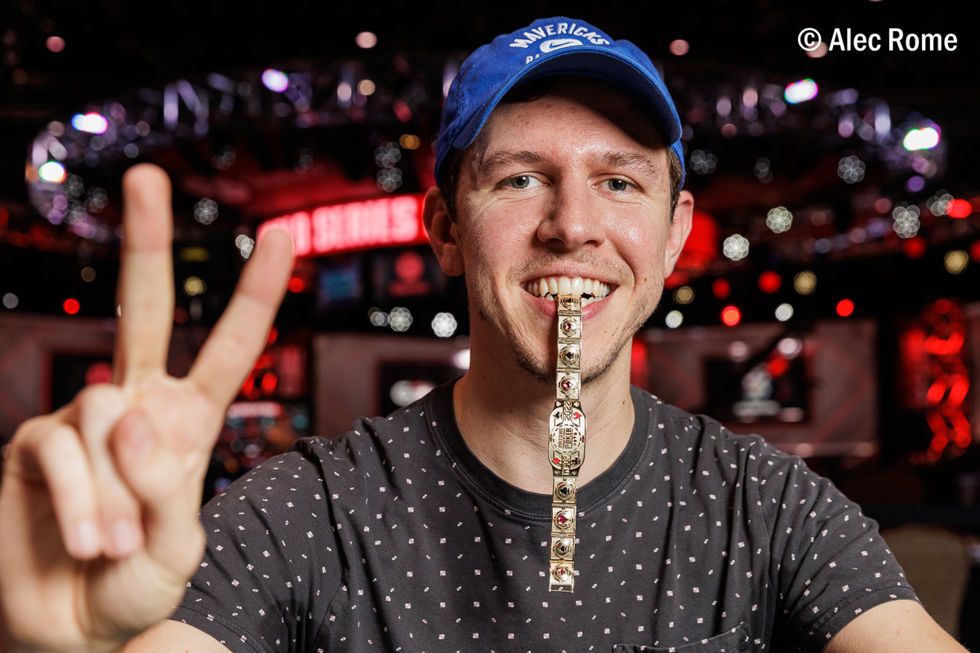 While he may not be a Player of the Year contender, winning two bracelets in one World Series of Poker is certainly worth a breakthrough performance of the summer title. With a quick pair of bracelets now to his name, he was asked how many more he could see himself earning in his career.
"I have to come back next year and figure out if this was beginner's luck or if I'm like just a mixed-game crusher, so I'll let you know next year," he claimed.
We at PokerNews will be looking forward to seeing which it is, and congratulate Lawrence on his impressive achievement.
That wraps up our coverage of Event #84: $3,000 HORSE. Stay with PokerNews for the final few days of coverage, including the WSOP Tournament of Champions starting Monday here at Bally's and Paris Las Vegas