Event #17: $2,500 Mixed Triple Draw Lowball
Dias: 3
Event #17: $2,500 Mixed Triple Draw Lowball
Dia 3 Começado
| | | | | | | |
| --- | --- | --- | --- | --- | --- | --- |
| Table | Seat | Player | Country | Chip Count | Big Blinds | Big Bets |
| 676 | 1 | Daniel Strelitz | United States | 425,000 | 17 | 9 |
| 676 | 2 | John Monnette | United States | 600,000 | 24 | 12 |
| 676 | 3 | Steve Zolotow | United States | 135,000 | 5 | 3 |
| 676 | 4 | Ralph Perry | United States | 80,000 | 3 | 2 |
| 676 | 5 | Frank Kassela | United States | 750,000 | 30 | 15 |
| 676 | 6 | Bariscan Betil | United States | 1,190,000 | 48 | 24 |
| | | | | | | |
| --- | --- | --- | --- | --- | --- | --- |
| Table | Seat | Player | Country | Chip Count | Big Blinds | Big Bets |
| 677 | 1 | Alejandro Torres | United States | 885,000 | 35 | 18 |
| 677 | 2 | Matthew Schreiber | United States | 740,000 | 30 | 15 |
| 677 | 3 | Galen Hall | United States | 319,000 | 13 | 6 |
| 677 | 4 | Yehuda Buchalter | United States | 980,000 | 39 | 20 |
| 677 | 5 | Dominick Sarle | United States | 815,000 | 33 | 16 |
| 677 | 6 | Philip Eisman | United States | 435,000 | 17 | 9 |
| | | | | | | |
| --- | --- | --- | --- | --- | --- | --- |
| Table | Seat | Player | Country | Chip Count | Big Blinds | Big Bets |
| 678 | 1 | John Torrez | United States | 430,000 | 17 | 9 |
| 678 | 2 | Maury Barrett | United States | 450,000 | 18 | 9 |
| 678 | 4 | Alex Epstein | United States | 475,000 | 19 | 10 |
| 678 | 5 | Jerry Wong | United States | 1,140,000 | 46 | 23 |
| 678 | 6 | Andrew Brown | United States | 1,010,000 | 40 | 20 |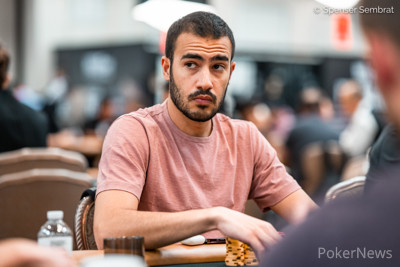 Making the final day of a bracelet event will get anyone's heart beating, especially with $164,243 up for grabs for first place. Seventeen players find themselves there as Day 3 of Event #17: $2,500 Mixed Triple Draw Lowball begins today at the 2022 World Series of Poker in its new home at Bally's and Paris Las Vegas.
Bariscan Betil sits on top of the leaderboard, amassing 1,190,000 chips after two days of play. Betil seeks to put his first gold bracelet on the proverbial mantle, but he will have to contend with a profuseness of experience behind him on the leaderboard.
Jerry Wong (1,140,000) sits just behind Betil on the leaderboard. Wong has made nine World Series of Poker final tables, but his search for a gold bracelet has eluded him. He looks to change that today with a commanding chip stack.
Behind them sit a class of estimable players that have accumulated an impressive collective 15 total gold bracelets. Andrew Brown (1,010,000), Frank Kassela (750,000), Matthew Schreiber (740,000), John Monnette (600,000), Alex Epstein (475,000), Daniel Strelitz (425,000), Galen Hall 310,000), Steve Zolotow (310,000), and Ralph Perry (80,000) are those bracelet holders who will look to add to their collection.
Players will continue to play 60-minute levels with 15-minute breaks every two levels. Play will pick up in the Bally's Event Center at 2 p.m. local time.
Keep it locked here to PokerNews for all the triple draw action as we play our way to a winner today.
The 17 remaining players are currently unbagging their chips, and Day 3 will get underway in a few minutes.
Nível: 21
Blinds: 15,000-25,000
Limits: 25,000-50,000
Nível 21 : 25,000/50,000, 0 ante
2-7 Triple Draw
On the first hand of Day 3, Bariscan Betil and Frank Kassela were heads up after the second draw. Betil bet, Kassela raised, and Betil re-raised.
Kassela called and both players stood pat. They checked after the third draw and Kassela turned over a 9-7-6.
"Oh, God," he yelled as Betil showed a better 9-7-5 to take the massive pot right at the start of the day and increase his chip lead.
Nível 21 : 25,000/50,000, 0 ante
2-7 Triple Draw
Steve Zolotow opened the pot with a raise, then called when Daniel Strelitz re-raised from the blinds.
Zolotow took one and Strelitz two, and they got the rest of Zolotow's chips in the middle. Zolotow continued to draw one, while Strelitz stood pat on the third draw and showed J-7-6.
Zolotow flipped over a king on his last card and hit the rail as the first casualty of Day 3.
Nível 21 : 25,000/50,000, 0 ante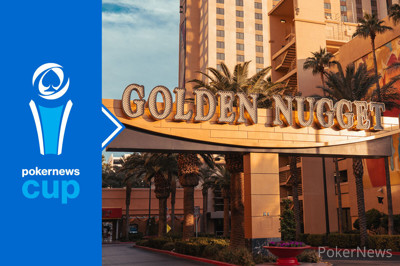 This summer, Golden Nugget Las Vegas will play host to the 14th Annual Grand Poker Series, which features 81 events and offers over $3 million in guaranteed prize money from May 31-July 3. One of those events is the $1,100 buy-in, $1,000,000 Guaranteed PokerNews Cup that will run from June 24-28.
The tournament will feature three starting flights beginning with Day 1a at 11 a.m. PT on Friday, June 24. Days 1b and 1c will take place at the same time on Saturday, June 25, and Sunday, June 26 respectively. The surviving players from each flight will return at Noon on Monday, June 27 to play down to the final table, which will play out at 2 p.m. on Tuesday, June 28.
PokerNews will be on-site throughout the duration to offer live updates, videos, social media content, and more.
Nível 21 : 25,000/50,000, 0 ante
A-5 Triple Draw
Philip Eisman opened the pot before Galen Hall re-raised. Eisman called and took two, while Hall took one.
Hall bet after the draw, Eisman raised, and Hall went all in for his last 20,000. Eisman called and took one more, while Hall patted.
"Just a sec," Eisman said as he pondered his decision on the third draw. He eventually decided to pat as well and turned over a seven-low, but Hall had him beat with a six-low to win the pot.
As this hand was taking place, John Torrez was eliminated on another table in 16th place.
Nível 21 : 25,000/50,000, 0 ante
Badugi
The short-stacked Ralph Perry raised to 50,000 under the gun and was three-bet by Bariscan Betil from the button. Both blinds folded, Perry four-bet all in for 95,000 total, and Betil called.
Both players drew one on the first draw, and then Perry stood pat on the two subsequent draws. Meanwhile, Betil took one each time.
Perry tabled the
and Betil showed
while saying, "One out."
He was looking for the ace of hearts, and he got an ace on the last draw with the
, but unfortunately for him in wasn't the right suit.