Brian Yoon Wins Fourth Bracelet in Event #57: $10,000 2-7 Lowball Triple Draw Championship ($839,350)

Nível 23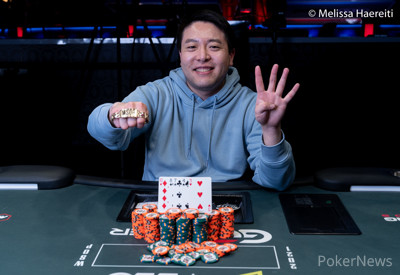 After three days of lowball action at the 2021 World Series of Poker, Brian Yoon defeated Danny Wong in heads-up play to win Event #57: $10,000 Limit 2-7 Lowball Triple Draw Championship at the Rio All-Suite Hotel and Casino. The field of 90 runners generated an $839,350 prize pool that paid Yoon $240,341 for first place.
Yoon won his fourth WSOP gold bracelet and joins a list of four-time winners that includes Huck Seed, John Monnette, Michael Gathy, Robert Mizrachi, and Eli Elezra. This is his first bracelet in a mixed event after winning the first three in no-limit hold'em.
Wil Wilkinson finished in third after a three-handed battle that lasted nearly seven hours. Don Nguyen, Joao Vieira, Brandon Shack-Harris, and Jordan Siegel rounded out an experienced final table that fought their way through one of the toughest mixed game fields at the WSOP.
Other players finishing among the 14 players to make it into the money include Mike Matusow, Dan Smith, Nathan Gamble, Shaun Deeb, Michael Trivett, and Dan Zack.
Final Table Results
| Place | Name | Country | Prize |
| --- | --- | --- | --- |
| 1 | Brian Yoon | United States | $240,341 |
| 2 | Danny Wong | United States | $148,341 |
| 3 | Wil Wilkinson | United States | $104,381 |
| 4 | Don Nguyen | United States | $74,939 |
| 5 | Joao Vieira | Portugal | $54,993 |
| 6 | Brandon Shack-Harris | United States | $54,217 |
| 7 | Jordan Siegel | United States | $31,290 |
Winner's Reaction
"This is awesome because I would say that right now deuce-to-seven is my favorite game," Yoon said about his first mixed game bracelet. "I've been working on this game for several years. I studied and I learned the game. I learned a lot of advanced stuff about this game and it's great to get to use it."
Yoon's attraction to mixed games is based on finding less satisfaction in no-limit hold'em, a relatable feeling for the growing group of poker players and fans that have found their way to new variations in recent years.
"I'm not really enjoying no-limit as much as I used to, so I started playing other stuff. Draw variations were among the first games that I started playing."
Yoon enjoys the relaxed atmosphere of mixed games just as much as winning at them.
"The vibes are different. Obviously, if you have someone like Crazy Mike (Thorpe) around, it's going to be different. Even if he wasn't there it's a lot more chill."
The relaxed pace and style of play also provide a different set of challenges that tend to create a more laid-back atmosphere.
"You're restricted on betting and you can only bet so much, you can't really give off too much information. Especially in this kind of game, they're going to see how much you're drawing so it doesn't necessarily matter how much info you give off.
No-limit is super serious and people are more worried about giving away information. No-limit is a more complex game, there's no doubt about that."
Yoon is now a four-time champion, joining a long list of some of the best poker players in the world, but he's not sweating his legacy.
"It feels good to tack on another one, but I don't think about my legacy. I am not trying to grind out poker for the next 40 years. I'll be around and playing in the Main Event for a while, but I'm not bracelet hunting or trying to catch Phil Hellmuth's record. It just feels good to get into elite company."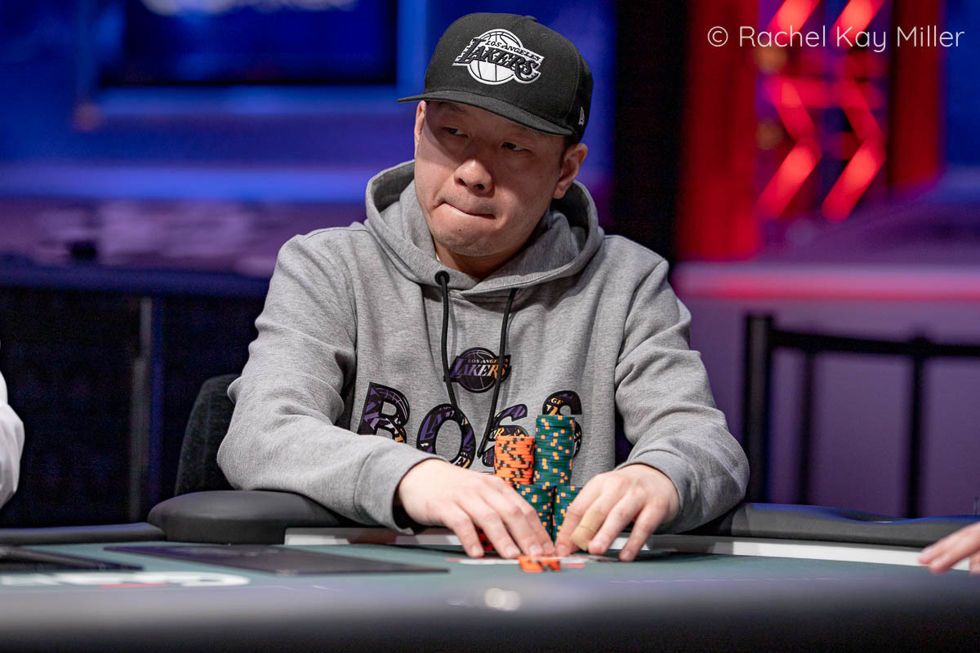 Final Table Action
Day 3 began with the eight players that survived Day 2, but Thorpe made a quick exit when Vieira made a seven-six to beat his eight-six and knock him out of the tournament in eighth place. The remaining seven players moved over to the featured table in the Amazon room for final table play.
Soon after arriving on the side stage, Siegel hit the rail in seventh after Wong's seven-six beat his ace-low. A short time later, Shack-Harris was headed for the payout window after his rough-nine lost to Wong's rough-eight. Vieira was next to go in fifth place after Yoon's eight-seven beat his nine-eight. The first four players were gone in just under 90 minutes.
With Vieira gone, the remaining four players were without a distinguished short stack and play began to stretch out.
Nguyen was next to go in fourth, finishing off a great three-day run that saw him build a stack early and stay consistently at the top of the leaderboard for most of the tournament. Nguyen was sent to the rail after Yoon forced a fold that left him with his last big bet. Wilkinson stepped in and finished the job on the next hand with a ten-nine as a live drawing Nguyen peeled a king on his last draw.
Three-handed play was a test of endurance and the lead changed several times without an elimination for nearly seven hours. After making his way from the short stack to the lead, and then back to the short stack, Wilkinson made a pair of sevens against Wong's nine-eight and was knocked out of the tournament in third place.
Heads-up play was fast-paced and Yoon extended his lead early to put the pressure on Wong. It didn't take long before the newly minted four-time champion put Wong near elimination. The big moment came when Wong drew to a seven-six and Yoon's ten-eight held as Wong peeled a king to end the bid for his first WSOP gold bracelet.
This concludes coverage of Event #57: $10,000 Limit 2-7 Lowball Triple Draw Championship. Be sure to keep it with the PokerNews live reporting team for updates from every event at the 2021 WSOP.