Event #31: $1,500 No-Limit 2-7 Lowball Draw
Dias: 2
Event #31: $1,500 No-Limit 2-7 Lowball Draw
Dia 2 Começado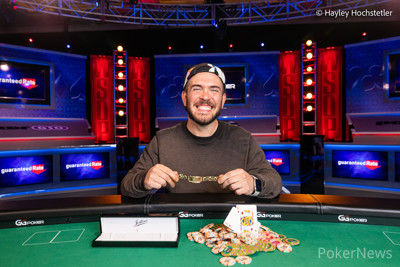 Today marks the penultimate day of Event #31: $1,500 No-Limit 2-7 Lowball Draw, with 84 players returning out of 272 total entries, to the Rio Hotel and Casino to battle it out for their shot at WSOP glory.
The remaining participants will return and play down to five players. There will be a 15-minute break after each level, and a 60-minute dinner break after level 21 (approx. 8:45 p.m. PT).
Looking to repeat his first-place finish in this very same event from 2019 is Israeli poker professional Yuval Bronshtein (120,300).
Bronshtein, who took down Event #12: $1,500 Limit Hold'em, is firmly in the running to become the second player this year to win two bracelets. Can the professional poker player replicate Anthony Zinno's excellent start to this year's WSOP?
The talented Bronshtein, who is currently 7th on the all-time money list in Israel with over $1.7 million, will be a factor in this and every tournament he decides to participate in this year's series.
Leading the way going into Day 2 is none other than poker pro Ali Imsirovic (257,300). The Bosnian professional will look to add to his already amazing 2021 run. Phil Hellmuth (79,400) and Daniel Negreanu (64,900) are also still alive and will be hoping to add to their impressive bracelet collections respectively.
Please join us here at PokerNews for live updates of this event, as well as all WSOP Events, or live here at The Rio Hotel and Casino in the Amazon Room at 2:00 p.m. local time.
The remaining 84 players have taken their seats and action is underway!
Nível: 11
Blinds: 1,000/2,000
Ante: 3,000
Nível 11 : 1,000/2,000, 3,000 ante
Jogador
Fichas
Progresso

Brian Rast

110,000

-100

John Monnette

100,000

16,300

Michael Rosenberg

95,000

-5,000

Phil Hellmuth

75,000

-4,400

Daniel Negreanu

75,000

10,100

Andrew Kelsall

50,000

-2,800

Scott Bohlman

24,500

-14,600
Nível 11 : 1,000/2,000, 3,000 ante
Michael Rosenberg opened to 4,000 under-the-gun and was called by Kevin Gerhart, Brandon Shack-Harris, and Paul Kundrouf in the big blind.
Kundrouf took two, Rosenberg stayed pat, Gerhart took one and Shack-Harris took one as well.
It was then checked to Rosenberg, who bet 4,500. Everyone folded and Rosenberg took the pot.
Nível 11 : 1,000/2,000, 3,000 ante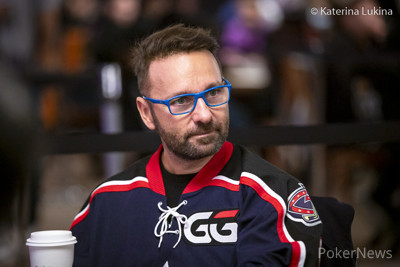 Daniel Negreanu raised to 6,000 from early position and Robert Mizrachi called from the big blind.
Each player drew one card and Mizrachi checked, which prompted Negreanu to bet 12,500, and Mizrachi quickly folded.
Nível 11 : 1,000/2,000, 3,000 ante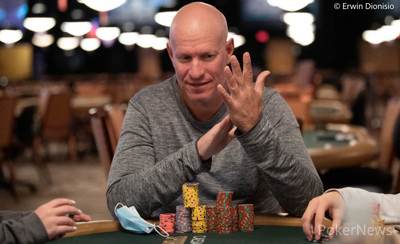 Greg Mueller raised to 4,000 from early position and Todd Ivens defended from the big blind.
Each player drew one card and Ivens was first to act and checked. Then, Mueller fired out a bet of 14,000. This sent Ivens into the tank for a short while, and he eventually opted to fold, and Mueller was awarded the pot.
Nível 11 : 1,000/2,000, 3,000 ante
John Monnette opened to 4,500 in the hijack and found one caller in Rep Porter from the small blind.
Both players drew one and then checked it down.
Porter flashed an ace and mucked. Monnette tabled
and scooped the pot.
Nível 11 : 1,000/2,000, 3,000 ante
Jogador
Fichas
Progresso

Ali Imsirovic

248,000

-9,300

Jake Schwartz

208,000

92,800

Rep Porter

182,000

36,000

Jonathan Aguiar

167,100

46,000

Yuval Bronshtein

152,000

31,700

Ryan Hughes

130,000

41,800

Daniel Zack

42,000

7,500