Nível 41 : 175,000/350,000, 45,000 ante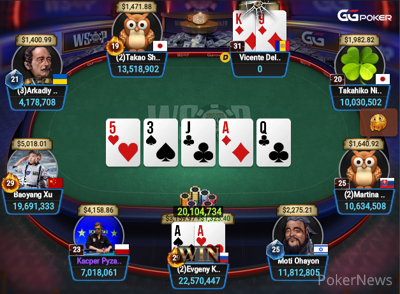 Blinds: 175,000/350,000
Evgeny "pro_nl" Kochubey opened the action with a raise to 630,000 from under the gun. Players folded around and Vicente Delgado three-bet to 1,860,000 from the button. Kochubey made the call.
The flop came
and Kochubey checked. Delgado led out for 1,480,050 and Kochubey check-called.
The turn was an
and Kochubey checked again. Delgado continued for 2,456,883 and Kochubey check-called again.
The river
brought another check from Kochubey and Delgado fired his last 3,872,934. Kochubey made the quick call and showed
. Delgado showed the failed bluff
and was eliminated from the tournament in ninth place.
Jogador
Fichas
Progresso

Evgeny "pro_nl" Kochubey

42,675,181

14,282,367

Baoyang "baoyang666" Xu

19,691,333

2,527,500

Takao "shimizu9" Shimizu

13,518,902

-37,500

Moti "rtm6789" Ohayon

11,812,805

-3,525,000

Martina "Dopierdole" Ciklaminiova

10,634,508

-1,275,000

Takahiko "tanyaodora3" Nishiyama

10,030,502

-1,425,000

Kacper Pyzara

7,018,061

-360,000

Arkadiy "Kamsky" Tsinis

4,178,708

-1,882,500

Vicente Delgado

Eliminado