Kristen Bicknell Wins Her Third Bracelet in Event #44: $2,500 NLHE 6-Handed for $356,412

Nível 30 : 100,000-200,000, 25,000 ante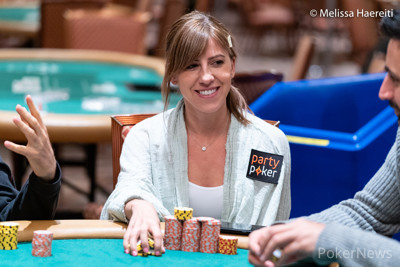 She did it! Kristen Bicknell has won her third bracelet in Event #44: $2,500 NLHE 6-Handed by defeating Belarmino "Iseey0urcard" De Souza heads-up for $356,412 during the 2020 GGPoker WSOP Online Bracelet Events. The one-day event attracted 892 entries to create a total prize pool of $2,118,500 and lasted just over nine hours.
Bicknell won her first bracelet back in 2013 when she was victorious in the Ladies Event for a cash of $173,922 by defeating Leanne Haas. She then won her second bracelet and $290,768 in 2016 when she overcame a 2,158-strong field in the $1,500 Bounty event and beat Norbert "ElCabanero" Szecsi heads-up to stop him from winning his second bracelet ( which he still won but had to wait until the 2018 WSOPE).
PokerNews spoke to Bicknell after her win: "I'm shaking right now! I'm celebrating with some Uber Eats orders for a buffet lol."
Ilya Anatsky and Simon Higgins also reached the final table along with Dong "nuoyani" Jiang, Jerome "gorgiAAs" Finck, Patrick "Pepsi_zero" Semrau, Paul "Doduckduck" Barnes, and Nikita "SanyaRostov" Kalinin.
2020 GGPoker WSOP Online Bracelets Event #44: $2,500 NLHE 6-Handed Final Table Results
| Place | Player | Country | Prize |
| --- | --- | --- | --- |
| 1 | Kristen Bicknell | Canada | $356,412 |
| 2 | Belarmino "Iseey0urcard" De Souza | Brazil | $261,249 |
| 3 | Ilya Anatsky | Belarus | $191,494 |
| 4 | Dong "nuoyani" Jiang | China | $140,365 |
| 5 | Simon Higgins | United Kingdom | $102,887 |
| 6 | Jerome "gorgiAAs" Finck | France | $75,416 |
| 7 | Patrick "Pepsi_zero" Semrau | Austria | $55,280 |
| 8 | Paul "Doduckduck" Barnes | United Kingdom | $40,520 |
| 9 | Nikita "SanyaRostov" Kalinin | Russia | $29,701 |
Race to the Bubble
The tournament started at 6 p.m. UTC and had over 200 players in the field when things kicked off. By the time the first break came around, almost 500 entries had been collected already. Martin "FuTimReilly" Zamani came fourth last week in Event #36 for $113,698 and propelled to the top of the counts after scoring a double knock-out.
During the third break of the day, four more players entered just before the late registration period closed with 270 players left in the field to bring it up to 271. With the prize pool finalized, the remaining players could race to the bubble. Jake "YogiNelly" Schwartz fell to Sean Winter and Ramiro "OnTheFlow" Petrone was eliminated by Semrau. Ping San "Garfield" Chan and David "Mclovin86" Mzareulov also busted before the bubble.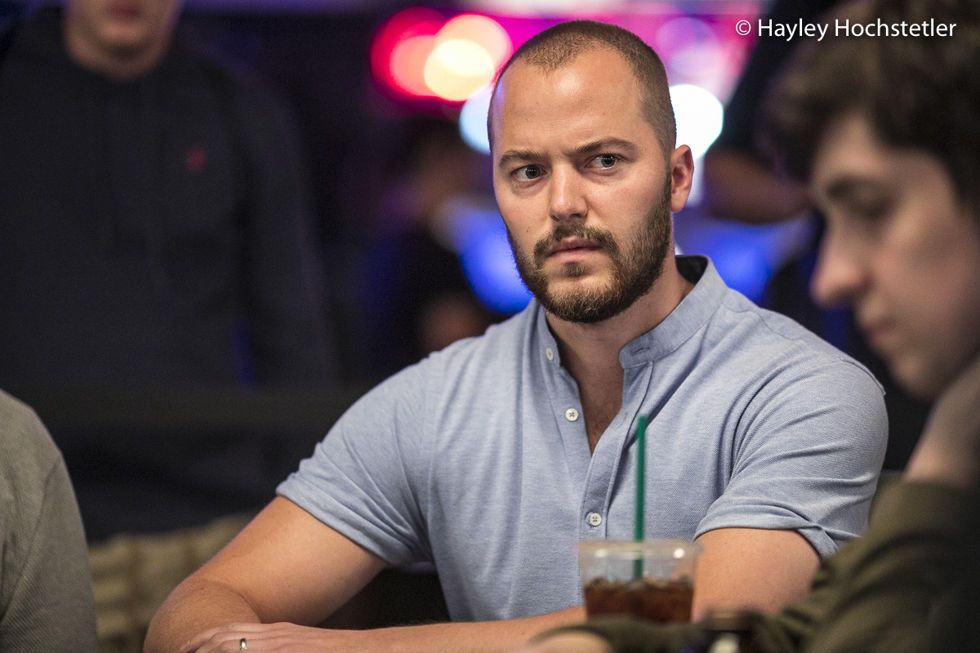 The Bubble and the Aftermath
Pete Chen ended up becoming the bubble boy when he three-bet shoved with ace-king into the queens of Dennis "huang1337" Voelz and got no help of the board. Many players lost their final all-ins shortly after, including Julien "Giovanni" Martini, Martijn "visacard" Gerrits, Ben Farrell, Mike McDonald, and Matthias Eibinger.
Bracelet winner Brandon "DrOctagon" Adams saw his aces get cracked by the kings of Anatsky, while Winter got felted by Pavlo Veksler. Orhan "yirtil" Ates busted to Finck before Arnaud Enselme's stack was split between Semrau and Finck. Blake "Beast2018!" Bohn and Danny Tang both failed to make the final two tables.
But the pace of eliminations didn't let up. Ben Affleck and Szecsi were both kicked out by David "ZONEDin" Jackson who didn't make the final table either. But it was Christopher Kruk who would bubble in tenth place when all the chips went in with queens on the turn. Anatsky had flopped two pair and held to bring the tournament down to the nine-handed final table.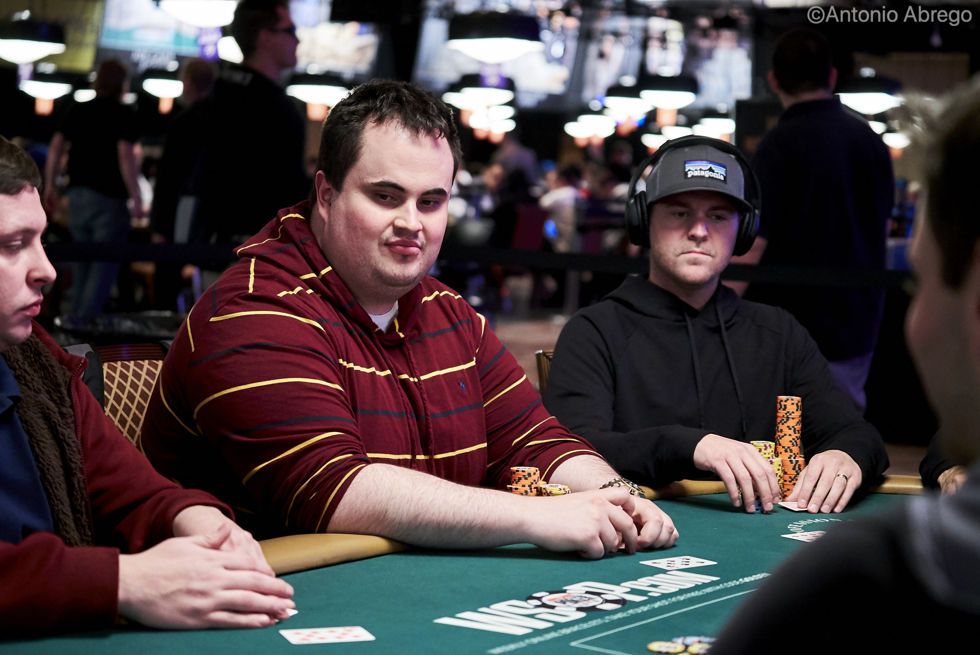 Short-Stacked Bicknell Turns Things Around
Kalinin left the final table in the very first hand with Barnes gone 30 minutes later. Bicknell was at the bottom of the counts but managed to stick around. A few double-ups later, Semrau was taken out by Anatsky, before Finck left the final table stage thanks to De Souza. Bicknell started her road to victory with quad kings to get her to the middle of the pack before eliminating Higgins a bit later. She then also took out Jiang to get her into second place while De Souza still had a commanding chip lead.
Bicknell took over the chip lead but then lost it back to De Souza when her queens got hit by a runner-runner flush when he held jacks to take her back to the bottom of the counts. She flopped trips to leave Anatsky short who then lost the rest of his stack to De Souza.
Bicknell dived deep into the tank when De Souza put her all-in on the ten-nine-five-seven-trey board with three hearts. "I had to really contemplate what to do here. If it was a normal heads-up, I would have called a lot quicker. But because this is for a lot of money and a bracelet, I really wanted to think about what his ranges were. He shoved so quickly on the river, it was a timing thing."
In the end, she made the right call as her pair of jacks were good against his missing straight and flush draw. Bicknell took the lead there and didn't look back. In the final hand of the tournament, she turned trips against the two pair of De Souza and called his shove on the river to take it down for her third bracelet and all the money.
PokerNews will be back on Thursday, July 30 at 6 p.m. UTC for Event #45: $840 Bounty No-Limit Hold'em which Bicknell will be playing to make it a double for 2020. See you then!