Event #80: $1,500 Mixed No-Limit Hold'em, Pot Limit Omaha
Dias: 4
Nível: 34
Blinds: 150,000/300,000
Ante: 300,000
Nível 34 : 150,000/300,000, 300,000 ante
No-Limit Hold'em
With the blinds getting high and the full big blind ante in play, Adam Demersseman needs to fight hard to keep his short stack afloat in order to avoid succumbing to the pressure.
Demersseman has been able to guard his big blind so far, just as he demonstrated in a recent hand against Peter Linton.
Linton limped from the small blind, Demersseman checked, and they saw the
flop. Linton bet 300,000 and Demersseman raised to 1,025,000, forcing a fold from his opponent.
Nível 34 : 150,000/300,000, 300,000 ante
Pot-Limit Omaha
Peter Linton opened to 750,000 on the button and Jerry Odeen called from the big blind.
The dealer spread a flop of
that was checked through to the
turn. Odeen checked once more and Linton fired 650,000. Odeen let it go.
Nível 34 : 150,000/300,000, 300,000 ante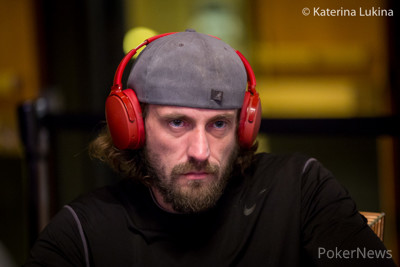 Pot-Limit Omaha
Adam Demersseman potted for 1.05 million from the button, Jerry Odeen repotted from the small blind, and Peter Linton folded to give way for a heads-up showdown. Demersseman called off for the rest of his chips.
Demersseman:

Odeen:
"Red cards," Demersseman instructed the dealer, but he wouldn't oblige as the flop came out
.
The
turn left Demersseman drawing slim and the
river elminated him in third place.
Demersseman shook hands with Odeen and Linton saying, "Now is the time to tell you guys that this was my first PLO tournament ever."
"Oh, well done," Odeen replied and Demersseman left the table, heading to the payout desk.
Nível 34 : 150,000/300,000, 300,000 ante
No-Limit Hold'em
Peter Linton limped from the small blind and Jerry Odeen raised to 1,100,000 from the big blind. Linton called.
A flop reading
was dealt and Odeen fired 675,000. Linton let it go.
Nível 34 : 150,000/300,000, 300,000 ante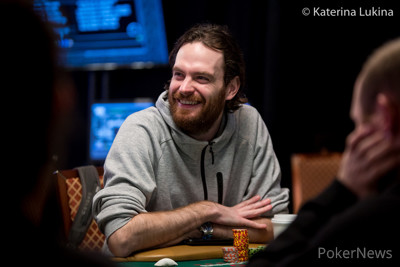 No-Limit Hold'em
Jerry Odeen raised to 600,000 on his button, Peter Linton three-bet shoved for just over 25 big blinds and Odeen snap-called.
Linton:

Odeen:
Odeen was in a great spot and Linton needed a lot of help to catch up.
They saw an entertaining flop as the
hit the felt and Odeen smiled.
The
turn was safe for Odeen and Linton hoped to hit one of his eight outs for a straight. The river, however, bricked as the
landed and Odeen rushed from the table, shouting something in the Swedish language. Then he shook his hand with Linton.
Linton was eliminated in second place for $188,368 while Jerry Odeen claimed his first bracelet along with the $304,793 first-place prize.
Nível 34 : 150,000/300,000, 300,000 ante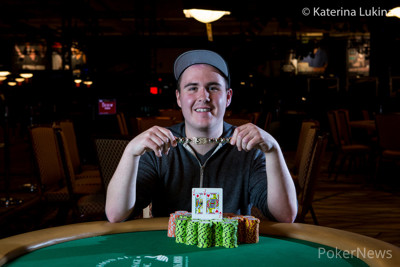 He arrived only for a couple of weeks, but he's leaving the town with a bracelet on his wrist. Sweden's Jerry Odeen came back from a short stack to conquer a 1,250-player field in the 2019 World Series of Poker Event #80: $1,500 Mixed No-Limit Hold'em, Pot-Limit Omaha.
Odeen made sure to clear the board in the early afternoon. He had a flight to catch at 9:30 p.m. and he needed to spare some time for the customs: after all, he's taking home the $304,793 first-place prize and some fancy new jewelry.
"This is something I've always wanted since I started watching poker when I was like 15 years old," Odeen revealed.
Ten years later, Odeen has accomplished what he'd envisioned, claiming that he wasn't ever going to quit poker before he'd win a bracelet. "It feels pretty surreal," Odeen said.
Now he navigated through the final table which saw seven players return for an extra day to play it out. A ton of chips were physically present at the table, but the numbers don't lie. It was an affair full of shallow stacks.
For such a seasoned online player, that might be a dream spot. Used to playing around the 20 or 30-big blind mark, Odeen knew the setup was tailor-made for his abilities.
"In no-limit hold'em, especially playing short stack, I think I know what to shove with and what to fold," Odeen said.
He was the second-shortest when the play resumed at noon, but a few non-showdown wins vaulted him to the middle of the pack. But Odeen wasn't the only prolific online crusher at the table, with high-stakes regular Luc Greenwood few seats to his right.
Greenwood got the best of the first span, steadily increasing his stack just like the Greenwood brothers always do. But nobody is perfect, not even the most talented players at the tables. Unfortunately for Greenwood, a disastrous misclick would rapidly change the script.
Final Table Results
| Place | Player | Country | Prize (USD) |
| --- | --- | --- | --- |
| 1 | Jerry Odeen | Sweden | $304,793 |
| 2 | Peter Linton | United Kingdom | $188,368 |
| 3 | Adam Demersseman | United States | $135,093 |
| 4 | Lucas Greenwood | Canada | $98,027 |
| 5 | Ayaz Mahmood | United States | $71,979 |
| 6 | Eddie Blumenthal | United States | $53,490 |
| 7 | Jeremy Kottler | United States | $40,236 |
| 8 | Gary Bolden | United States | $30,640 |
| 9 | Rania Nasreddine | United States | $23,625 |
With five players left, Greenwood held the chip lead while Odeen wasn't far behind, having coolered Eddie Blumenthal to bust him in sixth place following Jeremy Kottler's elimination in seventh.
Greenwood tangled in a PLO pot with Peter Linton which saw Linton bet pot on the turn. Greenwood wanted to call but accidentally slid forward 1 million more and his misstep resulted in a forced raise, which provoked a shove from Linton. Greenwood had to call off. He wouldn't get bailed out with his wrap as the river bricked, leaving Linton's two pair ahead.
Odeen knew that the misclick that saw Linton double helped not only Linton, but also Odeen's own case. He had been second in chips and his hands had been a little bit tied considering the money jumps and Greenwood's undisputable skills.
"I had to stay away a bit from the action, and while this was great for me, I feel sorry for him. Everybody has done it, every poker player. But it's such a bad timing," Odeen said about Greenwood's error.
Suddenly, what could have been perceived as a final table lined up for Greenwood's landslide became an Odeen's. He continued to eliminate his opponents one by one, dispatching former bracelet winner Ayaz Mahmood in fifth and then sealing Greenwood's fate.
"I don't think I lost a single all in so it's tough to lose then," Odeen said.
His rampant run carried on. Odeen was well aware of Linton's pot-limit Omaha abilities and he tried to concentrate mostly on no-limit hold'em.
"Peter seemed way more comfortable playing PLO so I decided to play pretty tight unless I was the button since he was not gonna give up a lot of pots against me," Odeen admitted.
However, the conditions were favorable for his gameplan and his main discipline, given the big blind ante which creates bigger pots preflop. So Odeen opened up in the two-card game.
"I don't think people think enough about how big of a difference the ante actually makes," Odeen claimed.
While he said that PLO might sometimes be a guessing game for him, especially on a final table with the ICM implications, Odeen had no trouble putting his money in against short-stacked Adam Demersseman, holding aces. Odeen's starting hand prevailed and he added another notch to his streak of KOs. Linton was the only one left to tackle.
The heads-up match would last only a matter of minutes. Odeen found an easy spot to close things out, raise-calling with pocket jacks in hold'em. Linton's ten-nine suited caught an open-ender on the flop, but he failed to hit his eight outs on the turn and river.
Odeen's dream became a reality and he shouted some spontaneous words in his native language. He knew he was going to fly home with the bracelet.
"It's achievable, but, obviously, you need a lot of luck to get here," Odeen was well aware.
With only a few hours left before he was bound to board a plane, Odeen's short trip to Vegas had turned out perfectly. He said he played only six events.
Having expressed excitement for his accomplishment, Odeem didn't seem to be less excited about going home to see his girlfriend.
"She will be very happy."
Event #80: $1,500 Mixed No-Limit Hold'em, Pot Limit Omaha
Dia 4 Terminado