Event #80: $1,500 Mixed No-Limit Hold'em, Pot Limit Omaha
Dias: 2
Event #80: $1,500 Mixed No-Limit Hold'em, Pot Limit Omaha
Dia 2 Começado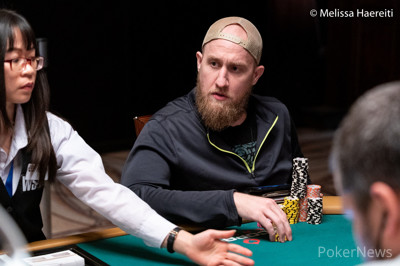 At 2 p.m. today, the remaining 340 players will assemble in the Pavilion White section at the Rio All-Suite Hotel and Casino to continue their battle on Day 2 of Event #80: $1,500 Mixed No-Limit Hold'em Pot Limit Omaha, with only 188 of them making the money. Min-cash will be $2,250 and the winner will win the coveted World Series of Poker gold bracelet along with a whopping $304,793.
Day 1 saw a fantastic 1,250 entries which was more than 500 entries more than last year in 2018, to create a total prize pool of $1,687,500. Many well-known players found a bag in Day 1 including Chance Kornuth (284,500), Pierce Mckellar (274,000), Shaun Deeb (257,400) and Alexandru Papazian (190,000).
Day 2 will be a similar structure as Day 1 with 60-minute blind levels, and a 15-minute break after every two levels and a 60-minute dinner break after the 6th level of play at approximately 6:30 p.m. The blinds will begin at 800/1,600 with a 1,600 ante for No-Limit hold'em only. The average stack at the beginning of the day will be 91,985 and they will play a total of 10 levels to complete the day and come back on Friday, July 12 for Day 3 at 12 p.m to play down to a winner.
PokerNews has activated the My Stack App for this event, allowing you to directly adjust your chip counts in our live reporting blog using your iPhone or Android phone.
You can download the app for iPhone or Android now to get started. Then, create a new PokerNews account or update your current one to start updating your status immediately. Your followers can see all the live action that you're involved in.
Click here to download the My Stack app for iPhone, or click here to download the My Stack app for Android.
Stay tuned on PokerNews.com for all the live updates.
Nível: 11
Blinds: 800/1,600
Ante: 1,600
Nível 11 : 800/1,600, 1,600 ante
The tournament director has instructed the dealers to shuffle up and deal.
Nível 11 : 800/1,600, 1,600 ante
Pot-Limit Omaha
Michael Noori raised in early position to 3,500, Brian Hastings called in the small blind and Phil Hellmuth called in the big blind.
The flop came
, Hastings checked and Hellmuth announced, "Pot" meaning his bet was 10,500 and both Noori and Hastings folded quickly.
Jogador
Fichas
Progresso

Michael Noori

106,800

-8,900

Brian Hastings

85,600

-9,700

Phil Hellmuth

37,400

6,100
Nível 11 : 800/1,600, 1,600 ante
Pot-Limit Omaha
Brian Hastings opened to 4,000 from the hijack and was called by Michael Noori in the small blind and Lucas Greenwood in the big blind. The flop came
and both Noori and Greenwood checked. Hastings made a continuation-bet of 9,000. Noori called and Greenwood folded.
The turn came
and Noori checked to Hastings, who fired again for 25,000. Noori made the call. The river was
and Noori checked. Hastings checked behind to take the hand to showdown.
"One pair," Noori announced.
Hastings tabled
for tens up. Noori mucked.
"There were some diamonds you didn't want," said Noori.
"One or two?" asked Hastings.
"One. I mean, I had ace-high diamonds," responded Noori as the dealer began to pitch the cards for the next hand.
Nível 11 : 800/1,600, 1,600 ante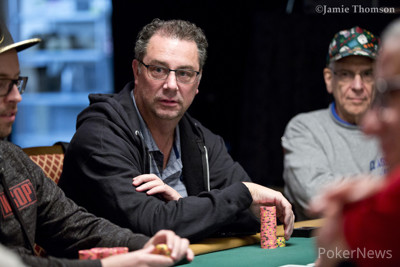 Pot-Limit Omaha
After a series of raises preflop Mark Gregorich and Bernard Larabi both put 43,400 in the middle.
The flop came
and Larabi checked to Gregorich who shoved all-in and Larabi snap-called.
Mark Gregorich:

Bernard Larabi:
Larabi flopped a flush draw and a straight draw against Gregorich but the turn was the
giving Gregorich a full house and Larabi was drawing dead to the
on the river.
Nível 11 : 800/1,600, 1,600 ante
Nível 11 : 800/1,600, 1,600 ante
Pot-Limit Omaha
Michael Kuney raised in middle position to 4,500 and the action folded around to Eduardo Bernalsanchez who three-bet to 14,000 from the small blind, the big blind folded and Kuney made the call.
The flop got checked through on
and on the
turn Bernalsanchez bet out 12,000 and that was good enough to take it down.
Nível 11 : 800/1,600, 1,600 ante
No-Limit Hold'em
Leonard Sande opened to 3,500 from under the gun and was called by Loren Klein on the button. Peter Linton was in the big blind and defended to take action three ways to the flop
. Linton checked and Sande fired a continuation-bet of 5,200. Klein called and Linton folded.
The turn was
and Sande checked. Klein put him all in and he quickly called.
Loren Klein:

Leonard Sande:
"I didn't see that coming!" exclaimed Klein as he found his top two pair all of a sudden in need of two outs to improve and get the knockout.
The river fell
to secure the double for Sande.