Frankie O'Dell Wins Third Bracelet in Event #18: $10,000 Omaha Hi-Lo 8 or Better Championship ($443,641)
Nível 27 : 150,000/300,000, 0 ante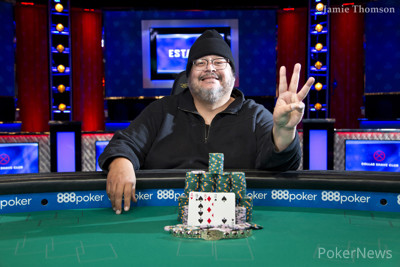 Frankie O'Dell stands alone at the top of the Omaha hi-lo bracelet count.
After winning Event #18: $10,000 Omaha Hi-Lo 8 or Better Championship for his third bracelet — all in that variant of Omaha — O'Dell surpassed the likes of Chris Ferguson, Scotty Nguyen and Daniel Alaei, all of whom also had two Omaha hi-lo bracelets.
This one came with quite a bit more prize money than his last two — $443,641, after he won a $1,500 event in 2003 for $133,760 and a $2,000 event in 2007 for $240,057. O'Dell defeated a field of 183.
"There's only one person in the WSOP who has three Omaha eight-or-better bracelets and you're talking to them," he said when asked where he stood among the top Omaha hi-lo players. "So, until someone passes me or catches me, I'm not gonna say nothin'. I'm just gonna leave it at three."
Official Final Table Results
| Place | Winner | Country | Prize (USD) |
| --- | --- | --- | --- |
| 1 | Frankie O'Dell | United States | $443,641 |
| 2 | Owais Ahmed | United States | $274,192 |
| 3 | Robert Mizrachi | United States | $194,850 |
| 4 | Nick Guagenti | United States | $140,522 |
| 5 | Robert Campbell | Australia | $102,868 |
| 6 | Jake Schwartz | United States | $76,456 |
| 7 | David Benyamine | France | $57,709 |
| 8 | Ed Vartughian | United States | $44,245 |
| 9 | Shaun Deeb | United States | $34,467 |
O'Dell's win came over a characteristically tough final table that included Shaun Deeb, David Benyamine, and Rob Campbell.
The two toughest opponents to overcome proved to be fellow bracelet winners Owais Ahmed and Robert Mizrachi. After Jake Schwartz, Campbell and Nick Guagenti busted relatively early from the streamed final day, a three-handed war ensued that lasted nearly six hours.
"It was a war because you had warriors in there," O'Dell said. "You had one of the Mizrachi, great f****** player brothers, then you had one of the guys who knows almost everything in stud hi-lo and Omaha hi-lo.
"Then you've got me, old school poker."
Things got dire at one point for O'Dell, after Ahmed scooped him with the nut flush and nut low to leave him on 95,000 at 100,000/200,000 limits. However, he scooped or chopped a succession of pots and was "right back in it," as someone yelled from his rail, 20 minutes later with over 10 big bets.
Ahmed appeared to be on the verge of bracelet No. 2 when he worked his way over 70 percent of the chips, but O'Dell roared back to surpass him after both players held kings but O'Dell made a straight.
It was a lead he wouldn't look back from as he sent first Mizrachi packing then Ahmed after a heads-up match that lasted only about half an hour.
"Basically, the wind blew my way and I got the win," O'Dell said. "I had an opportunity today. I had chips, we had the best Omaha players in the world in this tournament and I ended up on top."
O'Dell credited his success in Omaha to continuous grinding in the format, along with the hours spent playing stud hi-lo. He also said he was motivated by last year's second-place finish to Jeremy Harkin in $1,500 Dealer's Choice.
Finally he said he wanted to dedicate the bracelet to his daughter Victoria and her newborn son.
"I love you guys with all my heart," O'Dell said.