Event #75: $1,500 The Closer No-Limit Hold'em (30 minute levels) - $1 Million Guarantee
Dias: 2
Event #75: $1,500 The Closer No-Limit Hold'em (30 minute levels) - $1 Million Guarantee
Dia 2 Começado

| Room | Table | Seat | Player | Country | Chip Count | Big Blinds |
| --- | --- | --- | --- | --- | --- | --- |
| Amazon | 400 | 1 | Adrian Moreno | United States | 128,000 | 21 |
| Amazon | 400 | 2 | Sebastian Kos | Slovenia | 193,000 | 32 |
| Amazon | 400 | 3 | Vincent Li | China | 36,000 | 6 |
| Amazon | 400 | 4 | Randall Wilson | United States | 21,000 | 4 |
| Amazon | 400 | 5 | Negie Marucci | United States | 72,000 | 12 |
| Amazon | 400 | 6 | Ozgur Arda | Turkey | 102,000 | 17 |
| Amazon | 400 | 7 | Veerachai Vongxaiburana | United States | 192,000 | 32 |
| Amazon | 400 | 8 | William Steffin | United States | 44,000 | 7 |
| Amazon | 400 | 9 | Javier Montano | United States | 91,000 | 15 |
| | | | | | | |
| Amazon | 401 | 1 | Ricardo Utida | Brazil | 128,000 | 21 |
| Amazon | 401 | 2 | Avery Bass | United States | 173,000 | 29 |
| Amazon | 401 | 3 | Marius Kudzmanas | Lithuania | 392,000 | 65 |
| Amazon | 401 | 4 | Allan Le | United States | 55,000 | 9 |
| Amazon | 401 | 5 | Edouard Echinard | France | 182,000 | 30 |
| Amazon | 401 | 6 | Joe Serock | United States | 140,000 | 23 |
| Amazon | 401 | 7 | Peter Svoboda | United States | 54,000 | 9 |
| Amazon | 401 | 8 | Raghav Bansal | India | 192,000 | 32 |
| Amazon | 401 | 9 | Will Berry | United States | 261,000 | 44 |
| | | | | | | |
| Amazon | 402 | 1 | Ioannis Angelou Konstas | Greece | 29,000 | 5 |
| Amazon | 402 | 2 | Nicholas Verderamo | United States | 246,000 | 41 |
| Amazon | 402 | 3 | Isaac Hagerling | United States | 53,000 | 9 |
| Amazon | 402 | 4 | Vasili Firsau | Belarus | 124,000 | 21 |
| Amazon | 402 | 5 | Keith Donovan | United States | 204,000 | 34 |
| Amazon | 402 | 6 | Chase Bianchi | United States | 134,000 | 22 |
| Amazon | 402 | 7 | Artur Koren | Austria | 233,000 | 39 |
| Amazon | 402 | 8 | Scott Peterson | United States | 100,000 | 17 |
| Amazon | 402 | 9 | Farah Galfond | United States | 71,000 | 12 |
| | | | | | | |
| Amazon | 403 | 1 | Andrew Hedley | United Kingdom | 316,000 | 53 |
| Amazon | 403 | 2 | Tyler Patterson | United States | 324,000 | 54 |
| Amazon | 403 | 3 | Christopher Staats | United States | 128,000 | 21 |
| Amazon | 403 | 4 | Amir Mirrasouli | United States | 229,000 | 38 |
| Amazon | 403 | 5 | Alex Foxen | United States | 33,000 | 6 |
| Amazon | 403 | 6 | Javier Gomez | United States | 99,000 | 17 |
| Amazon | 403 | 7 | Jeremy Dresch | United States | 76,000 | 13 |
| Amazon | 403 | 8 | Robert Nehorayan | United States | 174,000 | 29 |
| Amazon | 403 | 9 | Joe Kuether | United States | 147,000 | 25 |
| | | | | | | |
| Amazon | 404 | 1 | Jaroslaw Jaskiewicz | Canada | 153,000 | 26 |
| Amazon | 404 | 2 | Ryan Milisits | United States | 214,000 | 36 |
| Amazon | 404 | 3 | Federico Butteroni | Italy | 65,000 | 11 |
| Amazon | 404 | 4 | David Paredes | United States | 200,000 | 33 |
| Amazon | 404 | 5 | Richard White | United States | 1 | 0 |
| Amazon | 404 | 6 | Denis Timofeev | Russia | 144,000 | 24 |
| Amazon | 404 | 7 | Yoon Kim | United States | 155,000 | 26 |
| Amazon | 404 | 8 | William Migely | United States | 99,000 | 17 |
| Amazon | 404 | 9 | Joshua Abady | United States | 142,000 | 24 |
| | | | | | | |
| Amazon | 405 | 1 | Bob Shao | United States | 508,000 | 85 |
| Amazon | 405 | 2 | Phil Laak | United States | 94,000 | 16 |
| Amazon | 405 | 3 | Richard Ali | United States | 103,000 | 17 |
| Amazon | 405 | 4 | Kyle Shigano | United States | 71,000 | 12 |
| Amazon | 405 | 5 | Simon Deadman | United Kingdom | 83,000 | 14 |
| Amazon | 405 | 6 | Philip Ford | United Kingdom | 121,000 | 20 |
| Amazon | 405 | 7 | Thomas Difrancesco | United States | 56,000 | 9 |
| Amazon | 405 | 8 | James Poper | United States | 129,000 | 22 |
| Amazon | 405 | 9 | Dan Shak | United States | 89,000 | 15 |
| | | | | | | |
| Amazon | 406 | 1 | Michael Solarsh | United States | 41,000 | 7 |
| Amazon | 406 | 2 | Aaron Frei | United States | 168,000 | 28 |
| Amazon | 406 | 3 | Max Lehmanski | Germany | 99,000 | 17 |
| Amazon | 406 | 4 | Sergio Grosso | Italy | 30,000 | 5 |
| Amazon | 406 | 5 | Walter Chambers | United States | 112,000 | 19 |
| Amazon | 406 | 6 | Minh Tran | France | 201,000 | 34 |
| Amazon | 406 | 7 | Pedro Padilha | Brazil | 56,000 | 9 |
| Amazon | 406 | 8 | Alex Bolotin | United States | 96,000 | 16 |
| Amazon | 406 | 9 | Renato Nomura | Japan | 92,000 | 15 |
| | | | | | | |
| Amazon | 407 | 1 | Tomas Soderstrom | Sweden | 93,000 | 16 |
| Amazon | 407 | 2 | Scott Vetter | United States | 91,000 | 15 |
| Amazon | 407 | 3 | Frank Stepuchin | United States | 215,000 | 36 |
| Amazon | 407 | 4 | Jeff Katz | United States | 50,000 | 8 |
| Amazon | 407 | 5 | Erik Lemarquand | Canada | 351,000 | 59 |
| Amazon | 407 | 6 | Joshua Armiger | United States | 68,000 | 11 |
| Amazon | 407 | 7 | Ryan Skop | United States | 139,000 | 23 |
| Amazon | 407 | 8 | Quoc Vu | United Kingdom | 47,000 | 8 |
| Amazon | 407 | 9 | Martin Jacobson | Sweden | 62,000 | 10 |
| | | | | | | |
| Amazon | 408 | 1 | Phong Than Nguyen | United States | 67,000 | 11 |
| Amazon | 408 | 2 | Jakob Miegel | Germany | 50,000 | 8 |
| Amazon | 408 | 3 | Ryan Hong | Australia | 138,000 | 23 |
| Amazon | 408 | 4 | Richard Dixon | United States | 127,000 | 21 |
| Amazon | 408 | 5 | Kevin Eyster | United States | 73,000 | 12 |
| Amazon | 408 | 6 | Jesse Martin | United States | 121,000 | 20 |
| Amazon | 408 | 7 | Oleksii Kravchuk | United Kingdom | 216,000 | 36 |
| Amazon | 408 | 8 | Tara Dunn | United States | 87,000 | 15 |
| Amazon | 408 | 9 | Jesse Yaginuma | United States | 108,000 | 18 |
| | | | | | | |
| Amazon | 409 | 1 | David Baker | United States | 206,000 | 34 |
| Amazon | 409 | 2 | Mike Allis | United States | 331,000 | 55 |
| Amazon | 409 | 3 | Haixia Zhang | United States | 84,000 | 14 |
| Amazon | 409 | 4 | Ryan Olisar | United States | 229,000 | 38 |
| Amazon | 409 | 5 | Rose Mcgillis | United States | 40,000 | 7 |
| Amazon | 409 | 6 | Jesus Romero | United States | 90,000 | 15 |
| Amazon | 409 | 7 | Timothy Nauheim | United States | 71,000 | 12 |
| Amazon | 409 | 8 | John Zentner | United States | 63,000 | 11 |
| Amazon | 409 | 9 | Matthew Stein | United States | 92,000 | 15 |
| | | | | | | |
| Amazon | 410 | 1 | Ilkin Amirov | Azerbaijan | 240,000 | 40 |
| Amazon | 410 | 2 | Tristan Wade | United States | 264,000 | 44 |
| Amazon | 410 | 3 | James Clendening | United States | 156,500 | 26 |
| Amazon | 410 | 4 | Julius Malzanini | Germany | 67,000 | 11 |
| Amazon | 410 | 5 | Kristen Bicknell | Canada | 26,000 | 4 |
| Amazon | 410 | 6 | Chris Dasilva | United Kingdom | 74,400 | 12 |
| Amazon | 410 | 7 | Cory Waaland | United States | 70,000 | 12 |
| Amazon | 410 | 8 | Paul Vacchio | United States | 83,000 | 14 |
| Amazon | 410 | 9 | Daniel Zack | United States | 214,000 | 36 |
| | | | | | | |
| Amazon | 411 | 1 | Brock Parker | United States | 38,000 | 6 |
| Amazon | 411 | 2 | Thi Nguyen | Vietnam | 74,000 | 12 |
| Amazon | 411 | 3 | Perati Muhamet | Italy | 137,000 | 23 |
| Amazon | 411 | 4 | Nelson Resendiz | United States | 401,000 | 67 |
| Amazon | 411 | 5 | Kurt Jewell | United States | 90,000 | 15 |
| Amazon | 411 | 6 | Peter Moore | United States | 82,200 | 14 |
| Amazon | 411 | 7 | Bryan Veach | United States | 199,000 | 33 |
| Amazon | 411 | 8 | Michael Wasserman | United States | 349,000 | 58 |
| Amazon | 411 | 9 | Aaron Miles | United States | 122,000 | 20 |
| | | | | | | |
| Amazon | 412 | 1 | Sai Chiu | Canada | 186,000 | 31 |
| Amazon | 412 | 2 | Bryce Landier | United States | 36,000 | 6 |
| Amazon | 412 | 3 | Justin Zaki | United States | 75,000 | 13 |
| Amazon | 412 | 4 | Riley Keohen | United States | 105,000 | 18 |
| Amazon | 412 | 5 | Jared Hamby | United States | 127,000 | 21 |
| Amazon | 412 | 6 | Jonathan Abdellatif | Belgium | 246,000 | 41 |
| Amazon | 412 | 7 | Danny Wong | United States | 156,000 | 26 |
| Amazon | 412 | 8 | Bertrand Grospellier | France | 583,000 | 97 |
| Amazon | 412 | 9 | Michel Akrich | France | 101,000 | 17 |
| | | | | | | |
| Amazon | 413 | 1 | John Courtney | United States | 48,500 | 8 |
| Amazon | 413 | 2 | Jeremy Ausmus | United States | 77,000 | 13 |
| Amazon | 413 | 3 | Tobias Peters | Netherlands | 82,000 | 14 |
| Amazon | 413 | 4 | Park Yu Cheung | Hong Kong | 91,000 | 15 |
| Amazon | 413 | 5 | Michael Gagliano | United States | 120,000 | 20 |
| Amazon | 413 | 6 | Ludovic Geilich | United Kingdom | 388,000 | 65 |
| Amazon | 413 | 7 | Daniel Vampan | United States | 306,000 | 51 |
| Amazon | 413 | 8 | Sampson Simmons | United States | 178,000 | 30 |
| Amazon | 413 | 9 | Mitch Garshofsky | United States | 1 | 0 |
| | | | | | | |
| Amazon | 414 | 1 | Tobias Ziegler | Germany | 192,000 | 32 |
| Amazon | 414 | 2 | Leif Force | United States | 298,000 | 50 |
| Amazon | 414 | 3 | Yang Zhang | China | 101,000 | 17 |
| Amazon | 414 | 4 | Fredrick Andersson | Sweden | 99,000 | 17 |
| Amazon | 414 | 5 | Grzegorz Wyraz | Poland | 73,000 | 12 |
| Amazon | 414 | 6 | Aaron Rivero | United States | 86,000 | 14 |
| Amazon | 414 | 7 | Gianluca Speranza | Italy | 363,000 | 61 |
| Amazon | 414 | 8 | Tuvya Felt | United States | 208,000 | 35 |
| Amazon | 414 | 9 | Matthew Lambrecht | United States | 112,000 | 19 |
| | | | | | | |
| Amazon | 415 | 1 | David Thoret | France | 58,000 | 10 |
| Amazon | 415 | 2 | Gaurav Raina | United States | 113,500 | 19 |
| Amazon | 415 | 3 | Manuel Martinez | United Kingdom | 198,000 | 33 |
| Amazon | 415 | 4 | Barry Hutter | United States | 302,000 | 50 |
| Amazon | 415 | 5 | John Dolan | United States | 181,000 | 30 |
| Amazon | 415 | 6 | David Mai | United States | 153,000 | 26 |
| Amazon | 415 | 7 | Scotty Nguyen | United States | 82,000 | 14 |
| Amazon | 415 | 8 | Daniel Pauly | France | 117,000 | 20 |
| Amazon | 415 | 9 | Yan Shing Tsang | Hong Kong | 121,000 | 20 |
| | | | | | | |
| Amazon | 416 | 1 | Scott Sanders | United States | 145,000 | 24 |
| Amazon | 416 | 2 | Aaron Mermelstein | United States | 327,000 | 55 |
| Amazon | 416 | 3 | Kolade Akadiri | United Kingdom | 93,000 | 16 |
| Amazon | 416 | 4 | James Romero | United States | 168,000 | 28 |
| Amazon | 416 | 5 | Jonathan Zarin | United States | 115,000 | 19 |
| Amazon | 416 | 6 | Eric Afriat | Canada | 255,000 | 43 |
| Amazon | 416 | 7 | Patrick Truong | United States | 155,000 | 26 |
| Amazon | 416 | 8 | Andrew Brokos | United States | 336,000 | 56 |
| Amazon | 416 | 9 | Heroico Aguiluz | United States | 109,000 | 18 |
| | | | | | | |
| Amazon | 417 | 1 | Brayden Gazlay | United States | 144,000 | 24 |
| Amazon | 417 | 2 | Fabien Perrot | France | 51,000 | 9 |
| Amazon | 417 | 3 | Kevin Kanda | United States | 94,000 | 16 |
| Amazon | 417 | 4 | Kelly Minkin | United States | 71,000 | 12 |
| Amazon | 417 | 5 | Nishant Sharma | United States | 231,000 | 39 |
| Amazon | 417 | 6 | Elia Brigante | Canada | 130,000 | 22 |
| Amazon | 417 | 7 | Dylon Chafin | United States | 252,000 | 42 |
| Amazon | 417 | 8 | Ramin Hajiyev | Azerbaijan | 60,000 | 10 |
| Amazon | 417 | 9 | Gary Hasson | Belgium | 115,000 | 19 |
| | | | | | | |
| Amazon | 418 | 1 | Franklin Sears | United States | 57,000 | 10 |
| Amazon | 418 | 2 | Bruce McPhillips | United States | 64,000 | 11 |
| Amazon | 418 | 3 | Pakinai Lisawad | Thailand | 38,000 | 6 |
| Amazon | 418 | 4 | Dan Iman | United States | 122,000 | 20 |
| Amazon | 418 | 5 | Terrence Byrnes | United States | 216,000 | 36 |
| Amazon | 418 | 6 | Nacho Barbero | Argentina | 128,000 | 21 |
| Amazon | 418 | 7 | Zachary Gruneberg | United States | 80,000 | 13 |
| Amazon | 418 | 8 | Tony Scherer | United States | 147,600 | 25 |
| Amazon | 418 | 9 | Derek Bowers | United States | 71,000 | 12 |
| | | | | | | |
| Amazon | 419 | 1 | Larry Nance | United States | 159,000 | 27 |
| Amazon | 419 | 2 | Jeffrey Tanouye | United States | 601,000 | 100 |
| Amazon | 419 | 3 | [Removed:4] | Germany | 256,000 | 43 |
| Amazon | 419 | 4 | Thomas Boivin | Belgium | 204,000 | 34 |
| Amazon | 419 | 5 | Samuel Phillips | United States | 155,000 | 26 |
| Amazon | 419 | 6 | Scott Davies | Canada | 57,000 | 10 |
| Amazon | 419 | 7 | Chad Layne | United States | 332,000 | 55 |
| Amazon | 419 | 8 | Joseph Cheong | United States | 77,000 | 13 |
| Amazon | 419 | 9 | Scott Bohlman | United States | 134,000 | 22 |
| | | | | | | |
| Amazon | 420 | 1 | Benny Glaser | United Kingdom | 94,000 | 16 |
| Amazon | 420 | 2 | Jeff Dargah | United States | 41,000 | 7 |
| Amazon | 420 | 3 | Ryan Buckholtz | United States | 117,000 | 20 |
| Amazon | 420 | 4 | Brian Berlin | United States | 184,000 | 31 |
| Amazon | 420 | 5 | Danny Noam | United States | 174,000 | 29 |
| Amazon | 420 | 6 | Hector Ziperovich | United States | 83,000 | 14 |
| Amazon | 420 | 7 | Jason Song | United States | 75,000 | 13 |
| Amazon | 420 | 8 | Paul Balzano | United States | 131,000 | 22 |
| Amazon | 420 | 9 | Joseph Hebert | United States | 84,000 | 14 |
| | | | | | | |
| Amazon | 421 | 1 | Narimaan Ahmadi | United States | 188,000 | 31 |
| Amazon | 421 | 2 | Jerry Robinson | United States | 533,000 | 89 |
| Amazon | 421 | 3 | Jung Woo | United States | 99,000 | 17 |
| Amazon | 421 | 4 | Jeff Siegal | United States | 232,000 | 39 |
| Amazon | 421 | 5 | Kfir Nahum | United States | 161,000 | 27 |
| Amazon | 421 | 6 | Mark Babekov | United States | 316,000 | 53 |
| Amazon | 421 | 7 | Chris Moorman | United Kingdom | 139,000 | 23 |
| Amazon | 421 | 8 | Kevin Wang | United States | 353,000 | 59 |
| Amazon | 421 | 9 | Krzysztof Stybaniewicz | United States | 202,000 | 34 |
| | | | | | | |
| Amazon | 422 | 1 | Dana Muse | United States | 232,000 | 39 |
| Amazon | 422 | 2 | Molly Mossey | United States | 23,000 | 4 |
| Amazon | 422 | 3 | Tom Cage | United States | 145,000 | 24 |
| Amazon | 422 | 4 | Dustin Lee | United States | 73,000 | 12 |
| Amazon | 422 | 5 | Jonathan Parrott | United States | 107,000 | 18 |
| Amazon | 422 | 6 | Ofir Mor | United States | 43,000 | 7 |
| Amazon | 422 | 7 | Alexis Fleur | France | 65,000 | 11 |
| Amazon | 422 | 8 | Brian Richardson | United States | 94,000 | 16 |
| Amazon | 422 | 9 | Matt Glantz | United States | 74,000 | 12 |
| | | | | | | |
| Amazon | 423 | 1 | Todd Butts | United States | 160,000 | 27 |
| Amazon | 423 | 2 | Albert Ng | United States | 147,000 | 25 |
| Amazon | 423 | 3 | Rex Clinkscales | United States | 52,000 | 9 |
| Amazon | 423 | 4 | Richard Bianchi | United States | 95,000 | 16 |
| Amazon | 423 | 5 | Kiryl Radzivonau | Belarus | 240,000 | 40 |
| Amazon | 423 | 6 | Georgy Philippovich | Russia | 48,000 | 8 |
| Amazon | 423 | 7 | Richard Cox | United States | 241,000 | 40 |
| Amazon | 423 | 8 | Andrew Hulme | United Kingdom | 78,000 | 13 |
| Amazon | 423 | 9 | Neng Lee | United States | 163,000 | 27 |
| | | | | | | |
| Amazon | 448 | 1 | David Chen | United States | 35,000 | 6 |
| Amazon | 448 | 2 | Mukul Pahuja | United States | 97,000 | 16 |
| Amazon | 448 | 3 | Jonathan Rotonda | United States | 202,000 | 34 |
| Amazon | 448 | 4 | Adam Richardson | United States | 85,000 | 14 |
| Amazon | 448 | 5 | JC Tran | United States | 79,000 | 13 |
| Amazon | 448 | 6 | Giovanni Lucente | Brazil | 193,000 | 32 |
| Amazon | 448 | 7 | Andrey Pateychuk | Russia | 70,000 | 12 |
| Amazon | 448 | 8 | John Dombroski | United States | 85,000 | 14 |
| Amazon | 448 | 9 | Yongjun Lu | United States | 76,000 | 13 |
| | | | | | | |
| Amazon | 449 | 1 | Jeffrey Dambrosia | United States | 50,000 | 8 |
| Amazon | 449 | 2 | Michael Meyer | United States | 53,000 | 9 |
| Amazon | 449 | 3 | Raghuram Jonnalagedda | United States | 76,000 | 13 |
| Amazon | 449 | 4 | Dominykas Mikolaitis | Lithuania | 165,000 | 28 |
| Amazon | 449 | 5 | Joshua Turner | United States | 68,000 | 11 |
| Amazon | 449 | 6 | Jaspal Brar | Canada | 110,000 | 18 |
| Amazon | 449 | 7 | Christopher Conrad | United States | 215,000 | 36 |
| Amazon | 449 | 8 | Justin Ligeri | United States | 142,000 | 24 |
| Amazon | 449 | 9 | Gregory Bock | United States | 71,000 | 12 |
| | | | | | | |
| Amazon | 450 | 1 | Bryan Piccioli | United States | 195,000 | 33 |
| Amazon | 450 | 2 | DID NOT REPORT 1 | United States | 114,000 | 19 |
| Amazon | 450 | 3 | Ryan Anderson | United States | 25,000 | 4 |
| Amazon | 450 | 4 | Will Givens | United States | 302,000 | 50 |
| Amazon | 450 | 5 | Ravi Raghavan | United States | 88,000 | 15 |
| Amazon | 450 | 6 | Jonas Lauck | Germany | 188,000 | 31 |
| Amazon | 450 | 7 | Gregory Carlson | United States | 338,000 | 56 |
| Amazon | 450 | 8 | Aditya Agarwal | India | 332,000 | 55 |
| Amazon | 450 | 9 | Ben Keeline | United States | 137,000 | 23 |
| | | | | | | |
| Amazon | 451 | 1 | Jonathan Tamayo | United States | 514,000 | 86 |
| Amazon | 451 | 2 | Adam Maginot | United States | 87,000 | 15 |
| Amazon | 451 | 3 | Johan Guilbert | France | 46,000 | 8 |
| Amazon | 451 | 4 | Terry Fleischer | United States | 92,000 | 15 |
| Amazon | 451 | 5 | Mike Chau | United States | 100,000 | 17 |
| Amazon | 451 | 6 | Miguel Vazquez | United States | 70,000 | 12 |
| Amazon | 451 | 7 | John Hennigan | United States | 149,000 | 25 |
| Amazon | 451 | 8 | Aoi Oyama | United States | 71,000 | 12 |
| Amazon | 451 | 9 | Richard Kirsch | United States | 300,000 | 50 |
| | | | | | | |
| Amazon | 455 | 1 | Jeremy Saderne | France | 111,000 | 19 |
| Amazon | 455 | 2 | Esther Taylor-Brady | United States | 120,000 | 20 |
| Amazon | 455 | 3 | Josh Prager | United States | 86,000 | 14 |
| Amazon | 455 | 4 | Lee Watkinson | United States | 236,000 | 39 |
| Amazon | 455 | 5 | Georgios Angelo Tavoularis | Greece | 91,000 | 15 |
| Amazon | 455 | 6 | Luis Pinho | Portugal | 220,000 | 37 |
| Amazon | 455 | 7 | Loni Harwood | United States | 172,000 | 29 |
| Amazon | 455 | 8 | Joe Cada | United States | 183,000 | 31 |
| Amazon | 455 | 9 | Veronica Dunn | United States | 55,005 | 9 |
| | | | | | | |
| Amazon | 456 | 1 | Dan Heimiller | United States | 93,000 | 16 |
| Amazon | 456 | 3 | Viliyan Petleshkov | Bulgaria | 127,000 | 21 |
| Amazon | 456 | 4 | Darren Rabinowitz | United States | 214,000 | 36 |
| Amazon | 456 | 5 | Evan Schwartz | United States | 370,000 | 62 |
| Amazon | 456 | 6 | Alberto Ortiz Such | United States | 52,000 | 9 |
| Amazon | 456 | 7 | Sean Legendre | United States | 153,000 | 26 |
| Amazon | 456 | 8 | Andrew Kelsall | United States | 136,000 | 23 |
| Amazon | 456 | 9 | Amnon Filippi | United States | 107,000 | 18 |
| | | | | | | |
| Amazon | 457 | 1 | Pojana Jenne | United States | 70,000 | 12 |
| Amazon | 457 | 2 | Chang Liu | United States | 117,000 | 20 |
| Amazon | 457 | 3 | Jimi Chanthamixay | United States | 122,000 | 20 |
| Amazon | 457 | 4 | Domyo Aqmelli | Italy | 244,000 | 41 |
| Amazon | 457 | 5 | Brett Feder | United States | 125,000 | 21 |
| Amazon | 457 | 6 | Scott Gnau | United States | 41,000 | 7 |
| Amazon | 457 | 7 | Russ Krueger | United States | 74,000 | 12 |
| Amazon | 457 | 8 | Scott Horvath | United States | 162,000 | 27 |
| Amazon | 457 | 9 | Niall Farrell | United Kingdom | 183,000 | 31 |
| | | | | | | |
| Amazon | 458 | 1 | Ronnie Bardah | United States | 66,000 | 11 |
| Amazon | 458 | 2 | Farhintaj Bonyadi | United States | 188,000 | 31 |
| Amazon | 458 | 3 | Benjamin Zamani | United States | 75,000 | 13 |
| Amazon | 458 | 4 | Brandon Shack-Harris | United States | 140,000 | 23 |
| Amazon | 458 | 5 | Rocco Palumbo | Italy | 175,000 | 29 |
| Amazon | 458 | 6 | Jose Luis Calvo Rodriguez | Spain | 240,000 | 40 |
| Amazon | 458 | 7 | Jorge Pena | United States | 94,000 | 16 |
| Amazon | 458 | 8 | Shaun Deeb | United States | 106,000 | 18 |
| Amazon | 458 | 9 | Nikolai Yakovenko | Russia | 100,000 | 17 |
| | | | | | | |
| Amazon | 462 | 1 | Chris Ferguson | United States | 103,000 | 17 |
| Amazon | 462 | 2 | Terry Schumacher | Belgium | 168,000 | 28 |
| Amazon | 462 | 3 | Alexander Greenblatt | United States | 76,000 | 13 |
| Amazon | 462 | 4 | Adam Owen | United Kingdom | 64,000 | 11 |
| Amazon | 462 | 5 | Joseph Liberta | United States | 155,000 | 26 |
| Amazon | 462 | 6 | Troy Quenneville | Canada | 97,000 | 16 |
| Amazon | 462 | 7 | Paawan Bansal | India | 287,000 | 48 |
| Amazon | 462 | 8 | Potito Martire | Italy | 103,000 | 17 |
| Amazon | 462 | 9 | Adam Glassman | United States | 85,000 | 14 |
| | | | | | | |
| Amazon | 463 | 1 | Javier Fernandez | United Kingdom | 225,000 | 38 |
| Amazon | 463 | 2 | Daniel Fuhs | United States | 50,000 | 8 |
| Amazon | 463 | 3 | Luiz Feres | Brazil | 68,000 | 11 |
| Amazon | 463 | 4 | Yves Rolland | France | 108,000 | 18 |
| Amazon | 463 | 5 | Vittorio Faricelli | United States | 69,000 | 12 |
| Amazon | 463 | 6 | Antonio Della Sciucca | Canada | 1 | 0 |
| Amazon | 463 | 7 | Haral Tsivicos | United States | 89,000 | 15 |
| Amazon | 463 | 8 | Diogo Veiga | Portugal | 60,000 | 10 |
| Amazon | 463 | 9 | Benjamin Dobson | United Kingdom | 97,000 | 16 |
| | | | | | | |
| Amazon | 464 | 1 | Rep Porter | United States | 359,000 | 60 |
| Amazon | 464 | 2 | Sriharsha Doddapaneni | India | 79,000 | 13 |
| Amazon | 464 | 3 | Zi Li | United States | 131,000 | 22 |
| Amazon | 464 | 4 | Jose Nadal | Mexico | 192,000 | 32 |
| Amazon | 464 | 5 | Christopher Herrin | United States | 69,000 | 12 |
| Amazon | 464 | 6 | Longsheng Tan | China | 58,000 | 10 |
| Amazon | 464 | 7 | Joshua Rhodes | United States | 95,000 | 16 |
| Amazon | 464 | 8 | Casey Johnson | United States | 299,000 | 50 |
| Amazon | 464 | 9 | Mohsin Charania | United States | 157,000 | 26 |
| | | | | | | |
| Amazon | 465 | 1 | Robert Spano | Australia | 88,000 | 15 |
| Amazon | 465 | 3 | Brent Wheeler | United States | 85,000 | 14 |
| Amazon | 465 | 4 | Allen Pock | United States | 61,000 | 10 |
| Amazon | 465 | 5 | Kenneth Coop | United States | 114,000 | 19 |
| Amazon | 465 | 6 | Richard Fassett | United States | 49,000 | 8 |
| Amazon | 465 | 7 | Piotr Szczygielski | Poland | 54,000 | 9 |
| Amazon | 465 | 8 | Karen Sarkisyan | Russia | 123,000 | 21 |
| Amazon | 465 | 9 | Caleb Rapoport | United States | 50,000 | 8 |
| | | | | | | |
| Amazon | 466 | 1 | Yuval Bronshtein | Israel | 67,000 | 11 |
| Amazon | 466 | 2 | Martin Finger | Austria | 237,000 | 40 |
| Amazon | 466 | 3 | Tuan Mai | United States | 69,000 | 12 |
| Amazon | 466 | 4 | Nick Binger | United States | 123,000 | 21 |
| Amazon | 466 | 5 | Allen Kessler | United States | 576,000 | 96 |
| Amazon | 466 | 6 | Gloria Whimper | United States | 150,000 | 25 |
| Amazon | 466 | 7 | Jamie Kerstetter | United States | 72,000 | 12 |
| Amazon | 466 | 8 | Louie Cohen | United States | 58,000 | 10 |
| Amazon | 466 | 9 | Brandon Eisen | United States | 175,000 | 29 |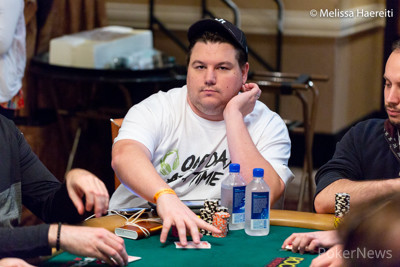 Of the 3,120 players who started in Event #75: $1,500 The Closer, only 331 remain. Leading the way after the three starting flights is Jeffrey Tanouye who bagged 601,000 on Day 1b of play. Following close behind Tanouye are the likes of Bertrand "ElkY" Grospellier who bagged up 583,000 on Day 1a and Allen Kessler who bagged 576,000 on Day 1c. They will join the rest of the survivors on the final day of play here in one of the final bracelet events of the summer.
Among others who are returning for Day 2 of action are the likes of Shaun Deeb and John Hennigan. Deeb and Hennigan are both chasing points for the World Series of Poker Player of the Year race. Deeb is currently leading after taking down his second bracelet of the summer just a few days ago, and his fourth all-time bracelet, and leads by a wide margin but Hennigan sits in second place after winning a bracelet this summer paired with a second place finish in the Poker Players Championship. Both are still alive in this tournament and have locked up a cash and will look to laddered up on Day 2.
Other's returning for Day 2 include the likes of Loni Harwood, Jonathan Tamayo, Leif Force, Rep Porter, Joe Cada, Niall Farrell, Mohsin Charania, Chris Moorman, Ben Keeline, Berry Hutter, Tristian Wade, David "ODB" Baker, Krzysztof Stybaniewicz, David Paredes, Joe Kuether, Joe Serock, John Dolan and Ryan Olisar just to name a few.
Action is scheduled to begin at 12 p.m. with the plan to play down to a winner by the end of play on Sunday. Players will begin in level 19 with blinds of 3,000/6,000 with an ante of 1,000. PokerNews will be here from dawn til dusk bringing action from this tournament from start to finish so be sure to stay tuned so you don't miss a thing.
Nível: 19
Blinds: 3,000/6,000
Ante: 1,000
Nível 19 : 3,000/6,000, 1,000 ante
Kevin Eyster jammed his 72,000 from the middle of the table and Jesse Martin reshoved from the next seat. They found themselves flipping as Eyster opened
while Martin held
.
The board ran out
to give Eyster two pair on the turn. Martin could still win with an eight or a heart on the river but he failed to improve and Eyster doubled.
Nível 19 : 3,000/6,000, 1,000 ante
Longsheng Tan moved all in for 54,000 under the gun and Mohsin Charania called from two seats over. Tan had
and raced against
. Charania was still ahead on the turn reading
but the
river saved Tan's tournament run, securing him a double.
Nível 19 : 3,000/6,000, 1,000 ante
Daniel Zack raised to 15,000 from early position, Julius Malzanini three-bet shoved for 28,000 from the cutoff, Kristen Bicknell jammed over the top from the button for about 80,000, and Zack called to put Bicknell at risk.
Daniel Zack:

Julius Malzanini:

Kristen Bicknell:
Bicknell was out in front and both of her opponents needed help. The board ran out
and Malzanini tripled up with top two while Bicknell won the side pot against Zack.
Nível 19 : 3,000/6,000, 1,000 ante
John Hennigan and Shaun Deeb have been tangling for the WSOP Player of the Year title all summer and their battles are culminating right at the end of the series, with Ben Yu also joining the race.
Hennigan and Deeb came back for Day 2 but Deeb was eliminating in the opening minutes. Henningan presumably doubled up as his stack has been significantly larger than when he returned today. Now the ball is in Hennigan's court.
Jogador
Fichas
Progresso

John Hennigan

280,000

131,000

Shaun Deeb

Eliminado
Nível 19 : 3,000/6,000, 1,000 ante
David Paredes min-raised under the gun and William Migely three-bet shoved for 128,000 from the hijack. Small blind Ryan Milisits re-raised all in for 170,000 and Paredes called off, holding
. Paredes was in a great spot versus
and
and his hand prevailed on the board of
. Migely and Milisits were eliminated while Paredes crossed the 500,000-mark.
Nível 19 : 3,000/6,000, 1,000 ante
Action folded to the player on the button and he shoved for 58,000. Jared Hamby moved all-in from the small blind and the big blind called to put himself at risk.
Jared Hamby:

Button:

Big blind:
Hamby had the best of it with his kings and both of his opponents needed to improve to survive. The board ran out
and although the button spiked his ace to triple up, Hamby won the substantial side pot to stack the big blind.