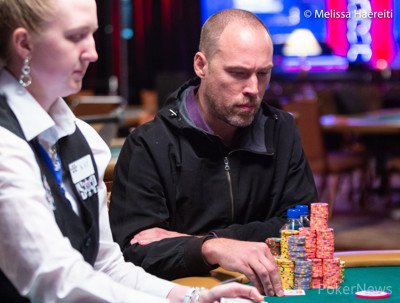 Introduced at 2017 WSOP, the inaugural $2,500 Mixed Big Bet event had a remarkable conclusion. One of the most feared online grinders Jens Lakemeier was crowned the champion after crushing the final table at an epic pace. He dropped to the bottom of the rankings only to double without a showdown. Then he single-handedly removed each of his last four opponents. Lakemeier was able to do that at the speed of light, reducing the field from five contenders down to a winner in a span of fewer than 20 hands.
It's time to see whether Lakemeier's successor to the throne can accomplish the same feat. While it may seem to be too hard to imitate, Scott Bohlman's outstanding run on Day 2 proves that anything is possible in the game of poker. Bohlman destroyed the middle stage of the Event #40: $2,500 Mixed Big Bet with remarkable dominance and navigated himself to an overwhelmingly advantageous stack ahead of the five-handed final day. He will unbag 1,556,000, well over four times what his nearest competitor will have.
Final table lineup and chip counts:
| Seat | Player | Country | Chips |
| --- | --- | --- | --- |
| 1 | Scott Bohlman | United States | 1,556,000 |
| 2 | Marcel Vonk | Netherlands | 100,000 |
| 3 | Aaron Rogers | United States | 261,800 |
| 4 | Daniel Weinman | United States | 292,800 |
| 5 | Ryan Hughes | United States | 345,500 |
Bohlman's goal can hardly be anything other than to bring home his first bracelet. He's already in possession of a stack that would be leading in a heads-up match. But the final tables can bring a wide range of narratives. Just as Lakemeier made it from the bottom to the top in 2017, there have been many examples of from-hero-to-zero at World Series.
Perhaps the best player to confirm that is Ryan Hughes, currently second on the leaderboard with 345,500. Hughes has already appeared on a 2018 WSOP final table. It was in the Mixed Omaha event where he pushed for his third gold. Hughes had over a third of all chips in play with eight players left only to eventually bow out in seventh.
With that in mind, Hughes and the other three shorter stacks in the Mixed Big Bet know that their respective tallies are far from over. Daniel Weinman (292,800), Aaron Rogers (261,800) and Marcel Vonk (100,000) will be tough to overcome. A double here and there could restore a more traditional way of chip spread and that's something Bohlman will be looking to fade in the pursuit of his first bracelet.
Find out whether Bohlman completes his cakewalk all the way to the top or if some of his rivals will be able to pull off a great comeback by joining us again at 2 p.m. local time as PokerNews will provide live updates from the five-handed final table until the winner steps to the throne.