Mike Kachan Wins $403,483 In Event #56: $1,000 No-Limit Hold'em
Nível 31 : 60,000/120,000, 15,000 ante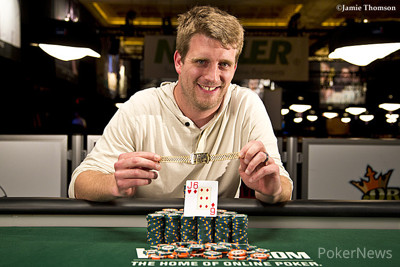 Congratulations to Mike Kachan who has come out on top of a field of 2,525 on his way to winning a WSOP gold bracelet and a huge payday of $403,483.
Sixteen players returned today and they got off to a fast start. In short order the tournament lost Michael Spegal (16th), Robert Merulla (15th), Justin Schwartz (14th), Daniel Riley (13th) and Michael Marckx (12th )in the first two levels and Bastian Fischer finished in eleventh soon after.
The two tables then merged to an unofficial table of ten before Matt Salsberg shoved with
on a flop of
into the
of Raymond Henson and his gutter ball didn't arrive sending Salsberg home in tenth.
From the very first level of the tournament two days ago the action was fast and furious but as soon as the final table of nine was formed it was anything but. From then on it was the story of an extraordinary sequence of double ups as the short stacks came back from the dead time and time again, and a raise would often lead to the blinds and antes being won.
Stacks were mostly evenly distributed, and never very deep, so multi-street action was few and far between. No player wanted or could afford to make a mistake, and if they did it seemed as if a double up wasn't that far away.
One by one though they were eventually eliminated. Ray Henson called a shove with a nut flush draw but couldn't get there so was gone in ninth. Richard Milne fell eighth with a
shove from the button running into Egan's small blind
. Seventh place went to Steve Gross when he picked up a losing pair of pocket fives for the second hand in a row and shoved them into Jeff Blenkarn's tens to end his participation.
Neo Hoang was sixth when his three-bet shove with
was eventually called by the
of Viktor Skoldstedt. It then took nearly two more hours before Viktor Skoldstedt was felted when he picked what looked like a good three-bet shove spot with
but Jeff Blenkarn was going nowhere with his
and Skoldstedt had to be satisfied with fifth and $93,940.
More swapping of chips followed until Andrew Egan got short and his move with the
was picked off by Mike Kachan with
. Egan left in fourth with $128,032 having come back from a short stack several times.
Three handed play began with fairly even stacks again but the pace picked up considerably as players seemingly opened up their ranges. A shove from Eric Shanks with a strong three handed
was unlucky to run into the
of Blenkarn who claimed another victim and sent Shanks out in third to collect his $177,527 winnings.
Heads up play would last just fourteen hands as both players refused to back down and when Kachan turned two pair in position he instantly called the shove of second place finisher Blenkarn and held on for the win. Blenkarn desperately wanted that bracelet but had to console himself with second place prize $ 250,815.
A tumultuous and gruelling three days play had finally come to an end in the early hours of Wednesday morning as a delighted Kachan celebrated with friends and basked in the attention of the media. He held up the gold bracelet as the winners photographs were taken, promising to put in on the wrist of his baby as soon as he could.