Event #1: $500 Casino Employees No-Limit Hold'em
Dias: 3
Event #1: $500 Casino Employees No-Limit Hold'em
Dia 3 Terminado
Nível 23 : 20,000/40,000, 5,000 ante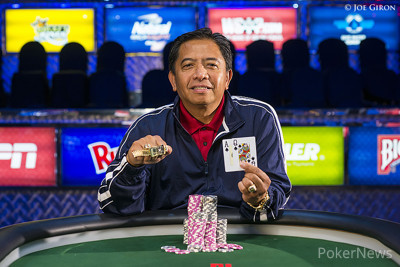 It may have been a long and grueling day for Roland Reparejo yesterday as he battled his way through the Day 2 starting field of 51 to to the final table and finally heads up before play ended just past 3 a.m.
But this afternoon it took just six hands for him to claim the first gold bracelet of the 2014 World Series of Poker and the first place prize of $82,835.
Reparejo won every hand of the final day of heads-up play apart from the penultimate one where his opponent, Corey Emery, shoved from the button and Reparejo stepped aside.
The very next hand Reparejo limped the button and snapped off a shove from Emery. Reparejo had set the trap with
and was in great shape against the
of Emery.
The cards fell
and Repoarejo celebrated jubilantly with his rail including his son before shaking hands with his opponent.
Final table results:
| Position | Player | Payout |
| --- | --- | --- |
| 1 | Roland Reparejo | $82,835 |
| 2 | Corey Emery | $51,037 |
| 3 | Charles Nguyen | $33,073 |
| 4 | Olivier Doremus | $24,203 |
| 5 | John Taylor | $17,975 |
| 6 | Brian Wong | $13,528 |
| 7 | Marcin Sobczak | $10,308 |
| 8 | David Luttbeg | $7,947 |
| 9 | Kevin Chiem | $6,192 |
The first WSOP Gold Bracelet for 2014 is awarded to Roland Reparejo in Event #1: $500 Casino Employees No-Limit Hold'em. It took an extra day to reach a winner.
Nível 23 : 20,000/40,000, 5,000 ante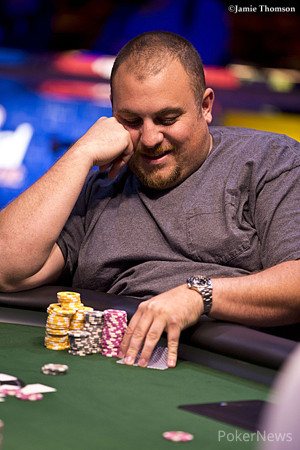 Hand #201 Roland Reparejo limped on the button and Corey Emery moved all in. Reparejo quickly called and jumped out of his seat.
Emery:

Reparejo:
The dealer dealt the flop, turn, and river and reached a final board reading
.
An ace right in the window all but sealed the deal, and two cards later it was Reparejo who had snatched the win.
Reparejo raised his hand in victory as his rail cheered and shook the hand of his gallant opponent. It was all over in just over 10 minutes.
Nível 23 : 20,000/40,000, 5,000 ante
Hand #196 Corey Emery limped and Roland Reparejo raised to 120,000. Emery folded.
Hand #197 Roland Reparejo opened for 120,000 and Emery folded.
Hand #198 Emery opened for 120,000 and Reparejo called. The flop was
. Emery bet 120,000 and a raise from Reparejo took it down.
Hand #199 Reparejo bet 120,000 and Emery folded.
Hand #200 Emery moved all in. Reparejo folded.
Nível: 23
Blinds: 20,000/40,000
Ante: 5,000
Hand #196 of final table play will begin very shortly when heads-up play resumes.
"Let's get this thing started, Roland" said Corey Emery, greeting his opponent Roland Reparejo as they shook hands and wished each other luck.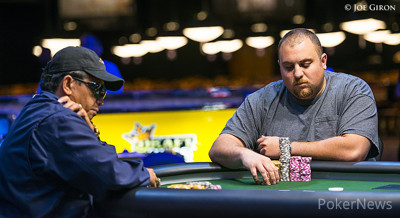 Event #1 of the WSOP, the $500 Casino Employees No-Limit Hold'em event, resumes at 2 p.m. today. What was supposed to be a two-day event has now stretched into Day 3 with just two players remaining of the 51 who made it through to Day 2.
Roland Reparejo returns with 1,795,000 chips against Corey Emery who has a stack of 735,000. Reparejo snatched the lead in the very last hand of the night when he rivered a set of sixes and Emery called his shove with top pair.
After 22 levels and just 8 hands of heads-up play, the tournament director controversially called play to a close at 3 a.m. The rail wanted to see the fight continue until they had a winner and Emery pleaded to be allowed to continue as felt he had an advantage being the younger man. He insisted he could play all night and felt that his opponent was tiring. Reparejo admitted that he was indeed tired and didn't seem too upset at the prospect of a night's rest before resuming battle.
Join the PokerNews Live Reporting team as we bring you hand-for-hand action as Level 23 kicks off with the blinds at 20,000-40,000 with a 5,000 ante. Play could be over in one hand or it could take a few hours to finally decide the winner who will take home $82,835 and the first gold bracelet to be awarded at the 2014 WSOP.
| Position | Player | Chips |
| --- | --- | --- |
| 1 | Roland Reparejo | 1,795,000 |
| 2 | Corey Emery | 735,000 |
Event #1: $500 Casino Employees No-Limit Hold'em
Dia 3 Começado