SCOOP-74-L: $109 NLHE [8-Max, Main Event], $3M Gtd
Dias: 3
SCOOP-74-L: $109 NLHE [8-Max, Main Event], $3M Gtd
Dia 3 Terminado
Nível 62 : 2,000,000/4,000,000, 500,000 ante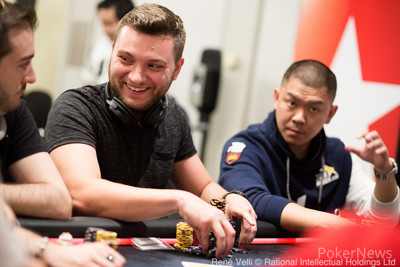 Out of 46,238 runners in the SCOOP-74-L: $109 NLHE [8-Max, Main Event], $3M Gtd, just nine remain in contention for the $434K first-place prize. On Day 3, they navigated through 159 remaining runners to put themselves in contention for that amazing return on investment.
Chief among them in terms of chip count is Latvia's "auercan," who sits just shy of 250 million, good for more than 60 big blinds as blinds have recently moved to 2,000,000/4,000,000/500,000. Ireland's "penguy2" trails closely behind with 241,529,453, a wide lead over third-place "GeleiaTrsk" who has 158,229,788.
Here's the full array of the final nine:
| Seat | Player | Country | Stack |
| --- | --- | --- | --- |
| 1 | HellRaiserSB | Germany | 51,507,922 |
| 2 | LukeN73 | Czech Republic | 83,787,394 |
| 3 | GeleiaTrsk | Brazil | 158,229,788 |
| 4 | auercan | Latvia | 249,877,672 |
| 5 | UruRey | Uruguay | 106,265,096 |
| 6 | penguy2 | Ireland | 241,529,453 |
| 7 | LOL_U_91 | Mexico | 146,423,994 |
| 8 | Manuel "young_diam18" Blaschke | Austria | 78,509,459 |
| 9 | marma07 | Brazil | 39,819,222 |
For auercan, the big move came with around 30 players remaining in a three-way all-in spot. They already had a chip lead, but winning with nines against ace-king and ace-queen for a double knockout nearly doubled their stack and rocketed them far in front.
They didn't play many huge hands after but were able to cruise to the chip lead.
Two notable known names have also advanced to the final table in "LOL_U_91" and Manuel "young_diam18" Blaschke. While "LOL_U_91" held the chip lead for awhile during the closing stretch, they sit in fourth and seventh, respectively, so have some work to do to catch the top stacks.
The massive size of the field means not many known players even made Day 3, but a couple who did only to fall short of the final table were Joep "Pappe_Ruk" van den Bijgaart and Dietrich "2pacnrw16" Fast, the latter falling in 37th.
The remaining competitors resume play Wednesday at 1 p.m. EDT with more time still remaining in the 2M/4M level and $28,981 locked up for ninth place. Come back to PokerNews then to see who emerges as SCOOP-L Main Event champion.
Nível 62 : 2,000,000/4,000,000, 500,000 ante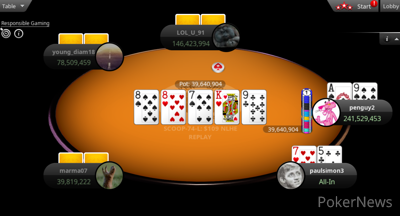 "paulsimon3" had just 5.1 million left and stuck it in from the big blind after "penguy2" made it 16 million in the small. "marma07" came along from under the gun after they limped, but they folded to a shove on the
flop.
paulsimon3:

penguy2:
paulsimon3 had the best hand for the moment but was fading a pile of card. The
was safe for them but the
wasn't on the river, reducing the field to nine and ending the day's play.
Nível: 62
Blinds: 2,000,000/4,000,000
Ante: 500,000
Nível 61 : 1,750,000/3,500,000, 450,000 ante
"HellRaiserSB" opened under the gun for 10.5 million and "LukeN73" defended the big blind. They check-called another 10.5 million on the
before the
checked through. LukeN73 piled for 39,368,822 on the
river, and HellRaiserSB looked them up with
.
That was no good against
for trips.
Nível 61 : 1,750,000/3,500,000, 450,000 ante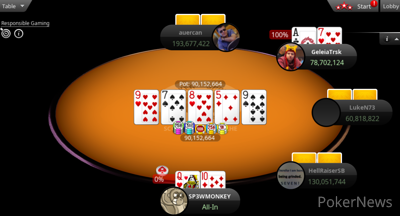 "SP3WMONKEY" shoved from the button for 43 million and "GeleiaTrsk" was ready with a call in the big blind.
GeleiaTrsk:

SP3WMONKEY:
The
flop paired GeleiaTrsk but brought a world of outs for SP3WMONKEY. However, the
and
danced around them, relegating them to 11th place.
Nível 61 : 1,750,000/3,500,000, 450,000 ante
Down to just 14.4 million, "sotos5756" shoved all in from early position and big blind "HellRaiserSB" made the call with
. sotos5756 had
and the flush he wound up with on the
board was no good.
Nível 61 : 1,750,000/3,500,000, 450,000 ante
"GeleiaTrsk" opened in the hijack for a min-raise and then called off their 73 million when "SP3WMONKEY" jammed in the small blind.
It was a flip with GeleiaTrsk holding
against
but the drama ended early with a
flop and an
river sealing any backdoor hopes for SP3WMONKEY.
Nível: 61
Blinds: 1,750,000/3,500,000
Ante: 450,000
Nível 60 : 1,500,000/3,000,000, 375,000 ante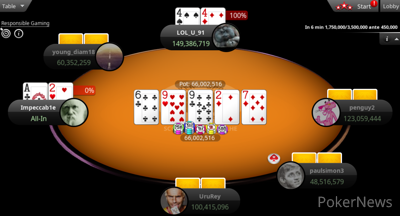 "Impeccab1e" shoved for 31,126,258 from the big blind after Miguel "LOL_U_91" Use opened second to act. Use called with
and was in a dominating spot against
.
The
board brought some hope for Impeccab1e but the
river wasn't what the played needed.